British Prime Minister Boris Johnson has tested negative for the CCP virus, but will continue to self-isolate according to government guidance.
"He took a test yesterday and that test was negative but he will in accordance with the rules on self-isolation continue to self-isolate," a Downing Street spokesman told reporters on Tuesday.
Johnson has been in self-isolation since Sunday, after coming into contact with someone who tested positive for COVID-19.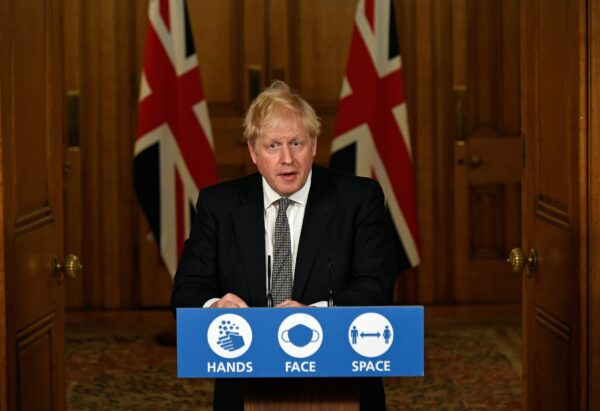 In a video communication posted on Twitter on Monday in which he appeared smiling and cheerful, Johnson said he felt "great," was "fit as a butcher's dog" and "bursting with antibodies," but would "follow the rules" and self-isolate for 14 days.
He confirmed he would have "plenty more to say in the course of the next few days … by Zoom and other means of electronic communication."
The person Johnson had been in contact with was Lee Anderson, MP for Ashfield in Nottinghamshire, who attended a 35-minute meeting with the prime minister on Thursday and had since tested positive for the virus.
Five other Tory MPs and two political aides are reportedly self-isolating after attending the same meeting with Johnson and Anderson.
This is Johnson's second brush with the CCP (Chinese Communist Party) virus.
The first was in March when he did develop symptoms and his deputy Dominic Raab temporarily took over the PM's responsibilities. After initially continuing to work, Johnson was ultimately admitted to intensive care in April for three days and given oxygen but not ventilated.
From his quarantine in a flat above No. 10, the prime minister is expected to continue to grapple with the CCP virus outbreak.
On Monday, Business Secretary Alok Sharma announced that the UK government had completed negotiations with biotech company Moderna to secure access to 5 million doses of its new COVID-19 vaccine, enough for around 2.5 million people.
If it is approved by the medicines regulator, the vaccine could be delivered to the UK and Europe as early as spring 2021, with the potential for the government to procure more doses next year, the government said.
This would follow the first deliveries of the Pfizer/BioNTech and the Oxford University/AstraZenece vaccines which could be available before the end of the year.
Mary Clark contributed to this report.