In the introduction to her new book, The Grain Free Family Table, author Carrie Vitt  shares the inspiring story of her sudden and debilitating health crisis and the nutrition-based path to healing which restored her health. Diagnosed with Hashimoto's and struggling to detox heavy metals from her body, Carrie embarked on a strict, grain-free diet, following the recommendations of her nutritionist. Over time, Carrie's health gradually improved, and she ultimately reversed her auto-immune disease.
Our experience with autoimmune patients at the Eleven Eleven Wellness Center has taught us that healing takes time, and diligence and patience are required. Lowering overall inflammation and healing the gut's intestinal barrier is essential for recovery from autoimmune disorders. As Carrie describes in her book, working with a practitioner who has experience with anti-inflammatory dietary protocols and supplement regimes is extremely helpful. Restful, adequate sleep and stress reduction are also crucial for recovery.
With recipes targeting all members of the family, including grain-free versions of kid favorites such as chicken nuggets and grilled cheese sandwiches, Carrie offers us the keys to her powerful healing protocol in the form of her satisfying recipes that make "special" diets delicious. I was especially intrigued by her technique of using grass-fed gelatin (such as Great Lakes brand), for baked goods as a protein-rich binding agent to improve the consistency of grain-free baked goods (see recipe below).
Although not a strict Paleo, Carrie includes instructions for adapting all of her recipes for Paleo/dairy-free diets, if the recipe contains dairy. The book is a great holiday gift for your Paleo or grain-free friends and family, and we are happy to share two of our favorite recipes from The Grain Free Family Table.
Bacon, Lettuce and Tomato Salad with a Fried Egg on Top
I think almost any dish tastes better when you put an egg on top, especially salad. While many people are afraid of egg yolks, they're actually the most nutritious part of the egg and shouldn't be tossed away. Pastured egg yolks contain high amounts of choline, healthy cholesterol, vitamin A, and other minerals. Go ahead, they're good for you!
Serves 4 – Preparation Time: 20 Minutes
8 ounces mixed baby greens
1 cup cherry tomatoes, halved
4 bacon slices, cut into small pieces
1 shallot, minced
1 teaspoon smooth Dijon mustard
1 tablespoon raw apple cider vinegar
1 to 2 tablespoons extra-virgin olive oil, to taste
Celtic sea salt and freshly ground black pepper
1 tablespoon unsalted butter or ghee
4 large eggs
Instructions
Place the greens and tomatoes in a large salad bowl. Cook the bacon in a large skillet over medium heat until crispy, about 5 minutes. Using a slotted spoon, transfer the bacon to a small plate. Add the shallot to the skillet and sauté for about 3 minutes, until it just begins to turn golden brown. Stir in the Dijon, vinegar, and olive oil. Stir in the bacon and season with salt and pepper. Pour this dressing into a heat-proof bowl or pitcher.
Melt the butter in the now-empty skillet and swirl to coat. Crack in the eggs and fry until the whites are cooked, 1 or 2 minutes.
Pour the dressing over the salad and toss. Divide among 4 plates and place a fried egg on top of each salad. Serve.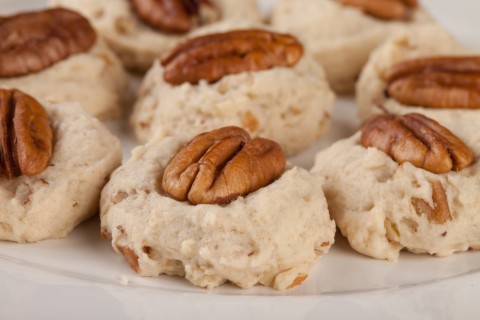 Apricot Pecan Cookies
My mom is famous for the cookie dough she sells at her shop in Dallas, The Festive Kitchen, and my all-time favorite is the apricot, oatmeal, and pecan cookie dough. With this grain-free version, I get to indulge in my favorite cookie again. The best part is that you can freeze the dough after it's been scooped into dough balls and bake the cookies straight from the freezer—just add about 3 minutes to the baking time. During the holidays I make the dough weeks in advance and pop the cookies into the oven as soon as my guests arrive, filling the house with that fresh-baked cookie smell.
Makes twelve 3-inch Cookies – Preparation Time: 45 Minutes
2 cups almond flour
2 tablespoons coconut flour
1⁄2 teaspoon baking soda
1⁄2 teaspoon unflavored grass-fed gelatin
1⁄2 teaspoon Celtic sea salt
1 teaspoon ground cinnamon
6 tablespoons unsalted butter, melted
1⁄4 cup raw honey
2 tablespoons almond butter
1 tablespoon Pure Vanilla Extract (page 272)
1⁄4 cup chopped pecans
1⁄4 cup chopped apricots
Instructions
Preheat the oven to 350°F and adjust the rack to the middle position. Line a baking sheet with unbleached parchment paper.
Place the almond flour, coconut flour, baking soda, gelatin, salt, and cinnamon in a large mixing bowl and stir to combine. Place the butter, honey, and almond butter in a small saucepan over medium-low heat and let the butter melt, stirring occasionally. Pour the wet mixture into the dry mixture, add the vanilla, and stir until combined. Stir in the pecans and apricots.
Using a 2-inch cookie scoop, scoop the dough into balls and place them on the prepared baking sheet. Using your fingers, gently press each dough ball until you have a 3-inch round. Bake for 11 to 12 min­utes, or until the cookies are just turning golden brown on the edges. Cool for 15 minutes before serving. Store the cookies in an airtight container for up to 3 days.
Paleo/Dairy-Free Adaptation: Use 5 tablespoons coconut oil plus 1 tablespoon water in place of the butter.
Note: If you'd like to freeze the cookie dough, simply scoop all of the dough balls onto a baking sheet lined with unbleached parchment paper. Freeze the tray for 2 hours, or until the dough balls are firm. Transfer the dough balls to an airtight container and freeze for up to 3 months.
This article was originally published on www.drfranklipman.com. Read the original here.