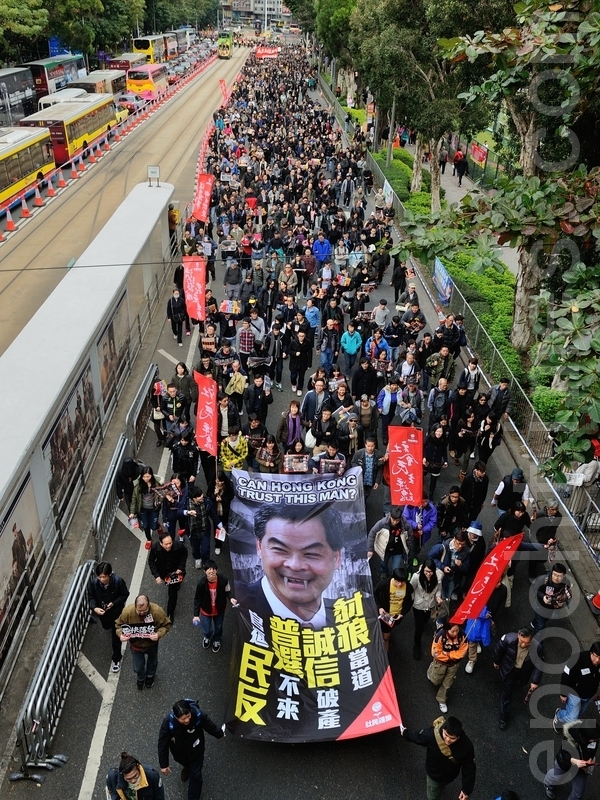 While protests were taking place against the current chief of Hong Kong recently, five members of the General Office of the Chinese Communist Party visited the city to observe the events, according to a source familiar with the matter. 
The group bypassed the Hong Kong and Macau Affairs Office, the United Front Work Department, the Liaison Office, and other relevant departments, and instead traveled to Hong Kong under non-official statuses. In addition to observing the New Year protest parade, they also met with inner Party members in Hong Kong and listened to reports on Hong Kong's current situation. 
The General Office is in charge of the daily affairs of the Party and is handpicked and closely loyal to the incumbent leadership.
The visit appeared to be part of a quiet assessment or investigation of the governance of Leung Chun-ying, the current chief-executive of Hong Kong, being carried out by Xi Jinping. Leung is a known ally of faction members that rival Xi, including Zeng Qinghong, a Party power broker.
One matter that was reported to the traveling officials was how a wealthy businessman with ties to Leung Chun-ying funded a rally in support of Leung, to the tune of HK$5 million (about $645,000). The "Support Leung Parade," however, didn't get nearly as many supporters as it had intended (several hundred turned up, versus the one million that were hoped for).
That ersatz parade was organized alongside an organic protest against Leung's rule that drew up to 130,000, according to organizers. Police said the number was more like 30,000. 
Leung's plans to effectively hold his own parade may have run afoul of Xi Jinping's recently announced "Eight Regulations," which warned officials against mobilizing citizens for showy welcomes. 
However, another unnamed high-ranking member noted that Hong Kong is administered under the "one country, two systems" policy, and as such may not be subject to the Eight Regulations. 
There are signs that Beijing is not entirely happy with Leung. Xinhua, the state news agency, gave significant coverage to the anti-Leung protests on Jan. 1, as well as noting the march in support of Leung. 
Xinhua's report included mention of the demands of organizers, the Civil Human Rights Front, for the resignation of Leung, along with other demands. It is unusual for the Party's media to report the criticism or calls for resignation against a Hong Kong chief, who represents Beijing in the special administrative region.
According to Radio France Internationale (RFI), Xinhua generally avoids coverage of protests in Hong Kong against its government—or when they do report it, do so in very broad strokes. In 2003 for example, over 500,000 Hong Kong residents marched against the proposed law Article 23, and China's state media did not cover it. Xinhua reported disapprovingly on protests against the rule of Tung Chee Hwa in 2004, which resulted in his stepping down in 2005. 
Long-time analyst of Chinese politics Willy Lam told RFI that Xinhua's unusual report on the recent parade is likely a warning to Leung from the Party to clean up his administration.
Read Original Chinese article. 
The Epoch Times publishes in 35 countries and in 20 languages. Subscribe to our e-newsletter.