Some 1,500 mourners gathered to pay their final respects on Saturday, April 21, to Barbara Bush.
The former First Lady, who died on Tuesday, April 17, at the age of 92, was remembered for her dignity and devotion both to her family and public service.
Her son Jeb Bush, former Florida governor and 2016 presidential candidate, delivered the eulogy.
"She called her style a benevolent dictatorship, but honestly, it wasn't all that benevolent," Jeb said.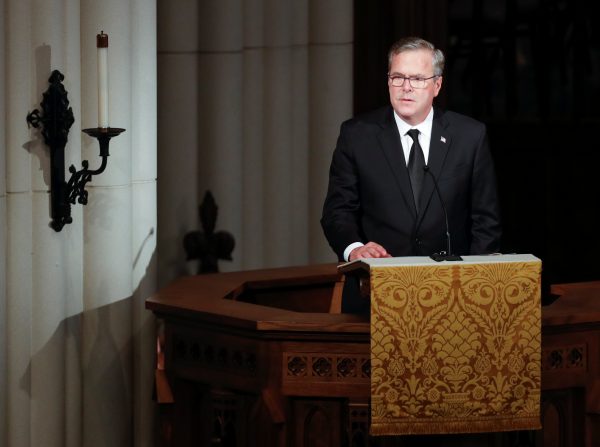 Bush was the matriarch of one of the country's most prominent political dynasties. She was the wife of former U.S. President George H.W. Bush and the mother of George W. Bush. She was celebrated as an inspiration, for her strong sense of decency and honor.
"She was a point of light. In 1989 when many Americans lived in ignorance of HIV AIDS, Ms. Bush went to a home for infected infants and hugged the children there as well as an adult male patient. The images sent a powerful message – one of compassion, of love and of acceptance," historian John Meacham said.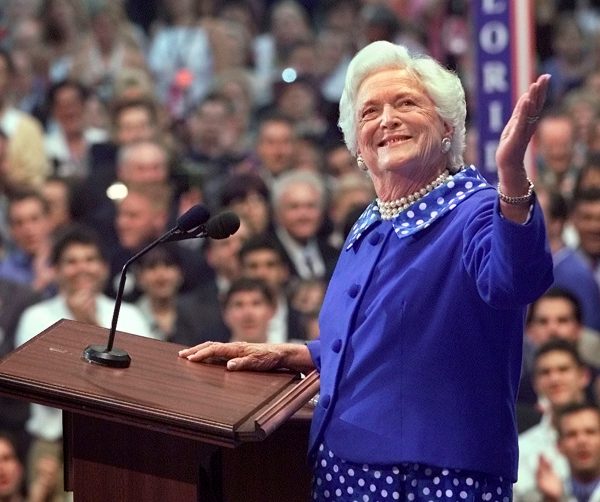 Dignitaries from around the world attended Bush's funeral at St. Martin's Episcopal Church in Houston where she and her husband were members for decades.
Seated in the front row were former U.S. presidents Bill Clinton and Barack Obama, along with Hillary Clinton and Michelle Obama.
First Lady Melania Trump was also at the service, attending "on behalf of the First Family."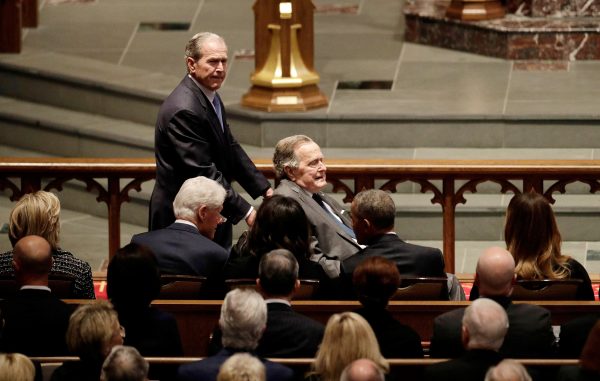 The White House said in a statement early in the week that President Trump would not be attending the funeral "to avoid disruptions due to added security, and out of respect for the Bush Family," reported the BBC. The president watched the service from his Mar-a-Lago estate in Florida, reported USA Today.
Heading to the Southern White House to watch the Funeral Service of Barbara Bush. First Lady Melania has arrived in Houston to pay our respects. Will be a beautiful day!

— Donald J. Trump (@realDonaldTrump) April 21, 2018
President Trump tweeted, "Today, my thoughts and prayers are with the entire Bush family."
He said a remembrance display has been set up in front of Barbara's portrait inside the White House.
Today, my thoughts and prayers are with the entire Bush family. In memory of First Lady Barbara Bush, there is a remembrance display located at her portrait in the Center Hall of the @WhiteHouse. pic.twitter.com/AuJ3RLZyax

— Donald J. Trump (@realDonaldTrump) April 21, 2018
It isn't unusual for a sitting president to be absent at a former first lady's funeral. Former President Barack Obama did not attend Nancy Reagan's funeral in 2016 or Betty Ford's in 2011, while Bill Clinton did not attend the funeral of Jacqueline Kennedy Onassis, reported USA Today.
Barbara Bush was laid to rest at the Bush Presidential Library at Texas A&M University, buried next to her daughter Robin who died as a 3-year-old child from leukemia.
Additional reporting by NTD Reporter Janita Kan