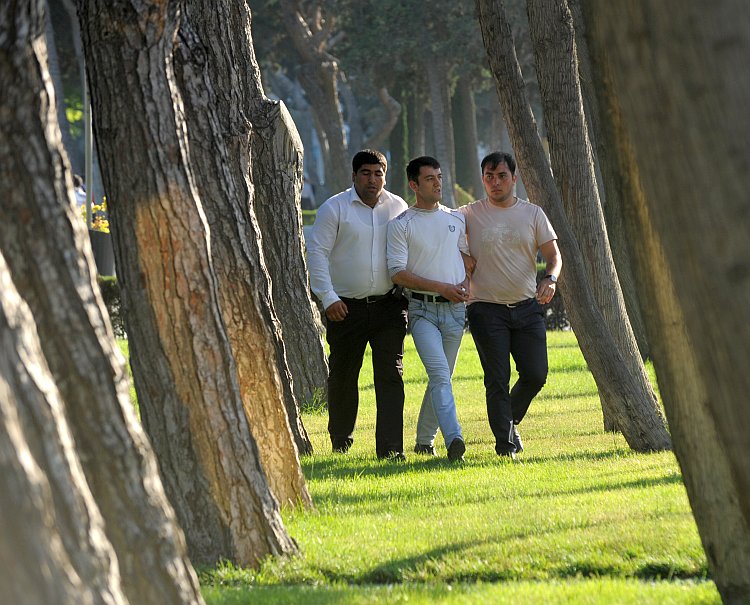 Europe's biggest singing competition, and the world's most watched nonsporting event, took on a political dimension this year with complaints about the host country—Azerbaijan.
Playing host to the big budget annual Eurovision Song Contest, known for its kitsch and glitz and watched by an estimated over 125 million people, is a prize eagerly sought by European states.
The way the system works, the country with the winning song one year, gets to host the event the following year. Votes for the winner are cast in the participating European countries, with half coming from a professional jury, and half from fans voting by telephone or SMS, though they cannot vote for their own country.
Last year, the competition was won by Azerbaijani romantic pop duo Ell & Nikki, so the hosting honors went to the city of Baku in Azerbaijan on the Caspian Sea.
Human rights watchdogs, such as Human Rights Watch and Freedom House, criticize Azerbaijan for widespread suppression of all forms of public protest, having a hostile atmosphere for journalists, police torture with impunity, and a host of other human rights abuses. President Ilham Aliyev, son of his predecessor Heydar Aliyev, is accused of building a cult of personality around himself.
An extravagant venue for the song contest, capable of holding 23,000 people, named the Chrystal Hall was erected in the capital Baku, on the shore of the Caspian Sea at an estimated cost of $134 million. But locals have complained that they were forcibly evicted and their houses destroyed to make way for the venue, without receiving adequate notice or compensation.
"Azerbaijani authorities are working hard to promote a positive image abroad. But at home they are severely restricting the right to freedom of expression and other fundamental freedoms," wrote the International Partnership Group for Azerbaijan, an international coalition of groups working to promote freedom of expression in the oil-rich country.
Protests sprung up in the capital Baku at the beginning of what's known as Eurovision Week.
On Friday, a day ahead of the Eurovision finals, 70 protesters were arrested while protesting in the capital, according to Human Rights Watch.
"As soon as protesters began to shout "Azadliq!" ["Freedom"], the police grabbed them, covered their mouths, forced them into nearby buses or police cars, and drove them away," according to a news release by Human Rights Watch.
Earlier in the week a peaceful anti-government protest was violently broken up by police, and another activist was arrested for distributing materials critical of the government.
"It is stunning that, as the world tunes in to watch performers sing their hearts out at Eurovision, the Azerbaijani government won't allow even the smallest opening for its own citizens to express themselves," Giorgi Gogia, senior South Caucasus researcher for Human Rights Watch, was quoted as saying.
A 24-year-old Azerbaijani musician Jamal Ali was arrested and beaten by police after performing a song critical of the government at a rally in March. He was given an early release and last week he fled his home country.
The 2012 Eurovision contest was won by Sweden's Loreen with her song Euphoria.
The Epoch Times publishes in 35 countries and in 19 languages. Subscribe to our e-newsletter.