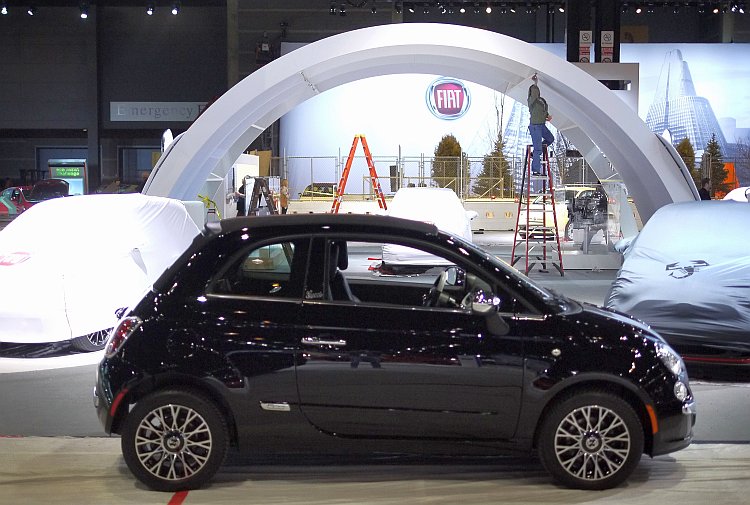 NEW YORK—Detroit's Big Three automakers recorded some of the best sales results in years last month, as warmer weather, low interest rates, and appealing fuel-efficient cars attracted customers to dealerships.
General Motors Co., Ford Motor Co., and Chrysler Group all said that March sales were higher than in the past year, especially sales of smaller, fuel-efficient vehicles in the face of rising gas prices in the United States.
Chrysler Gains
The biggest gainer was Chrysler, which had its best month in more than four years, surging 34 percent from the same month in 2011. The Fiat 500 subcompact sold 3,712 units in March, a huge gain compared with the 500 that rolled off dealerships' lots in March 2011. The Fiat 500 has been benefitting from high gas prices, clever marketing, and more dealerships carrying the model.
Chrysler's Jeep brand said it gained 36 percent from the prior year, helped by a revamped Jeep Grand Cherokee. Chrysler 200 and 300 both recorded sales increases as the new models were significantly better in fuel economy. In total, Chrysler sold 121,730 cars and trucks.
Compact Car Sales Propel GM, Ford
GM said sales increased 12 percent, also benefitting from sales of cars with better fuel efficiency. Chevrolet Cruze sales gained 20 percent, while the company's new Sonic subcompact was a best-seller, GM said. The Sonic has replaced the Aveo for model year 2012.
Ford sold 223,418 cars and trucks during the month of March, with the Focus model increasing its sales by 65 percent over last year. The Fusion midsize sedan also had its best month ever in terms of units sold, which was surprising given that the model is due for a refresh later this year.
"As you can imagine, fuel economy was the name of the game in March as it had been in the first quarter," said Ford's Vice President of U.S. Sales Ken Czubay on a monthly sales conference call with analysts on April 3. "Dealers across the country told us that higher fuel prices played a larger role in customers' purchase decisions no matter what kind of vehicle they were buying, from small cars through full-sized pickups."
Nissan Motor Co. said it sold 136,317 vehicles last month in the U.S. market, the best month on record for the Japanese automaker. The higher sales were driven by a 41 percent gain in sales of the Nissan Versa subcompact car.
Toyota Motor Co. said sales jumped 18 percent from last March, although Lexus sales slumped. German automaker Volkswagen AG said U.S. sales topped 36,588 in March 2012, the best performance for the brand since the early 1970s. Volkswagen's management has aspirations to become a major player in the United States and eclipse GM in global sales in the coming years.