Australian Defence Minister Peter Dutton has called on celebrities and advocates of the #MeToo movement to speak up for Chinese tennis star Peng Shuai, who accused Beijing's ex-vice premier of sexual assault in November.
"I don't understand how, in the year 2021, in the #MeToo age, we can have an international female tennis star who claims to have been raped and sexually assaulted, and she's now effectively under house arrest and has had her social media account wiped, and somehow that's behaviour that we should tolerate," Dutton told Nine Newspapers in an exclusive interview that was partly published on Jan 10.
The defence minister, who hasn't been afraid to directly criticise Beijing's aggression in the South China Sea and toward Taiwan, said it was better to publicly speak out against the Chinese Communist Party (CCP), "otherwise the behaviour won't change."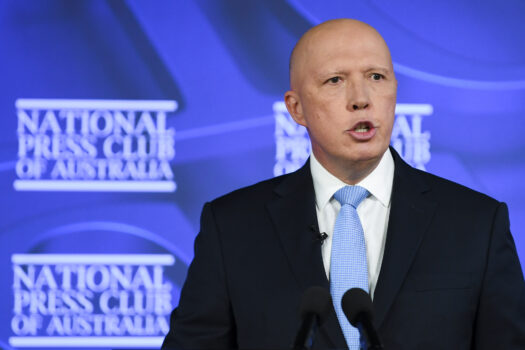 "I find it quite remarkable … when you look at the power of the #MeToo movement in Western societies," Dutton said. "We wouldn't tolerate, and nor would we ever want to tolerate, the suggestion that if somebody had been raped, that it wasn't going to be addressed.
"And not to mention the plight of tens of thousands of others who find themselves in the same position where they're either threatened or their human rights are violated or otherwise, the Uyghurs and the rest.
"And so, part of my judgment in being honest about these things is that I think if we want change, and we want China to continue to be a great power but to abide by the rule of law, then we should be speaking about it."
The Peng Shuai saga began on Nov. 2, when the tennis star posted an accusation on Chinese social media site Weibo that top CCP official Zhang Gaoli, 75, had forced her into having sex with him—as part of an ongoing 10-year secret affair.
Peng's posts were soon removed from the internet before she disappeared from public sight for roughly three weeks.
The tennis star reemerged, later denying the accusations that she had made while claiming that people had "misunderstandings" about her Weibo post, according to an interview with a Singaporean Chinese newspaper, Lianhe Zaobao.
In a rare response from a major organisation, Steve Simon, head of the Women's Tennis Association (WTA), suspended all events in China and Hong Kong in 2022.
"To further protect Peng and many other women throughout the world, it is more urgent than ever for people to speak out. The WTA will do everything possible to protect its players," Simon said in a statement.
By contrast, many organisations have been reticent to stir controversy with Beijing, considering the significant potential of the China market.
For example, while the #MeToo movement has gained traction in Hollywood, executives, producers, and actors have, at the same time, been cautious not to offend the CCP, even over relatively minor issues. Many have also apologised for perceived slights against the CCP.
In May, actor and former wrestler John Cena apologised on social media in Mandarin after offhandedly referring to Taiwan as a country—at stake was the ninth instalment of the Fast & Furious franchise.