An Australian signage and display store director has declared his shop a COVID-19 vaccine free zone after becoming upset with Australia's current COVID-19 health restrictions.
Peter King, the director of Gigantic Signs in Adelaide, South Australia, told The Epoch Times in an email he hoped his sign, which reads "Do not enter if you have been COVID-19 vaxxed" would help "people will start to wake up."
King described the current COVID-19 restrictions as a "crime against humanity."
"It has been allowed to fester into a global sprawling, chaotic mess of human misery and financial desperation," he said.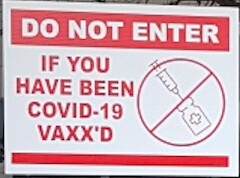 Despite putting up the sign, King said he is not a so-called "anti-vaxxer" and did not intend to ban people from entering based on their vaccination status.
"I was simply making a statement," he said. "If it is good enough for businesses to allow only 'vaxxed' patrons to enter their business premises, then I should support the 'unvaxxed' with the opposite stance."
King was referring to a local winery in Adelaide, Bird in the Hand, which recently decided to ban the non-vaxxed public from entering.
"What I am truly 'anti' about is the government mandating an unproven, untested injection that by definition is not a vaccine but an injection of multiple materials that have not gone through any long term human trials to tests for its safety and efficacy."
Australia is currently implementing lockdowns in major cities, with Melbourne looking to break the world record for most prolonged COVID-19 lockdown, as well as rolling out vaccine passports in states.
In South Australia, the state government has also launched a new quarantine app that requires users to check in with geolocation and live facial recognition.
As a result, anti-lockdown protests have broken out in major cities around Australia to resist the restrictions and vaccine mandates.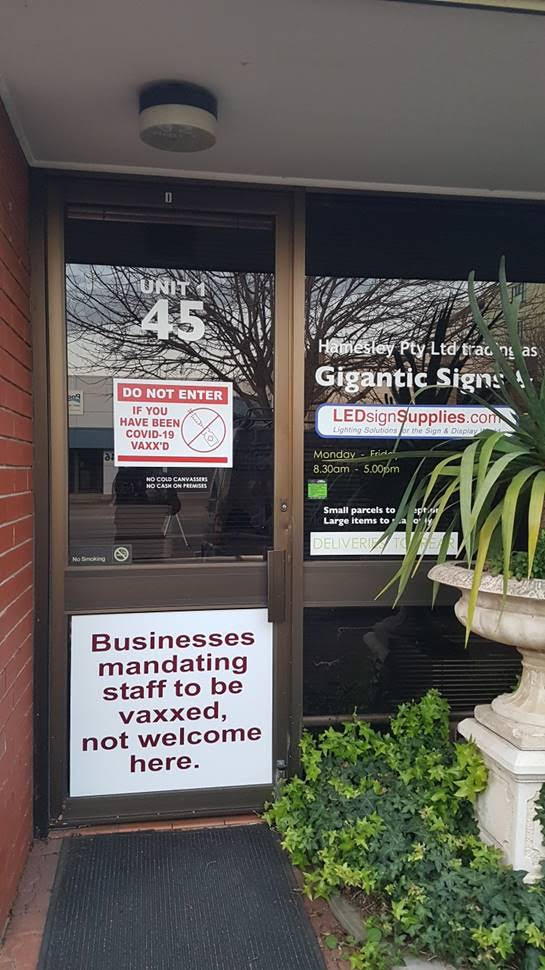 King said while he has received both positive and negative feedback about his sign, he was overwhelmed by the  "incredibly positive response from around Australia".
"I never thought there were so many 'sensible' [people] out there with similar thoughts to mine," he said. "I am sure we remain the silent majority, who will (and must) become more vocal as this evil is driven further into the very heart of society by our elected 'leaders.'"
King told The Epoch Times that he might consider taking down the sign, but he would not be coerced into the action.
"Freedom of speech is still available in Australia," he said.
There is also no legal action that can be taken against him, a legal expert explained.
"They can do whatever they like in terms of discrimination law because there are no grounds of discrimination based on vaccination status," Professor Rick Sarre told Channel 7.