The Australian government has removed all taxes on goods coming from Ukraine for the next 12 months as part of its recently announced aid package.
Coming into immediate effect on July 4, the Minister for Trade and Tourism Don Farrell said that eliminating tariffs was part of ongoing efforts to deepen the two countries bilateral trade relationship.
"These kinds of measures by Australia and other international partners that support Ukraine's economy and expand trade opportunities are vital to Ukraine's recovery and reconstruction in the short and long term," Farrell said in a media release.
"Australia condemns Russia's unilateral, illegal and immoral aggression against the people of Ukraine. This measure demonstrates our commitment to support the economy of Ukraine as it deals with the ongoing, devastating effects of Russia's invasion."
The Ukrainian embassy to Australia notes the country's major export commodities Down Under include edible oils like sunflower oil, metallurgy and machinery, vessels, as well as fertilizers.

The measures will see tariffs of up to five percent on goods manufactured or produced in Ukraine reduced to zero for a 12-month period. However, excise-equivalent duties, like those applied to fuels, alcohol and tobacco products, will remain in place.
According to the minister and the Department of Foreign Affairs and Trade, the imports from Ukraine reached close to $122 million in 2021, while Australia's exports to Ukraine were valued at $29.8 million in 2018.
Australia to Provide $100 Million in Military Aid
The announcement by the trade minister comes a day after the Australian prime minister visited Ukraine on July 3, where he travelled to several towns surrounding the capital Kyiv including Bucha, Irpin, and Hostomel—where the Ukrainian government says some of the worst atrocities of the Russian invasion occurred. Russia has denied all allegations.
As part of his visit, the prime minister announced the government would provide AU$99.5 million in military assistance, which will include 14 M113 armoured personnel carriers, 20 Bushmaster-protected mobility vehicles, and drones supplied from Australia's defence industry.
Australia will also contribute to NATO's Ukraine Comprehensive Assistance Package Trust Fund and give $8.7 million (US$6 million) to assist Ukraine's Border Guard Service in upgrading border management equipment, improving cyber security, and enhancing border operations in the field.
In total, this will bring Australia's total contributions to the war effort to approximately $388 million.
Currently, Australia is the largest non-NATO contributor to Ukraine's national defence.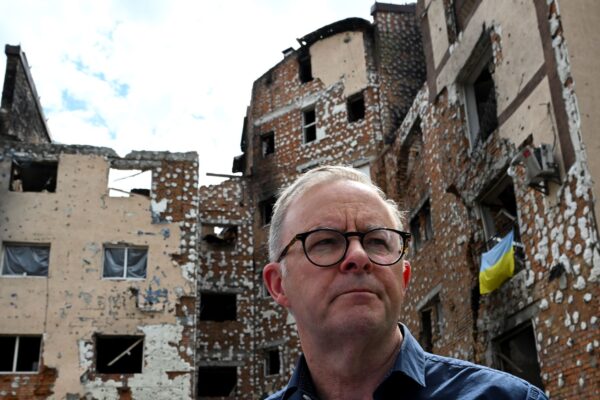 Australia will also join its allies—Canada, Japan, the United Kingdom, and the United States—in banning imports of Russian gold to reduce its ability to fund the invasion.
Ukrainian Ambassador to Australia Vasyl Myroshnychenko told ABC Radio National on July 4 that Australia was punching well above its weight in terms of the country's support for Ukraine.
"My president said, look, this is really amazing that Australia has been doing so much but being so far away from Ukraine. Everybody in Ukraine is very impressed that there's support coming from Australia and the Australian people," he said.