Australian Prime Minister Anthony Albanese has made an official visit to Ukraine, meeting with President Volodymyr Zelenskyy and promising nearly $100 million (US$68 million) worth of military equipment to the country for its continued defence.
Albanese made the 12-hour visit to Ukraine on June 3, visiting several locations—including Bucha, Irpin, and Hostomel—that the Ukrainian government says experienced some of the worst atrocities of the Russian invasion.
Ukrainians claim to have found mass graves in all three civilian areas. However, Russia has denied all allegations.
The Australian prime minister called the scenes "devasting" and said the targeting of civilian residential buildings in Irpin was a "war crime."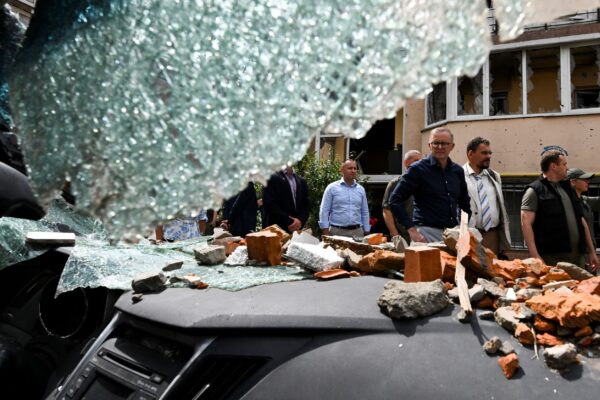 In a July 4 statement, Albanese called Russia's brutal invasion a gross violation of international law and praised President Zelenskyy and the people of Ukraine for the defence of their country.
"I saw first-hand the devastation and trauma it has inflicted on the people of Ukraine," he said.
"I pay tribute to the courage, resilience, bravery, and determination of you as the leader of Ukraine, of your defence force, but importantly as well of your entire population who are determined to stand up to a bully which is breaching international law without any provocation or any excuse."
"Australia stands ready to continue to support the government and the people of Ukraine for as long as it takes for Ukraine to emerge victorious in defence of your national sovereignty and your homeland."
President Zelenskyy thanked Albanese for his visit and for the military aid Australia had already provided.
"Our defenders highly appreciated, in particular, the Australian Bushmaster armoured personnel carriers and other specific assistance from Australia," he said.
"I am grateful to Australia for its firm, unyielding position on this issue."
$100 Million in Military Equipment
The Australian prime minister also announced the government would be increasing its foreign aid to Ukraine following a request from the Ukrainian president. Currently, Australia is the largest non-NATO contributor to Ukraine's national defence.
The new package will provide AU$99.5 million in military assistance, which will include 14 M113 armoured personnel carriers, 20 Bushmaster-protected mobility vehicles, and drones supplied from Australia's defence industry.
Australia will also contribute to NATO's Ukraine Comprehensive Assistance Package Trust Fund and give $8.7 million (US$6 million) to assist Ukraine's Border Guard Service to upgrade border management equipment, improve cyber security, and enhance border operations in the field.
In total, this will bring Australia's total contributions to the war effort to approximately $388 million.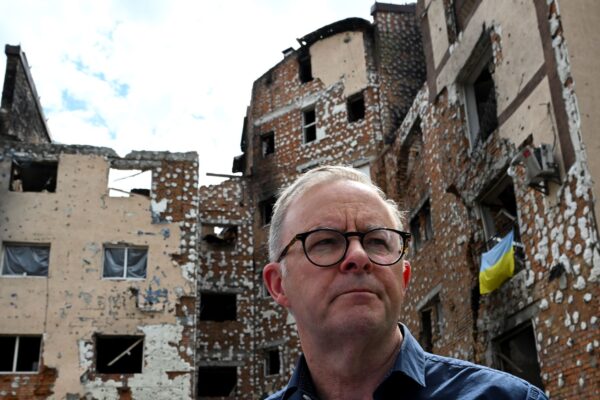 Further, Ukrainian imports to Australia will now be duty-free, akin to the trade measures taken by both the UK and European Union.
Australia will also join its allies—Canada, Japan, the United Kingdom, and the United States—in banning imports of Russian gold to reduce its ability to fund the invasion.
Ukrainian Ambassador to Australia Vasyl Myroshnychenko told ABC Radio National on July 4 that Australia was punching well above its weight in terms of the country's support for Ukraine.
"My president said, look, this is really amazing that Australia has been doing so much but being so far away from Ukraine. Everybody in Ukraine is very impressed that there's support coming from Australia and the Australian people," he said.
"President Zelinskiy was extremely happy to see him."
The ambassador also noted how pleased the Ukrainian armed forces are with the military capabilities that Australia has provided for the nation's defence.
"The Bushmasters are very good," he said. "They have performed very well out there and the M113s."