NEW YORK—President Donald Trump gave a forceful speech asking the United Nations to stand up for its principles, and to confront rogue regimes around the world.
"If the righteous many do not confront the wicked few, then evil will triumph," Trump said in his speech at the 72nd General Assembly of the United Nations.
Trump urged the UN member states to fulfill their sovereign duties to the nations they represent, while at the same time respecting the sovereignty of other nations.
He specifically called out several nations and harmful ideologies for their destabilizing effects on the world and their support of terror.
North Korea's 'Rocket Man'
Trump condemned North Korea's communist regime, saying it is responsible for the starvation death of millions of its citizens.
Talking about its leader, Kim Jong Un, he said, "rocket man is on a suicide mission for himself and for his regime."
Trump said that the United States has great strength and patience, but that it is able to completely destroy North Korea if it is forced to defend itself or its allies.
He called on the rogue regime to accept the path of denuclearization, describing it as the only path forward for the North.
He also condemned the death of American student Otto Warmbier, who died in June in the United States, just days after being released in a coma by North Korea, where he had been imprisoned.
"No nation on earth has an interest in seeing this band of criminals arm itself with nuclear weapons and missiles," Trump said.
He thanked China and Russia for their recent support for a UN resolution that imposes new sanctions on North Korea, but said that "we must do much more."
"It is time for all nations to work together to isolate the Kim regime," he said.
A Regime That Openly Calls for Death
Describing Iran as "another reckless regime," Trump said,"it is far past time for the nations of the world" to confront it.
Trump said the Iranian regime openly calls for death and destruction, including the destruction of the state of Israel.
He said the Iranian regime is in fact a dictatorship hiding behind the false guise of democracy.
"The Iranian government masks a corrupt dictatorship behind the false guise of a democracy. It has turned a wealthy country, with a rich history and culture, into an economically depleted rogue state whose chief exports are violence, bloodshed, and chaos," Trump said.
He blasted the regime for using profits from oil sales to fund terror groups such as Hezbollah, rather than improve the lives of ordinary Iranian citizens.
Trump reiterated his stance that the nuclear deal reached between Iran, the United States, and world powers in 2015 is a bad deal.
"We cannot let a murderous regime continue these destabilizing activities while building dangerous missiles," he said.
Trump said that the agreement provides cover for it to eventually build a nuclear capable missile. Under the agreement, restrictions will start to ease after 10 years, making it possible for the regime to install thousands of advanced uranium centrifuges at the time, allowing it to create a nuclear weapon within six months.
The nuclear deal also does not govern its development of ballistic missiles, which are covered by a different UN resolution, meaning that its violation of the development of missile technology has no bearing on the nuclear deal.
"The good people of Iran want change," Trump said, while questioning why the regime is restricting internet access, tears down satellite dishes, and imprisons political reformists.
"Iran's people are what their leaders fear the most," he said.
Cuba's Communist Regime
President Trump also called out Cuba's communist regime, saying that his administration is standing up against the corrupt and destabilizing regime.
He said that his administration would not lift sanctions on the regime, as had been promised by the Obama administration, unless it makes fundamental change.
"From the Soviet Union to Cuba to Venezuela, wherever true socialism or communism has been adopted, it has delivered anguish and devastation and failure," Trump said.
"Those who preach the tenets of these discredited ideologies only contribute to the continued suffering of the people who live under these cruel systems."
Venezuela's Socialist Despair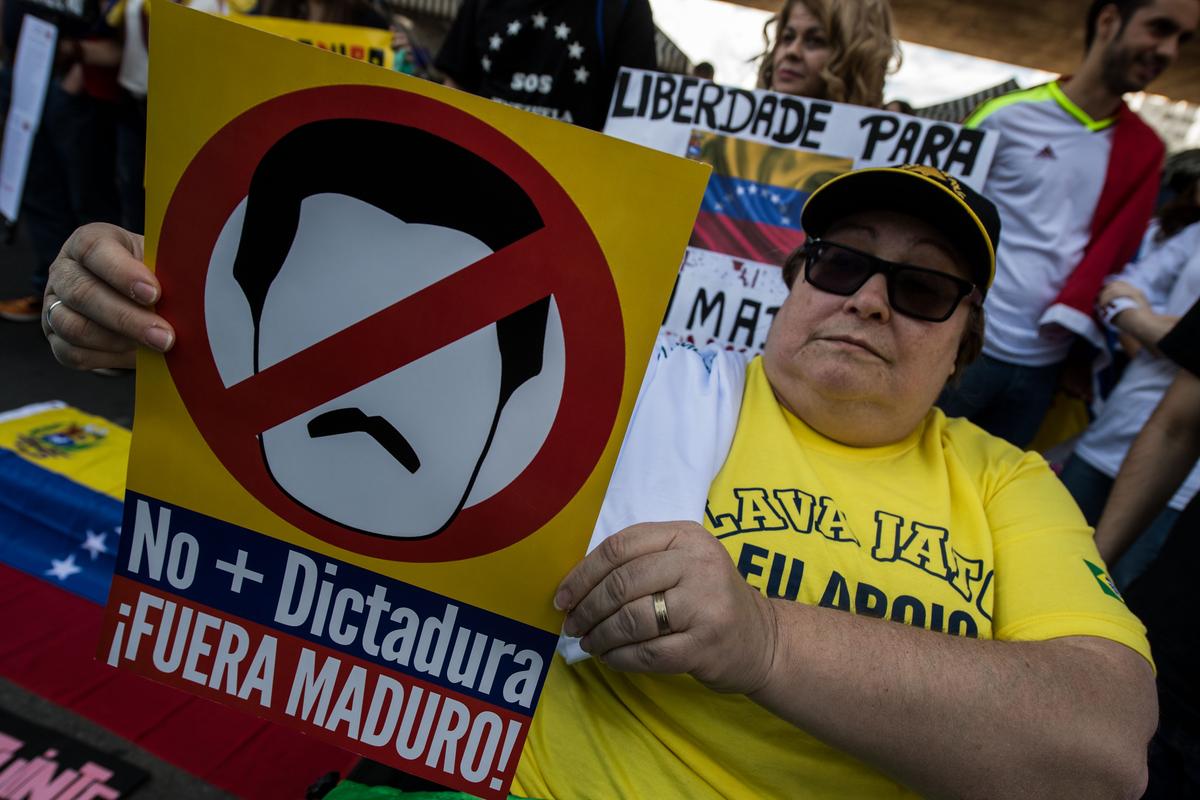 Trump also called out the socialist regime of Nicolas Maduro, saying it has brought a once thriving Venezuela to the brink of despair.
He said that the problem in Venezuela is not that socialism hasn't been implemented well, but that it has been faithfully implemented.
Trump described communism and socialism as failed ideologies that "produced poverty and misery everywhere it has been tried."
He said that the United States cannot stand by and watch as Venezuela is collapsing and its people are starving and suffering.
"As a responsible neighbor and friend, we and all others have a goal—that goal is to help them regain their freedom, recover their country, and restore their democracy."
Syria's Criminal Regime
Trump called for a de-escalation of the conflict in Syria, and to take the wishes of the Syrian people into account.
Describing Bashar al-Assad's dictatorship as a criminal regime, he said its use of chemical weapons is unacceptable.
Trump said that no nation can be safe if banned chemical weapons are allowed to spread.
In April, Trump gave the order for 59 cruise missiles to be fired at an airfield that was used by the Syrian regime to conduct a chemical weapons attack against its own citizens, including children.
Terrorist Losers
President Trump also called out terror groups, saying that the "loser terrorists" should be crushed.
Trump said he was greatly honored to address more than 50 Arab nations in Saudi Arabia in May this year. He said all responsible nations must work to counter the "Islamic extremism that inspires them," referring to the terrorists.
He said we will stop "radical Islamic terrorism" and not allow them to rip the world apart.
He said that it's time for the nations of the world to expose them and drive them out, while at the same time holding responsible those who support and finance terror groups.
In Afghanistan, Trump said, he has changed the rules of engagement, and the way the war is fought, relying on actual results instead of arbitrary benchmarks set by politicians.