By now, most people know that antibiotics are used by the ton in the production of U.S. meat–not because animals are sick but because less food is required when animals are given the drugs so meat producers make a greater profit.
Despite new antibiotic regulations in 2013 and more recently, antibiotic use in farm operations is actually going up not down.  
Last year I asked Senior Staff Scientist at Consumers Union Dr. Michael Hansen how the 2013 FDA guidance (asking Pharma to voluntarily restrict livestock antibiotics by changing the approved uses appearing on labels) was working out. Dr. Hansen told me "growth production" had been removed from labels but the drugs are still routinely used for the new indication of "disease prevention."
Food animals are routinely given antifungal drugs and vaccines.
After the guidance,  a Reuters investigation found Tyson Foods, Pilgrim's Pride, Perdue Farms, George's and Koch Foods using antibiotics "more pervasively than regulators realize." Pilgrim's Pride's feed mill records show the antibiotics bacitracin and monensin are added "to every ration fed to a flock grown early this year." (Pilgrim's Pride threatened legal action against Reuters for its finding.) Also caught red-handed using antibiotics despite denying their use on its website, KFC-supplier Koch Foods' chief financial officer Mark Kaminsky, said "I regret the wording."
But antibiotics are not the only unlabeled drugs. According to the Associated Press, U.S. chickens continue to be fed with inorganic arsenic to produce quicker weight gain with less food (the same reason antibiotics are given) despite some public outcry  a few years ago. Arsenic is also given to turkeys, hogs, and chickens for enhanced color. Such use "contribute[s] to arsenic exposure in the U.S. population," says recent research in Environmental  Health Perspectives.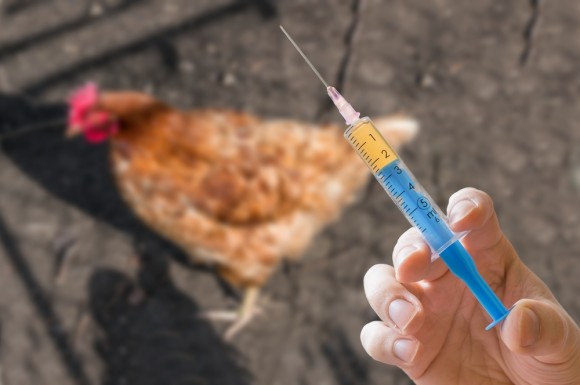 The appealing pink color of farmed salmon is also achieved with the chemicals astaxanthin and canthaxanthin. In the wild, salmon eat crustaceans and algae which makes them pink; on farms they are an unappetizing and unmarketable gray.
Some drugs on the farm are used to treat diseases. Cattle are at risk of liver flukes, eyeworms, lungworms, stomach worms, thin-necked intestinal worms and whipworms, all of which are treated with parasiticides. Turkeys suffer from aspergillosis (brooder pneumonia), avian influenza, avian leucosis, histomoniasis, coccidiosis, coronavirus, erysipelas, typhoid, fowl cholera, mites, lice, herpes, clostridial dermatitis, cellulitis and more for which they are also treated with unlabeled drugs.
Food animals are also routinely given antifungal drugs and vaccines. Porcine epidemic diarrhea, which killed millions of animals in recent years, is treated with a vaccine. A vaccine for the flock-killing bird flu which continues to be active in the U.S. is in the works.
Drug Use in Food Animals Will Get Worse Not Better
There are two reasons drug residues in food animals will soon be getting worse not better. In exchange for China agreeing to accept U.S. beef after a long hiatus, the U.S. agreed to import cooked chickens from China. China's food safety record is abysmal including rat meat sold as lamb, gutter oil sold as cooking oil, baby formula contaminated with melamine and frequent bird flu epidemics. Globalization dangers already exist with seafood most of which comes from countries that use chemicals and drugs banned in the U.S.
The second reason is the U.S. meat industry's increasing move toward privatization and corporate self-policing–phasing out U.S. meat inspectors in favor of the "honor system."  USDA's "New Poultry Inspection System" (NPIS) shamelessly allows poultry producers to switch to a voluntary program that allows for non-government poultry inspections.  Such privatization deals are the wave of the future as federal meat inspectors are ignored and phased out by the government.
An earlier version of this story appeared on the Organic Consumers Association website
Martha Rosenberg is author of the award-cited food exposé "Born With a Junk Food Deficiency," distributed by Random House. A nationally known muckraker, she has lectured at the university and medical school level and appeared on radio and television.
Views expressed in this article are the opinions of the author(s) and do not necessarily reflect the views of Epoch Times.