Air Pollution Shrouding China and People's Health
March 8, 2013 2:43 pm Last Updated: March 10, 2013 2:03 pm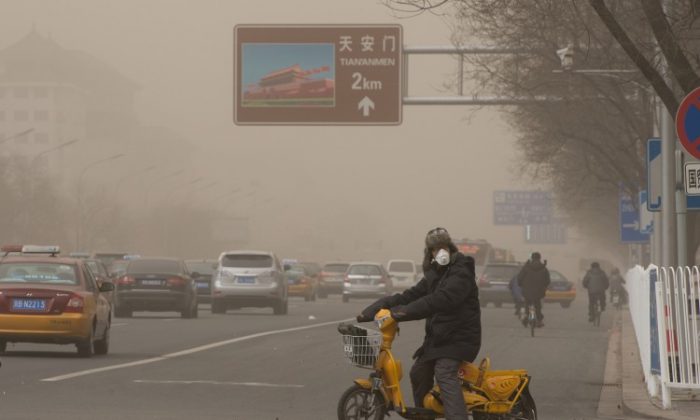 The issue of air quality and lung cancer in China is more life-threatening than the SARS virus outbreak of 2003, according to a respiratory disease expert.

Dr. Zhong Nanshan, president of the China Medical Association, warned that the smog problem in China is "scarier than SARS," while speaking at a plenary session in Beijing on March 5.
A respected respiratory disease specialist, Zhong won recognition a decade ago for leading the battle against SARS or Severe Acute Respiratory Syndrome.
Zhong said that unlike SARS, which can be controlled through quarantine, smog affects everyone. "Whoever you are, you can't escape from polluted air," he said, according to China Youth Daily.
Zhong cited a World Health Organization air quality report showing that the island city of Haiko, with the cleanest air in China, still ranks only 1530th of the 1,802 cities listed worldwide. Zhong added that the report shows China's lung cancer incidence is among the highest in the world, with 76 per 100,000 among males and 48 per 100,000 for females affected.
He said that these numbers vary greatly between regions with differing air qualities, as air pollution is linked with lung cancer rates in China. For example, he said, in urban Guangzhou, the incidence of lung cancer is about double that of surrounding rural areas, and Beijing shows the same pattern.
"If this pollution trend continues, the number of cancer patients will probably increase exponentially," he said.
Zhong questioned the Communist Party's policy of prioritizing gross domestic product (GDP), often at the cost of the environment. "Which is more important–GDP or health? At this point, it's not a matter of looking after both issues. Currently, the component necessary for human survival has been seriously threatened," he said. "The performance of local officials is typically evaluated based on the GDP growth in their jurisdictions. Starting today, officials' achievements in curbing smog should also be included as a performance parameter."

Earlier, Zhong told Sohu.com that, while working with surgeons, he has seen the lungs of many Guangzhou residents over the age of 40 or 50 are black from air pollution. Although one of China's largest cities, Guangzhou has relatively lower pollution levels. "Some may think I'm overstating the matter, but this is a fact," Zhong said. "If Guangzhou is like this, Beijing must be much worse."
"I don't care about the so-called Harmonious Society," he continued, referring to a communist propaganda campaign. "The most important things for humans are air, food, and water. If these are endangered, no one can really be happy."
Ordinary Chinese admire Zhong's frankness, a quality rarely associated with delegates to the People's Congress. "Few other political representatives are like Zhong Nanshan," an Internet user commented on Weibo. "They shouldn't just praise the government. They should really think more about the air, water, and food for the people." Many other netizens also called for more brave people to act on improving the quality of Chinese people's lives.
But it may already be too late. In a recent article, economist He Qinglian spoke of pollution in general, saying that even if the government and all the people immediately stopped creating new pollution, it would still take a few hundred years for China's overall environment to recover.
Ms. He also pointed out that for too many years, Party officials have gone easy on businesses causing pollution for the sake of political achievements and financial benefits, leading to widespread environmental degradation in China. They thought they could get away with it by counting on access to special safe food supplies, she said.
Little did they realize that air pollution would unexpectedly level the playing field. "In China, where social class determines everything, dying because of pollution may be the one situation in which people experience total equality," Ms. He said.
Translation by Michelle Yu. Research by Jane Lin.
Read the original Chinese article.
The Epoch Times publishes in 35 countries and in 21 languages. Subscribe to our e-newsletter.