Abe Stands Resolute on Senkaku Islands During Meeting With Obama
February 26, 2013 7:00 am Last Updated: October 1, 2015 11:03 am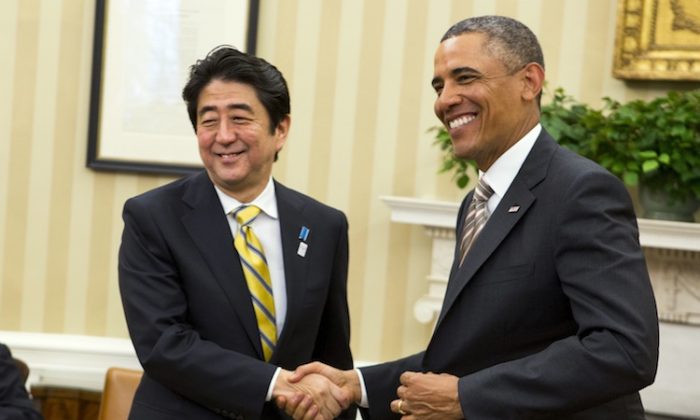 WASHINGTON—Japanese Prime Minister Shinzo Abe re-affirmed sovereignty of the Senkaku Islands in Washington, D.C., Friday, declaring that any challenge to Japan's ownership of the tiny island group will not be tolerated.
"No nation should make any miscalculation about the firmness of our resolve," Abe said at Washington's Center for Strategic and International Studies (CSIS), after meeting with U.S. President Barack Obama at the White House earlier in the day.
China has been provocative in claiming all of the South China Sea and parts of the East China Sea, including the Senkaku Islands, known as the Daioyu Islands in Chinese.
Tensions escalated in September last year when the Japanese government announced that it would purchase three of the five Senkaku Islands from private owners.
Public demonstrations in China against Japan followed, and a flurry of non-military Chinese ships was sent to the area. The most recent provocations were to lay a series of buoys in Chinese-controlled waters near the islands and to increase the number of Chinese naval and paramilitary ships patrolling the area.
Abe told Obama that he is not interested in escalating the situation with China.
"I explained that we have always been dealing with this issue … in a calm manner," he said through a translator. "We will continue to do so, and we have always done so," he said.
During the CSIS talks, however, Abe said that history and international law both attest to Japan's sovereignty of the Senkakus, and he made clear that any challenge will invoke the U.S.-Japan alliance.
"We simply cannot tolerate any challenge now and in the future," he said, adding, "No one should ever doubt the robustness of the Japan-U.S. alliance."
The United States has insisted that it takes no sides in territorial disputes in the region yet has publicly recognized Japan's administration of the Senkaku Islands.
"We oppose any unilateral actions that would seek to undermine Japanese administration (of the Senkakus)," former Secretary of State Hillary Clinton said last month at a news conference in D.C.
U.S.-Japan Alliance Foundational
At the first Asian summit in Obama's second term, the president welcomed Abe to the White House Friday, acknowledging the strong relationship between the two countries and its significance to the region.
"Japan is one of our closest allies, and the U.S.-Japan alliance is the central foundation for our regional security and so much of what we do in the Pacific region," Obama said after the meeting.
Abe, a member of the Liberal Democratic Party (LDP) and a strong advocate of U.S.-Japan ties, was keen to meet with Obama on the back of a solid election win in December last year, resulting in his second stint as prime minister. Abe was forced to resign following health concerns in 2007 after serving only one year.
"I think I can declare with confidence that the trust and the bond in our alliance is back," Abe said through a translator after the meeting.
According to analysts at the CSIS, Abe has about a 70-percent popularity rating in Japan, an encouraging sign for a country that has seen six different leaders since 2008.
His strong economic policies, dubbed "Abenomics," have focused on "fiscal stimulus and monetary easing," according to analysts, but while positive gains have been made, how long they will have an impact remains to be seen.
"The market has responded positively to 'Abenomics' thus far but sustainable growth is likely to depend on structural reforms to boost competitiveness," wrote CSIS analysts Michael J. Green, Matthew P. Goodman, and Nicholas Szechenyi in a paper about Abe's visit.
Obama said that the two leaders discussed a range of multilateral issues, including those concerning regional security.
"We had close consultations on a wide range of security issues, in particular our concerns about the provocative actions that have been taken in North Korea and our determination to take strong actions in response," Obama said.
Abe said that security in the Asia Pacific is becoming more and more difficult, and he was not only referring to North Korea.
"We need to create an order in this region based on cooperation between our two countries to secure the freedom of the seas and to secure a region which is governed based on laws, not on force," he said at the White House through a translator.
In reference to the Senkakus, Abe again stressed the importance of the U.S.-Japan alliance.
"Concerning the South China Sea and the Senkaku Islands, we agree that the very existence of the Japan-U.S. alliance is a stabilizing factor, which contributes to peace and stability of the region," he said.