It has been one week since World War II veteran Max DeWeese returned home after recovering from COVID-19.
The 99-year-old war hero, who served 23 years in the Marine Corps and the Marine Corps Reserve, said the illness took him by surprise. His temperature was taken daily at the senior center, and the only symptoms he experienced were a sudden loss of appetite, and a loss of taste and smell.
"I live in an independent living and they take my temperature every day, and it was in the 80s. I never thought anything about it," DeWeese said to The Epoch Times.
"I was throwing food up, I couldn't stand it. I couldn't eat. The director here said, 'Let's check your oxygen.'"
A pulse oximeter was then clipped to DeWeese's finger to measure his oxygen saturation level. "My oxygen was 84," said Deweese. "I lost my wife to COPD and I knew that 84 was not good, so I called my doctor."
The following morning, DeWeese went to St. Luke's hospital, got tested for COVID-19, and was informed he was positive. He was hospitalized that evening on April 10. "I don't know what would of happened if we hadn't done something about it," he said.

Good friend Paul Chapa supported DeWeese through his recovery and helped spread the word of his battle with the CCP (Chinese Communist Party) virus.
"I met Max about three years ago through another one of our FISH family members," Chapa, who is Chairman and President of Friends in Service of Heroes (FISH), told The Epoch Times. "I talk to him pretty much every day because of this COVID thing. Max is incredibly sharp and very witty."
After a local news outlet featured DeWeese's story, people from around the country wrote him letters and sent cards wishing him well. "I can't thank enough the people that I don't even know, or have ever known, who have sent me notes of how they were praying for me and wishing me well," DeWeese said.
He attributes part of his recovery to the prayers and well-wishes from family, friends, and strangers. "With the support that I have gotten from the outside world, I don't think I could have failed to make it," he said.
"When you get that kind of support, you can fight back. You don't realize it, but you're going to fight."
What does he look forward to after his two weeks of quarantine? "As soon as I'm able to, become active again in everything I've been active in, including meals on wheels and golfing," DeWeese said.
He says he feels optimistic about improving his golf with the daily therapy he has been getting. "I could only hit the golf ball, no matter what club I used, about 100 or a little more yards," DeWeese said. "But I think that with a lot of this therapy I'm doing, I may be going up in my strength where I'm able to hit 110, maybe 115, so I'm encouraged."
Before contracting the CCP virus, DeWeese who still drives, said he did meals on wheels once a day, volunteered with FISH as well as other organizations, and played golf once a week.
DeWeese says he does not know where he gets the energy at his age, but felt it was important for him to be active. "I have found, to my opinion, whether it's right or wrong, that I'm a lot better off being busy then I am sitting around doing nothing much and watching television," he said.
Tracy Hipp, Activities Director at Silvercrest Deer Creek, told The Epoch Times that everyone at the senior center is delighted to have DeWeese back. "We just adore him," she said. "If anyone that was to get COVID-19 and beat it, we weren't surprised at all that it was him. We knew it was one of those things he'd come back from stronger than ever."
Enlisting in the Marine Corps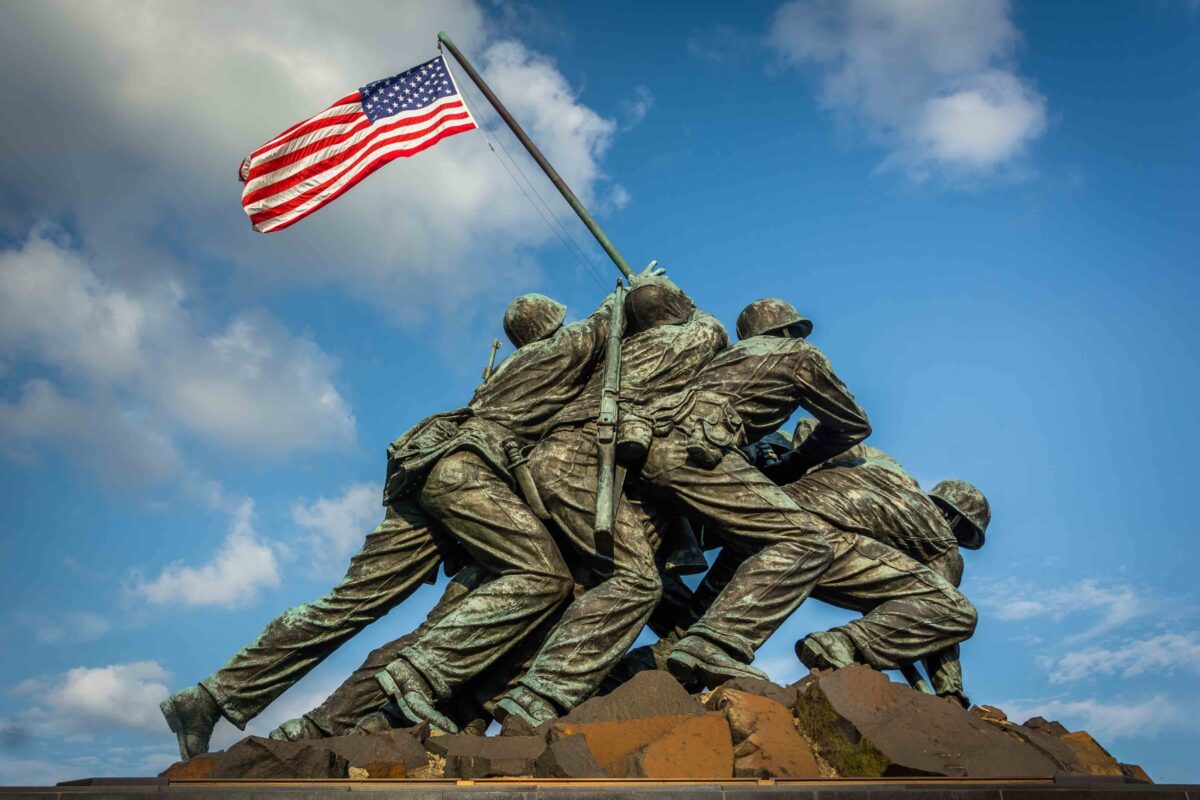 In 1941, while at home during Christmas, DeWeese ran into his junior college chemistry professor, who suggested that he join the Marine Corps after learning DeWeese did not know what his plans were for the future.
"He said why don't you join the Marine Corps, so I did," DeWeese said. On Jan. 15, 1942, before his 21st birthday, he got on a train to San Diego to go to boot camp.
"I was just a young kid, I didn't know what to expect," DeWeese said of his knowledge of the Marines at that time. "I had no idea what the Marine Corps was or what any branches of the service were."
Almost seven months later, on Aug. 7, 1942, DeWeese would fight in his first battle in the Pacific Theater of World War II, the Battle of Guadalcanal, the first major offensive against the Japanese, who eventually left defeated off the island in February 1943.
Guadalcanal is a tropical jungle in the Solomon Islands, and many soldiers from both sides died of disease. "We had more people evacuated off Guadalcanal with malaria then we did with death," DeWeese said. "I had yellow jaundice. I had everything but malaria."
The next three battles that DeWeese fought in were the Battle of Tarawa, the Battle of Saipan, and the Battle of Tianin. He got injured in the Tarawa and Saipan, and received a Purple Heart for each battle.
DeWeese was a rifleman for the first two battles before being transferred to the combat engineer battalion to be a flame thrower.
Helping Veterans
Chapa says his organization is focused on helping veterans of all ages to "maintain their freedom and improve their quality of life" by doing simple acts like getting an N95 mask to a Vietnam veteran so he could go out to do his grocery shopping, or getting a service dog for a veteran struggling with post-traumatic stress disorder (PSTD) or a traumatic brain injury.
FISH has given away 29 service dogs so far. "We try to name our service dogs after our veterans," Chapa said. "That way, the veteran that is getting the dog gets to meet the veteran that the dog's named after, so they have this connection."
Chapa said there is a service dog named after DeWeese who was given to Aaron Bona, a Marine Corps veteran suffering from PSTD.
Chapa said that after meeting DeWeese, he better understood what the Greatest Generation meant. "He is selfless, he wears his patriotism on his sleeve, and he loves his country," Chapa said. "He'd be willing to do anything to continue serving."
He also says that it is important for him, and "the 99 percent of us that did not serve, to never forget the 1 percent."
"We owe our freedom, we owe the fact that we live in this great nation because of the people that are willing to make that sacrifice on behalf of us."