Honda introduced the Ridgeline way back in 2006, but only this year have I had my first opportunity to drive this truck. Over the last decade, Honda has done a complete, new makeover.
There is no part of the auto market more competitive, innovative, or profitable than the truck market. Manufacturers like Ford, Chevrolet, GM, and Dodge have a heritage of making trucks and developing a loyal followers base for generations.
Since trucks outsell other automotive products and are so profitable, the truck segment will be protected fiercely by Detroit's Big Three—as Toyota Tundra and Nissan Titan already know.
Honda runs a power play for market share by using a powerful 3.5 L i-VTEC V6. This direct fuel injection V6 and the six-speed automatic transmission deliver top performance, capable of producing 280 hp and 262 lb.-ft. of torque. The Ridgeline still receives just over 25 mpg highway rating.
It has impressive performance, promising an adventure anywhere you want to go.
For protection underneath, Honda has developed a new, unique unibody design so that the body panels and chassis are a single part. Ridgeline uses steel of different strengths throughout, giving an extremely rigid structure coupled with lighter weight for impressive fuel efficiency.
Surprisingly the cargo bin is more than 4 feet wide and almost 7 feet long with the tailgate down. The top is covered with a dent- and scratch-resistant coating and has eight 350-pound tie-down cleats.
There were two features that Ridgeline had that really caught my attention. The dual-action tailgate allows easy access to the pickup bed for large items. Just lower the tailgate or swing the tailgate to the side and you can reach right into the bed. Large items are easy to haul because of the four-foot wide bed. With no protruding wheel walls, large plywood pieces lie completely flat.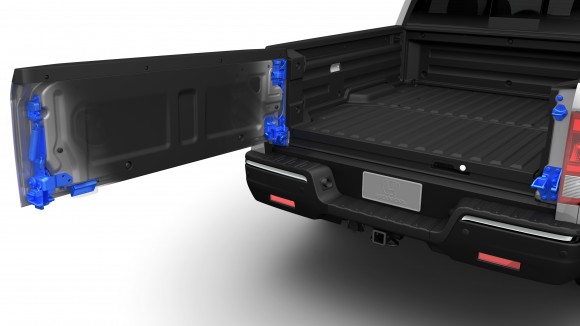 The new Honda truck-bed radio system is the only one I know to be offered by a truck manufacturer. The entire bed is turned into a premium audio system. The six exciters use the walls of the truck bed to power pump out 540 watts of sound. Since it can be operated by Bluetooth you can control the music with your smartphone from a distance.
Storage is the name of the game for Ridgeline. This vehicle has a lot of trunk space. There are 7.3 cubic feet of secure, versatile storage space with no compromise to the bed utility. A drain easily removes any water making it easy to clean. For gear or cooler storage, this is the right place.
The 60/40 split lift-up rear seat has additional under-seat storage. Fold the rear seat down for ample amounts of space that accommodates items up to 4 feet tall.
Bad terrain and weather are never a problem with Ridgeline Intelligent Traction Management, which offers selectable modes (Normal, Snow, Mud, and Sand), and the appropriate power output needed to perform the task is readily available.
The RTL-E is the top of the line in Ridgeline trims. Only the Black Edition has a few special items in technology, color patterns, and more luxury. The retail price for the RTL-E starts from $41,470.
Also included in this price is something called Honda Sensing, which consists of six features making driving less hectic and safer. They are Forward Collision Warning System, Collision Mitigation Braking System, Road Departure Mitigation System, Lane Departure Warning System, Lane Keeping Assist System, and Adaptive Cruise Control.
Ridgeline sits tall with a roomy cabin that seats five comfortably. It has impressive performance, promising an adventure anywhere you want to go. All you have to do is try. Since an adventure often requires cargo for your toys, Ridgeline offers an abundance of space to store and transport them.
Warranty:
3-year/36,000-mile Limited Vehicle Warranty
5-year/60,000-mile Limited Powertrain Warranty
3-year/36,000-mile Roadside Assistance
Durhl Caussey writes a car column read around the world. He may be reached at this newspaper or at dcaussey@sbcglobal.net