Analysis
The persecution campaign Beijing has been waging against Falun Gong adherents in China for two decades has also extended into Canada, according to scholars and human rights groups.
"In modern times, no group in China has been more severely and tirelessly persecuted than Falun Gong," says the 2018 book "Silent Invasion" by Australian academic Clive Hamilton.
Not only is the group extensively persecuted in China, it is a major target of the Chinese Communist Party (CCP) on Canadian soil as well, and in a myriad of ways, writes journalist Jonathan Manthorpe in his 2019 book "Claws of the Panda."
"Falun Gong is high on the list of the CCP's targets in Canada," the book states.
And what has made the situation more dire for the group is communist China's growing reach into Western countries like Canada in recent years.
"China's reach is now sufficient to limit the activities of the Falun Gong in other countries, Canada included, despite the fact that the organization's activities are entirely legal and happen to be carried out by people who are citizens, voters, and taxpayers in foreign jurisdictions," says David Mulroney, a former Canadian ambassador to China, in his 2015 book "Middle Power, Middle Kingdom."
Falun Gong, also known as Falun Dafa, is a meditation and spiritual practice based on the principles of truthfulness, compassion, and tolerance. In a 2006 ruling, the Ontario Human Rights Tribunal found that Falun Gong constitutes a "protected creed" under Ontario's Human Rights Code, citing expert evidence indicating that its teachings are "profoundly moral."
The People's Public Security News, the official newspaper of China's Ministry of Public Security, in 1993 praised Falun Gong for "promoting the traditional crime-fighting virtues of the Chinese people."
An official from China's National Sports Commission told the U.S. News & World Report in 1999 that the practice "can save each person 1,000 yuan in annual medical fees," adding that "if 100 million people are practising it, that's 100 billion yuan saved per year in medical fees."
At the time, government surveys showed that between 70 million and 100 million people in China were practising Falun Gong, as it had spread rapidly across the country in the 1990s.
The practice's popularity, however, was of great concern to then-CCP leader Jiang Zemin, who launched a massive nationwide campaign to eradicate it on July 20, 1999.
"For outsiders it is strange that a loose organization promoting a spiritual practice, one based firmly on traditional Chinese qi gong (the slow-flowing moving meditation) and with no political aims, should have provoked such a ruthless crackdown," Hamilton writes in "Silent Invasion."
"But CCP leaders felt threatened by a movement with more members than the Party and attracting greater devotion."
When Chen Yonglin, Beijing's first secretary and consul for political affairs in Sydney, Australia, defected in 2005, he revealed many secrets on how the regime operates. Among them were details on how all Chinese embassies and consulates worldwide are mandated to influence local politicians and government officials and to mobilize overseas Chinese students and members of the Chinese community to advance the CCP's influence.
"The 'war on Falun Gong' constitutes more than half the total work of the typical Chinese mission," Chen said, adding that it's the "top priority" of Chinese embassies and consulates.
According to Chen, every Chinese embassy and consulate "has at least one diplomat whose primary job is to implement the persecution of Falun Gong practitioners."
"The control of the overseas Chinese community has been a consistent strategic objective of the Chinese Communist Party as a way to penetrate into the mainstream of the host country," he said. "It's not just in Australia. It is done this way in countries such as the U.S. and Canada too."
Chen, who was in charge of monitoring Falun Gong adherents, also said CCP agents use financial and other incentives to gain influence over politicians. This includes providing all-expenses paid trips to China, where political leaders are treated lavishly.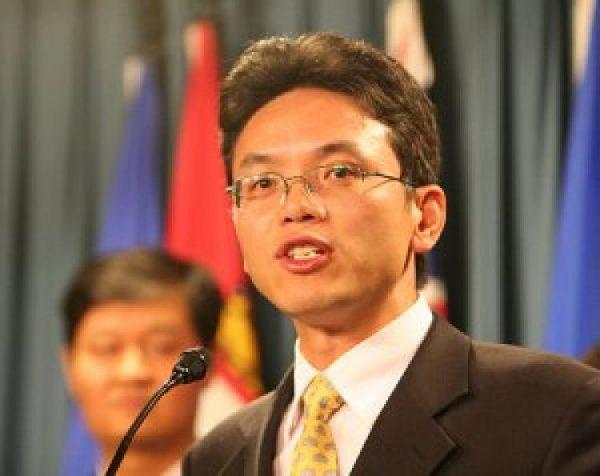 Grace Wollensak, a coordinator with the Falun Dafa Association of Canada, says the CCP's pattern of anti-Falun Gong interference and influence in Canada matches what Chen describes.
"The CCP's persecution in Canada is pervasive and aggressive," Wollensak told The Epoch Times.
The regime's actions against the practice in Canada take various forms, she explains, including harassment, espionage, discrimination, and the spread of propaganda and sophisticated operations to defame the practice, to name a few.
Wollensak says it's her hope that now, with 21 years having passed since the launch of the CCP's campaign, "Canadian leaders can help to end the persecution both in Canada and indeed in China."
Control Over Diaspora
Terry Russell, a senior scholar with the University of Manitoba's Asian Studies Centre, says one of the main ways the CCP has extended its persecution campaign to Canada is by gaining control and influence over Chinese diaspora.

"They persuade those communities that it's in their interest to follow the CCP agenda of persecuting people," says Russell, who has conducted research on the persecution of Falun Gong.
The document said agents from the 610 Office—Beijing's Gestapo-like organization dedicated to eradicating Falun Gong—came to Canada in 2018 to hold seminars in the Chinese communities of Montreal, Toronto, and Ottawa to conduct sessions against Falun Gong.
But besides these kinds of direct actions, a particularly effective method used by the regime to influence the diaspora's views on the practice is through the CCP's control of Chinese media in both print and online, Wollensak says.
According to different scholars, including
Sheng Xue
, a Toronto-area Chinese-Canadian author and democracy activist, the CCP controls all Chinese-language media in Canada with the exception of a few, one being the Chinese edition of The Epoch Times.
Hamilton says the CCP's campaign of vilification against Falun Gong in countries like Canada has worked very well for the regime.
"In the era when everybody in the mainstream society was falling over themselves to ingratiate themselves fully with Beijing, they [some members of Chinese community] therefore became very reluctant to associate with someone that Beijing [was against]," he said in an interview.
"That was really disastrous for Falun Dafa, because it meant that people in parts of the community were reluctant to back it."
'A False Balance'
Wollensak says one common way Falun Gong adherents are marginalized is when the regime's hate labels get repeated in news reports.

"When the media just quote the CCP's hate propaganda which it uses to justify its persecution of Falun Gong, that creates a doubt about the practice in people's minds, as the Party intends, which is extremely harmful to our community," she says.

Former Chinese diplomat Chen says Chinese diplomats around the world are required to tell politicians in host countries that Falun Gong is a "cult" and that they should keep a distance.

"The CCP uses this tactic to defame Falun Gong as a way of silencing any criticism of the persecution," Wollensak says.
A
report
by the Washington-based Freedom House says this label was slapped on Falun Gong by CCP officials as a way to justify the campaign against the practice.
"But such claims run counter to internal Party documents and the lack of harmful outcomes in other countries where Falun Gong has spread," the report says.
According to Freedom House, the label only began appearing in CCP literature and discourse on the practice in October 1999, three months after the persecution started in China, "as the propaganda apparatus seized on a manipulated English translation of the Chinese term xiejiao."
David Ownby, a Montreal-based scholar on Chinese religions, has said that this labelling was "cleverly exploited by the Chinese state to blunt the appeal of Falun Gong and the effectiveness of the group's activities outside China."
Wollensak says that oftentimes when reporters repeat this particular derogatory term, they cite it at the same time they explain that Falun Gong is undergoing persecution in China. By framing it this way, they are in effect presenting the CCP's justification for the persecution, as well as providing the CCP with a free platform to spread its attacks against Falun Gong adherents to Canadian readers.
She argues that this doesn't constitute balanced reporting. "This is a false balance," she says. "It's not responsible journalism."
Maria Cheung, associate dean and professor of social work at the University of Manitoba, says that when reporters repeat the hateful terms used by perpetrators of human rights, "they are blaming the victims."
"For example, when women were being stoned to death in Afghanistan, we didn't repeat those really hateful descriptions that the perpetrators used to describe those women, reinforcing the justification of the perpetrators. We named the perpetrators," explains Cheung, who specializes in human rights.
The CBC has used the pejorative term related to Falun Gong in recent and past articles.
David Matas, an international human rights lawyer based in Winnipeg, points to a 2006 CBC article on a report he co-wrote on state-sanctioned organ harvesting from Falun Gong practitioners in China.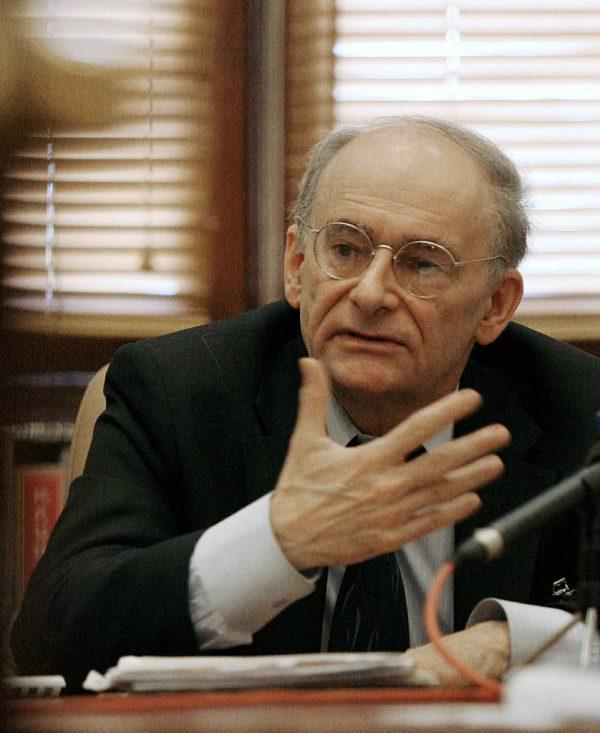 The article said, "Followers of Falun Gong say it is a spiritual movement to improve physical and mental health, while the Chinese government considers it a [repeating the CCP's hate label], banning it in 1999."
This is akin to repeating how the government of Nazi Germany negatively characterized the Jewish people as a way of justifying the Holocaust, said Matas, who is of Jewish heritage and was motivated to become active in human rights in order to prevent tragedies like the Holocaust from happening again.
"The false symmetry between persecutor and victim combined with factual inaccuracy is pervasive in CBC reporting on China," Matas told The Epoch Times.
There have also been other issues with CBC's recent reporting, Cheung notes.
A recent CBC article quoted an academic who says: "There are many stories about how group members [Falun Gong adherents] were persecuted in China. There could be certain exaggerations but … definitely, there is persecution, and there are violations of human rights."
This academic was not an expert on the persecution of Falun Gong. Cheung says that when the CBC chooses to quote someone who is not an expert on this subject making statements that there could be "exaggerations," it implies uncertainty as to the severity of a very serious and far-reaching human rights violation. In effect, it takes the CCP's narrative on the persecution "at face value."
She says that the CBC reporters and the academic they interviewed might have reported the situation differently if they had studied the findings of the 2019 China Tribunal—an independent people's tribunal in London, England—and other reports issued by human rights organizations.
The tribunal, chaired by Sir Geoffrey Nice QC, who led the prosecution of former Yugoslav president Slobodan Milosevic for war crimes at the International Criminal Tribunal, found that the Chinese regime's sustained practice of forced organ harvesting of Falun Gong prisoners of conscience constitutes a crime against humanity.
"When there is such a hidden, massive-scale killing happening, the perpetrator would try to deny what it's doing. The media in the West, as bystanders, have to look into these contexts when they make their reports," Cheung says.
There have also been other instances of CBC reporting on Falun Gong that raised eyebrows. In an infamous example in 2007, the national broadcaster pulled a documentary about the persecution of Falun Gong at the last minute after objections from Chinese embassy and consulate officials. The network eventually aired a modified version of the documentary at a later date.
CBC said at the time that this was done to ensure the film, titled "Beyond the Red Wall: The Persecution of Falun Gong," is a "solid piece of work" and can stand up to "intense scrutiny." Peter Rowe, who directed the documentary, told The Epoch Times in a recent interview that he thinks the network did it under the threat of losing the rights to broadcast the 2008 Beijing Olympics.
"Even so, they [CBC] still lost," says Rowe. "The Chinese pulled their website in China for about three months. Eventually, it was returned to them."
Decision-Makers and Politicians
There have been several cases of politicians taking actions that marginalize Falun Gong after visiting China.

When Sam Sullivan was the mayor of Vancouver, he pursued court action to remove a permanent vigil kept outside the Chinese Consulate in that city to raise awareness of the Falun Gong persecution.

Sullivan told the Vancouver Sun in 2006, "When I go to China, they treat me like an emperor."

The vigil had been a thorn in the side of Chinese officials. Former diplomat Chen says that "all diplomatic staff in every embassy and consulate around the world" were aware of this vigil in Vancouver, saying it was "a major embarrassment for the Chinese government."
In 2010, Ottawa Mayor Larry O'Brien withdrew his promised support for a proclamation recognizing local Falun Gong adherents after he returned from a trip to China. He told an Ottawa city councillor that he reneged because of a "commitment" he had made, according to the Ottawa Citizen. The city council later
bypassed the mayor
and issued the proclamation.
A Global News
article
 published in March 2020 reports on how Beijing attempts to exert influence on politicians to shape their actions in line with its wishes when it comes to Falun Gong. The article tells of a 2007 all-expenses-paid trip to China, organized by Chinese businessman and former People's Liberation Army officer Li Zhe, during which seven Vancouver area-mayors mingled with Chinese officials.
A story in the CCP mouthpiece People's Daily said Li Zhe had come to Canada to persuade Canadian politicians to view Beijing more favourably, Global reported.
Following the trip, one of the mayors stopped issuing proclamations for Falun Dafa Day despite having previously done so consistently every year.
Another case involved Chris Bolton, the former chair of the Toronto School District Board who sought to bring the Confucius Institute program to Toronto while keeping the rest of the trustees in the dark. Bolton said in a TV interview that he was "very pleased with the Confucius Institute, and by and large the people who are complaining about the Confucius Institute are aligned with the Falun Gong."
Referring to Bolton's comment,
Chris Chappell
, host of the online show "China Uncensored," quipped, "Since when did elected Canadian officials start sounding like Chinese Communist Party officials?"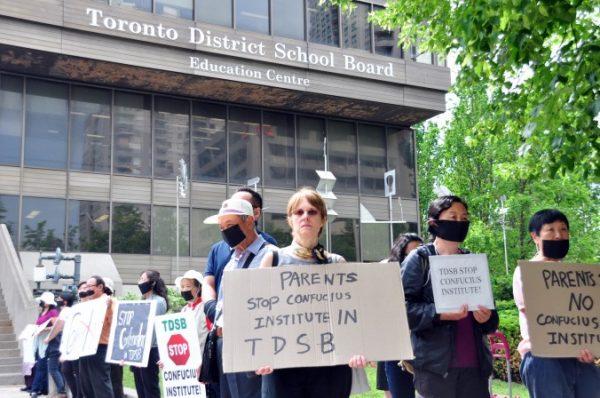 Bolton's effort to bring the institutes, which intelligence agencies describe as being part of Beijing's propaganda apparatus, was met with a strong community backlash, and TDSB trustees eventually voted to keep the program out of the schools. Bolton resigned from his post amid the controversy.
He said in an interview in the documentary "In the Name of Confucius" that he makes frequent trips to China, and that "the Chinese government believes strongly in putting a good foot forward, and we've been wined and dined certainly over there."
Pressure on Government
According to the 2020 book "Hidden Hand," by Hamilton and Mareike Ohlberg, the CCP develops local ties that "can be leveraged to pressure national governments."

"Local politicians typically know little about China and have no responsibility for national security," the book says. "Because their Chinese interlocutors present themselves as offering people-to-people exchanges and 'opportunities for local business,' these politicians have a strong incentive to remain uninformed."

The book goes into detail about how the CCP has been able to advance its interests in countries like Canada by "subverting institutions in Western countries and winning over their elites."
"[The CCP's] targets will include past, present, and future political leaders at each level of government—national, provincial, or municipal. High-level officials who advise and influence political leaders are also of great interest," the book says.
Conservative MP Peter Kent, co-chair of Parliamentary Friends of Falun Gong, says that within democracies like Canada, Australia, and the U.K., Beijing's "influence of the elites and various members of governments mute any criticism there might be about human rights abuse in China."
"We know that there are agents of influence from China," Kent said in an interview. "This very often gives credit to friends of China in countries like Canada, and the higher the compliment is paid, the more likely that those people are actually acting either consciously or unconsciously to further not only China's diplomatic goals but their economic goals and security goals."
Espionage
Besides trying to influence Canadian institutions, the Chinese regime has heavily used its espionage and harassment techniques against Falun Gong adherents in Canada.

Hao Fengjun is a former official with the 610 Office, the CCP organization given unrestricted power to eradicate Falun Gong. When Hao defected to Australia, he said there were over 1,000 spies working on Falun Gong in Canada, more than the number in the United States, Australia, or New Zealand.

Hao revealed that these spies are most active in Vancouver and Toronto, collecting information on adherents and tapping their phones.
In one case, Toronto Falun Gong practitioner
Jillian Ye
was in for a surprise after reading the contents of a secret document leaked by Hao. It contained information about her plans to start a communications company in Toronto, something that she had only talked about privately.
The book "Silent Invasion" explains that in addition to "traditional kinds of spying," Beijing recruits large numbers of members of the Chinese community to collect information on groups the regime targets, like Falun Gong.
"The Embassy collates the information and sends it to Beijing or uses it in its own operations in-country," it says.
Harassment
The CCP's campaigns of harassment against Falun Gong have included many cases of hacking into practitioners' computers, phone calls to individual practitioners issuing death threats and hateful messages, and even physical confrontations involving threats of violence and destruction of property, according to a report by the Canadian Coalition on Human Rights in China (CCHR), which consists of Amnesty International and dissident groups.

In 2018, as two Falun Gong adherents were doing the practice's meditative exercises in a park in Winnipeg, they were approached by a man speaking Mandarin. They invited him to join them in the practice, but he swore at them, threatened that he would beat them to death, and started recording them.

In another incident the year before, as adherents were holding a rally in front of the Chinese Consulate in Calgary, two men disrupted the rally, ripped up display banners, and swore at the adherents. After police were called, the two men left the scene. Witnesses saw one of the men talking with people coming out of the Chinese Consulate.
Also in Calgary a few years before that, in 2014, the vehicle belonging to an organizer of a Falun Dafa human rights event was sabotaged in various locations by a knife blade and other sharp objects.
In Toronto's Chinatown, where adherents regularly hold events to raise awareness about the persecution in China, there have been numerous cases of harassment and intimidation over the years. A report submitted to the police about these instances says a locked storage room holding banners and other display materials has been broken into several times, with the cumulative worth of stolen items amounting to over $4,000.
Defamation
According to "Claws of the Panda," "Falun Gong is the target of the most clear-cut case of Chinese diplomatic officials distributing hate propaganda in Canada."

Zhang Jiyan

, wife of a Chinese diplomat and a Falun Gong adherent who defected to Canada, said in 2007 that she personally saw materials at the Chinese Embassy in Ottawa that incite hatred against the practice.

"The embassy has a special unit dedicated to collecting information, especially on Falun Gong practitioners," she said at the time.

In 2005, Edmonton police concluded that the Chinese Consulate in Calgary had contravened hate crime laws by distributing leaflets that attacked the practice in Edmonton a year prior.

Since early 2001, Montreal Chinese-language publication

Les Presses Chinoises

has published several pages in its weekly publication—and sometimes in nationwide special editions—containing content that slanders Falun Gong. The content repeats the Chinese regime's propaganda against the practice verbatim, including claims that adherents are "evil" and an "enemy of the state."
A recently leaked 2018 Chinese regime document obtained by The Epoch Times shows that agents from the 610 Office have been collaborating with Les Presses Chinoises to defame Falun Gong. The document details the finances used by the agents for their efforts.
In 2015, Chinese-language newspaper Today Commercial News was forced to make a retraction and issue an apology after reprinting an article by the Chinese state mouthpiece People's Daily that attacked Falun Gong. Despite that, it ran another article attacking the practice earlier this year.
Fake Emails to Manipulate Politicians
Starting around 2010, many MPs and ministers began receiving
emails
purportedly claiming to be sent by Falun Gong adherents, according to the CCHR report. The emails, the report says, contained "strange and sometimes threatening messages."
Wollensak says the Falun Dafa Association only learned about the emails because some MPs suspected something wasn't right and forwarded them to Falun Dafa adherents, who confirmed the senders were impersonating adherents to give them a bad name. She says such emails in the past have been traced to IP addresses originating in China.
"Government officials at all levels in numerous countries have been systematically and repeatedly targeted by fraudulent emails from persons claiming to be Falun Gong practitioners," she said.
"The emails often portray the sender as obsessive, irrational, and rude, attempting to lend legitimacy to the Chinese regime's claims that Falun Gong is a menace to society and swaying would-be support from Western government officials."
A Freedom House
report
says suspected agents of the Chinese regime use email impersonation as a tactic to mislead politicians and harm the reputation of the groups targeted by the CCP.
The report says similar incidents involving fake emails purporting to be from Falun Gong practitioners were sent to politicians in Australia around the same time as in Canada.
According to human rights lawyer Matas, these fake emails are part of the CCP's "propagandistic devices, mechanisms, and institutions to bamboozle and confuse people."
Liberal MP Judy Sgro, co-chair of Parliamentary Friends of Falun Gong, received one such email in 2018. It contained an image of her superimposed on an inappropriate backdrop with comments that it would be posted everywhere to show her support for Falun Gong.
"It's really an attempt to disparage the Falun Gong's followers," Sgro told the National Post.
Discrimination
Russell, the senior scholar with the University of Manitoba, says that due to the CCP's influence in local Chinese communities, Falun Gong practitioners are excluded from those communities in various ways.

This is manifested, for example, when Falun Gong is banned from taking part in parades in Chinese communities, which often happens.

In 2011, an elderly Falun Gong adherent in Ottawa won an Ontario Human Rights Tribunal case launched when she was kicked out of the Ottawa Chinese Seniors' Association because she practised Falun Gong. The tribunal found that she was a victim of discrimination.

Chen, the former Chinese diplomat who defected to Australia, has said that when Chinese Consulate officials attend events held by the local Chinese community, they demand a guarantee that "no Falun Gong" will be present.

"Many times the consulate has discussed with the community how to oppose the Falun Gong, and even initiated campaigns wherein people sign complaints against the Falun Gong," he said in a

statement

.

In a worrying sign, the discrimination goes even beyond just the Chinese community at times.

At the Ottawa Dragon Boat Festival in 2019, adherent Gerry Smith

was asked

 by the festival's CEO, John Brooman, to remove his shirt bearing the words "Falun Dafa," apparently to avoid offending the Chinese Embassy, a gold sponsor of the festival.
Smith has filed a complaint with the Ontario Human Rights Tribunal.
"This is Canada, and Canadians should not be taking direction from the Chinese Embassy," he said.
Also in Ottawa, in both 2010 and 2011, an application by Falun Gong adherents to participate in a health show as part of Asian Heritage Month was rejected. After taking the case to the Ontario Human Rights Tribunal, the adherents were issued an apology and restitution.
In 2008, organizers of the Canadian Tulip Festival in Ottawa issued an apology for having banned a marching band wearing uniforms displaying the name of Falun Gong. The organizers were worried that the shirts would embarrass the Chinese Embassy, a sponsor of the event.
Discrimination has also taken place in employment situations.
In 2013, McMaster University closed its Confucius Institute program because the Chinese partners refused to remove a clause from their hiring requirements stating that teachers can't practise Falun Gong. Sonia Zhao, who now lives in Canada, was in effect forced to sign a form containing that clause before coming from China to teach at McMaster's Confucius Institute, as she was worried that if she refused to sign, she would be outed as a Falun Gong adherent and face persecution, like what happened to her mother.
Years before, in 2004, Chunyan Huang, a Falun Gong practitioner living in Edmonton, was issued an apology and compensation by Alberta's Ministry of International and Intergovernment Relations for having been dismissed because she practised Falun Gong.
Huang had been working as an interpreter for the ministry but was let go at the request of Chinese officials for whom she was assigned to do translation, after they learned she was a Falun Gong adherent.
Persecution in China
Hamilton says the persecution of Falun Gong in China is "especially brutal and unforgivable."

Besides the fact that the CCP has extended its persecution campaign into Canada, some Canadians have even been directly persecuted in China.

Sun Qian

, a Canadian citizen, was detained in China in 2017 because she practises Falun Gong. She was recently sentenced to eight years in prison.

"[Sun] has been illegally detained and physically and mentally tortured, with reports of her being shackled, handcuffed to a steel chair, pepper-sprayed in the face, and under sustained brainwashing and psychological manipulation," the Falun Dafa Association said in a statement.
There are also currently eight other Canadians' family members incarcerated in China for practising Falun Gong, serving sentences of up to 16 years.
Another method of persecution used by the CCP is the intimidation of overseas Falun Gong adherents' family members who live in China. Adherent Anastasia Lin, who won the Miss World Canada beauty pageant in 2015 and is a vocal critic of Beijing's human rights record, says her father in China has been threatened by authorities due to her activism.
After winning the pageant in Canada, Lin tried to go to China for the Miss World 2015 competition but was told at the Hong Kong airport that she had been declared persona non grata by Chinese authorities.
MP Kent says part of the reason Beijing's persecution campaign against Falun Gong has been able to persist is that "democracies of the world have not acted together" to pressure the regime to bring it to a halt.
He says the overwhelming majority of Canadians now see China not only as an economic rival but also as "a threat to Canadian security and democracy."
An Angus Reid poll in March showed that only 14 percent of Canadians say they have a positive view of China, a level half as high as it was just six months before.
"We must continue to work and hope that China will one day respect the rule of law; the freedoms of speech, assembly, and religion; and all of the democratic rights we so often take for granted in Canada
—a day when the tenets of Falun Dafa and Falun Gong can be spoken aloud in Tiananmen Square, with Zhen, Shan, and Ren, which translate to truthfulness, compassion, and tolerance
," Kent said.