A Canadian businesswoman who was the co-owner of a multimillion-dollar company has been sentenced to eight years in prison in China for being a Falun Dafa practitioner.
Sun Qian, a Canadian citizen, was arrested at her Beijing residence in February 2017 and has remained in custody since. She was sentenced on June 30 by a Beijing court, according to one of her former lawyers, Xie Yanyi.
"Sun Qian is innocent," Xie said. "The arresting and charging of Sun Qian were illegal right from the beginning."
Xie said Sun's sentence violates China's own constitution, which stipulates freedom of religious belief. He said the sentence tramples the rule of law and shows "the criminal acts" of those involved in "such an unjust case."
Xun Li, president of the Falun Dafa Association of Canada, called for Sun's immediate release.
"Sun has suffered at the hands of the Communist Party for over three years. She has been illegally detained and physically and mentally tortured with reports of her being shackled, handcuffed to a steel chair, pepper-sprayed in the face, and under sustained brainwashing and psychological manipulation," Li said.
Sun has been represented by nearly a dozen lawyers since her arrest, all of whom had to drop her case due to pressure from the Chinese authorities. Since 2019, she has been allowed to only use a government-designated lawyer, who could at best ask for leniency rather than argue for her innocence.
The Meng Case
Xie said one of the main factors behind Sun's case dragging on for over three years before sentencing, and the very long prison sentence handed down June 30, is the case of Meng Wanzhou.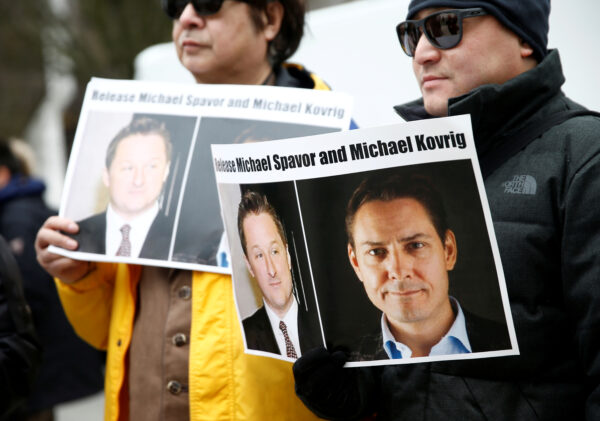 Meng, the chief financial officer of China's Huawei Technologies, was arrested in Vancouver in December 2018 on an extradition request from the United States. Shortly after, China arrested Canadians Michael Kovrig and Michael Spavor.
In late May, the British Columbia Supreme Court dismissed a bid by Meng to be released.
Shortly after, on June 19, Kovrig and Spavor were formally charged with spying in China.
Since the arrest of Kovrig and Spavor, Beijing had routinely insisted that the detentions weren't related to Meng's arrest. But the regime reversed course on June 24 when a spokesperson for China's foreign ministry suggested that if Meng were released, the two Canadians may be freed.
Xie said the same tactics are playing a role in Sun's case, noting the timing of Sun suddenly being given a very long prison sentence.
He said several human rights lawyers in China wrote an open letter to Canadian Prime Minister Justin Trudeau before his 2017 trip to China, saying that Sun's arrest and detention were illegal, hoping to get his help to have her released.
Coercion
According to Xie, Sun agreed to use a government-appointed lawyer "under coercion." He also said she was mentally manipulated to the point where she decided to donate her wealth—hundreds of millions of dollars—to the detention centre where she was being held.
"Sun Qian basically has given up everything. However, she did so while detained and without being free. Legally, it shouldn't be valid because it is not an expression of her free will," Xie said.
Before her arrest, Sun was the founder and vice president of Beijing Leadman Biochemistry, a multimillion-dollar company she co-owned with her husband, Shen Guangqian.
Sun's sister, Sun Zan, told The Epoch Times in previous interviews that Shen colluded with Chinese officials to have Sun incarcerated so that he could take over her shares in the company.
"[Shen] colluded with certain individuals in the public security bureau, using the policy of suppressing Falun Gong to bring about Sun's illegal detention and prosecution," Sun Zan said.
Canadian parliamentarians and Amnesty International have on many occasions urged Beijing to release Sun. The European Parliament also asked for her release as part of a resolution calling for sanctions against human rights abusers in China.
Li, the president of the Falun Dafa Association of Canada, said Sun is innocent and shouldn't have been arrested in the first place.
"The persecution of Falun Gong violates the U.N. Charter and other international human rights conventions. It also violates China's own constitution and laws," he said.
Falun Dafa, also known as Falun Gong, is a meditation discipline based on truthfulness, compassion, and tolerance that adherents say improves health and well-being. It has been brutally suppressed in China since 1999, when then-Chinese leader Jiang Zemin started a wide-ranging campaign of persecution against the practice.
Before that, government data showed that 70 million to 100 million people were adherents of Falun Dafa in China.
A previous version of the article misspelled the name of Sun Qian's former lawyer. The lawyer's name should be Xie Yanyi. The Epoch Times regrets the error.