Ottawa's local Falun Gong community, whose meditation and spiritual practice is being persecuted in China, wants the Ottawa Dragon Boat Festival to apologize for discrimination after one of its adherents was asked by the festival's CEO to take off his shirt bearing Falun Gong's name, apparently to avoid offending the Chinese Embassy, a gold sponsor of the festival.
The incident occurred June 22 at around 3 p.m. on festival grounds at Mooney's Bay Park. Falun Gong practitioner Gerry Smith had just sat down at a picnic table with his friend's 9-year-old son, after buying the boy a veggie burger from one of the vendors. Festival CEO John Brooman was sitting at the other end of the table. He saw Smith wearing a T-shirt with the words "Falun Dafa" and "Truthfulness, Benevolence, Forbearance" on it, the latter of which are the three main principles of the practice, and he took issue with the shirt.
Brooman asked Smith to "take off your shirt," introducing himself as the festival CEO and explaining that the Chinese Embassy is a sponsor and does not allow Falun Dafa to be at the festival. He (the festival) paid a huge sum of money to rent the park for the event, he said, Smith recalled. Brooman added that by wearing a shirt with the words Falun Dafa on it, Smith was "politicizing" the family event.
During their conversation, Smith learned that Brooman didn't just object to clothing with "Falun Dafa" on it at the festival site, he didn't want to see those shirts anywhere else in the park.
At the time, a group of about eight practitioners was doing their meditation exercises in another part of the park. Despite their being outside the festival fenced-in area, Brooman told Smith he wanted them to leave. He said "I can call to have them removed, gesturing to the phone on his waist," according to Smith.
In a letter to Brooman following the incident, Smith said he was "shocked, embarrassed, and taken aback" by this request "directed by your sponsor the Chinese Embassy."
"This is Canada, and Canadians should not be taking direction from the Chinese Embassy," Smith wrote. "This is dirty money that you and the Dragon Boat Festival are taking from China. The Chinese Embassy sponsoring this event is trying to interfere with Canadian values and freedom."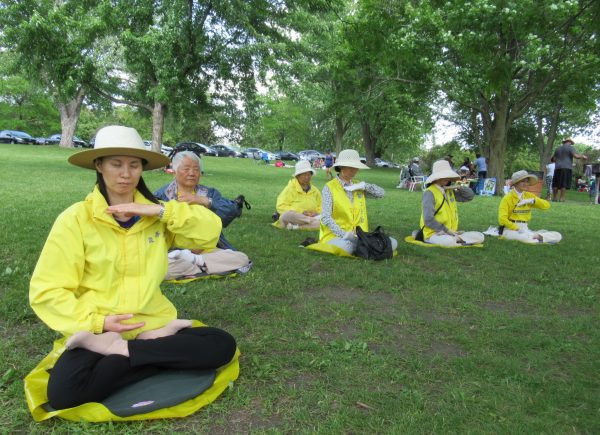 'Renting Is Not a Licence to Discriminate in the Rented Space'
As all three levels of government provided funding to the Dragon Boat Festival, and the event took place on public grounds owned and operated by the City of Ottawa, Smith contacted city hall to report the incident on June 25.
The City Operations agent regarded it as a police matter and transferred Smith to the police, and a detective later called Smith to follow up on his complaint.
"The detective said if anyone asks you to do this again, you can call us. You don't need to do that," Smith said.
A police spokesperson confirmed this in an email response to an Epoch Times inquiry on July 16, stating, "Should this type of incident re-occur, the property security or police can be contacted."
Brooman did not respond to a request for comment for this article. However, in a July 10 email response to a letter from the Ottawa Falun Gong community seeking an apology, he reiterated that the festival "did not want to politicize our family event."
Winnipeg-based international human rights lawyer David Matas considers the festival CEO's behaviour inappropriate, saying Smith had a right to wear his shirt.
"People should not be expected to hide their identity through their clothing. People should be free to self-identity, particularly when this self-identity is part of their beliefs. Insisting that people wear clothing which disguises who they are is discriminatory," Matas said.
Matas added that "renting is not a licence to discriminate in the rented space," adding that "Canada has anti-discrimination standards that must be respected."
"We have to be alert to the Chinese government tendency to use money globally to carry forward its ideological agenda," Matas noted.
'Festival Must Not Sell Out Canadian Values'
Meanwhile, the local Falun Gong group is still hoping to receive a public apology from the festival to Smith and the group "for its discriminatory act at the festival as directed by the Chinese Embassy," said spokesperson Grace Wollensak.
"The only person who is politicizing the event is Brooman himself, who perceived that the words 'Falun Dafa' on Mr. Smith's shirt which identify his faith needs to be suppressed at this public event," she said. "What is his motive other than appeasing the Chinese Embassy by attempting to remove Falun Gong practitioners not even on his rented premises?"
"It's alarming that the Chinese Embassy is extending its persecution of Falun Gong to this community event, and more so that Brooman found it appropriate to comply with the Chinese Communist Party line to discriminate against a Canadian group on Canadian soil, as if money is what it takes to entitle a sponsor to enforce an oppressive policy on grounds owned and operated by the nation's capital city," Wollensak added.
"Moreover, Brooman's act of discrimination in front of a child caused a negative impact on the boy. The festival should not and must not sell out Canadian values and allow a totalitarian regime to erode our free society in Canada."
According to Wollensak, this is just the latest in a long string of incidents in Canada as a result of the Chinese regime's extension of the persecution of Falun Gong overseas.
Falun Gong is a traditional Chinese discipline of self-improvement praised by devotees for its health benefits. But its soaring popularity in the 1990s was not welcomed by the communist regime in China, which in 1999 sought to "eradicate" it by launching a persecution campaign against its adherents. It's a far-reaching, violent suppression that has seen numerous adherents imprisoned, tortured, and even killed via forced organ harvesting to supply a lucrative trade in human organs, as widely reported in the media.
Wollensak says that over the last 20 years, an anti-Falun Gong hate campaign directed by the Chinese Embassy and consulates has been taking place across Canada, resulting in many instances of discrimination.
In a similar incident that made headlines in May 2008, a performance by a Falun Gong band at the Ottawa Tulip Festival was cancelled at the last minute due to organizers' concerns that the band's presence might upset Chinese Embassy officials, who had a tent at the festival. After the incident whipped up a media storm, festival organizers issued an official apology to the band and invited them back to perform at later dates.
In a 2006 ruling, the Ontario Human Rights Tribunal found that the Ottawa Chinese Seniors Association discriminated against Ottawa resident Daiming Huang when it terminated her membership due to her Falun Gong practice. The tribunal ruled that the practice of Falun Gong constitutes a form of creed, which is protected within the meaning of Ontario's Human Rights Code. Huang said she has evidence that the association removed her at the direction of the Chinese Embassy.
Wollensak says the numerous incidents of discrimination over the years have forced Falun Gong practitioners to take action to protect their basic rights.
Attempts to Influence Canadian Officials
Consulate and embassy officials also put a lot of effort into persuading federal, provincial, and municipal politicians to not support Falun Gong, the threat being that failing to do so could jeopardize Canada-China trade relations.
The City of Ottawa has proclaimed May 13 as Falun Dafa Day every year for over a decade to celebrate the day in 1992 on which the practice was introduced in China. However, city councilors across Canada routinely receive letters from Chinese diplomats asking them not to grant proclamations declaring Falun Dafa Day or Falun Dafa Week. These letters invariably come with warnings that issuing such proclamations could have negative effects on business and cooperation between China and those councillors' particular cities.
The Chinese regime has been known to throw its weight around in other countries as well.
Former Chinese diplomat Chen Yonglin, who defected from the Chinese consulate-general in Sydney, Australia, said the Chinese Communist Party (CCP) tries to control not only overseas Chinese organizations, student associations, and media, but also government officials of other countries.
The CCP tries to buy foreign officials by treating them lavishly, such as on trips to China, Chen said during a visit to Vancouver in 2007.
"When I was working at the Chinese Consulate in Sydney, one of my tasks was to exert pressure on Australian government officials on the Falun Gong issue. It is impossible that a Western official didn't have any pressure from the CCP on the Falun Gong issue," Chen said.
According to Chen, measures used to suppress Falun Gong outside China include large-scale anti-Falun Gong propaganda campaigns, pressure on officials, and activities to incite the Chinese community and Chinese students to ostracize and discriminate against adherents.
"Such incidents show that the discrimination and hate propaganda disseminated by Beijing is entering mainstream Canadian society," Wollensak said.
She said she hopes the City of Ottawa can help to correct the wrong and rectify this issue at the Dragon Boat Festival, which "should not have been allowed to occur in the first place."