Hong Kong bowlers once again returned empty-handed from the World Cup Singles Championship when both representative Stanley Lai and Queenie Lai failed to qualify for the play-offs but the positive side is that the results show that Hong Kong is catching up with the bigger nations.
Stanley Lai, who won a silver in the 2012 World Singles Champion of Champions, started the competition well, defeated Ozkan Akar (Turkey), Scott Roberts (USA) and Frans Roberts (Nederland) in the first three games. In the fourth game he played Ali Forsyth, the New Zealander who won the Fours gold in last year's World Championship and is a previous World Champion of Champions winner. Lai drew level with Forsyth in the first set but lost marginally in the second to register his first defeat in the tournament.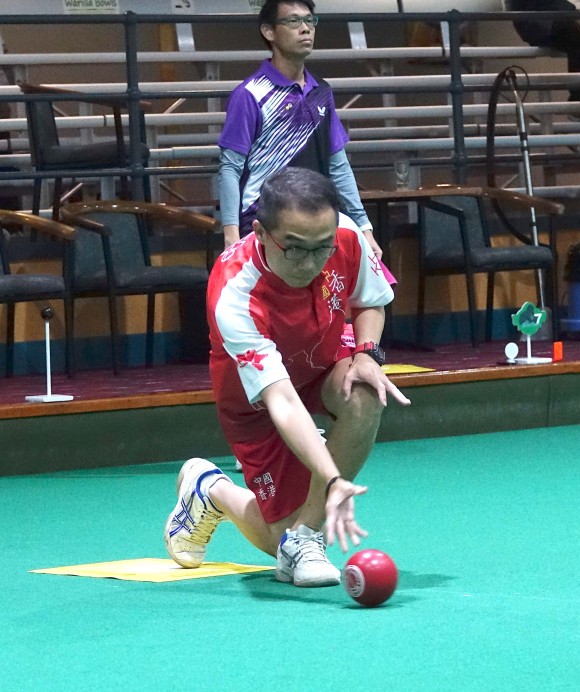 After a bye in round 5, Stanley suffered a shock defeat in the hand of Melvin Tan from Singapore, after extra ends. Stanley said this is probably the turning point, "I played well in that game but Melvin played exceptionally well. He turned a lot of heads to his favour and I am a bit unlucky to lose in the tie-breaker." From then on he did not have any buffer and need to go for each matches.
He picked himself up with three straight wins against bowlers from Isle of Man, Brunei and Guernsey. However successive defeats by Pierre Breitenbach (South Africa) and Curtis Hanley (Australia) made progression almost impossible.
Stanley did not give up and duly disposed of Shaun Parnis from Malta and Munesh Kumar from Fiji in the last two games. However, results from other matches did not favour him and he finished fifth and could not qualify for the play-off.
Despite being satisfied with his performance, Stanley believed that the results somehow showed the gap between Hong Kong and the strong nations, "I played quite well throughout the competition and performed [to] my usual standard. However, the results also suggested that we need to work on our consistency so that we can compete with them.
"Against strong bowlers from Australia, New Zealand and South Africa I was able to draw level with each of them in the second set. Judging from the results you can said that the difference was tiny and we are improving but in turns of the percentage of accuracy and consistency, they were obviously ahead of us." 
Stanley's opinion was echoed by Queenie Lai, who won six of the 11 games and finished a reputable sixth, "Their weight control and the aggressive shots, especially on faster greens, were much better than us because we do not have many chances to practice this in Hong Kong."
Regardless of the results, Queenie felt that she has performed the usual high standard, "Compared with 2009 when I first played in this competition, I have improved a lot and this was reflected in the results. Against top players I got chances to defeat them but sometime the result was just not as expected. I am still happy with my performance and I hope I can come back again and get a better result."
Winners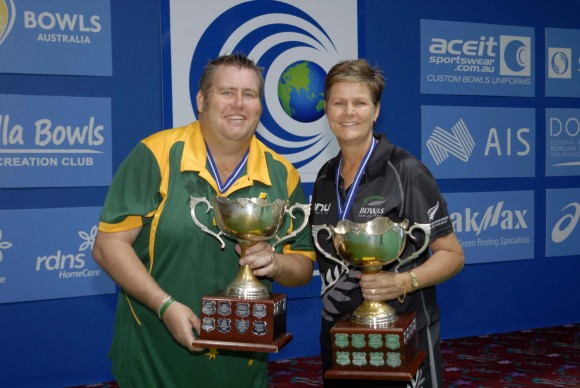 In the men's final Jeremy Henry of Australia beat Soufi Rusli of Malaysia 6-5 11-2, and in the women's final Jo Edwards New Zealand beat Lucy Beere of Guernsey 8-5 2-9 4-1.
This year marked the 13th anniversary of the World Cup Singles Championship with 26 men and 23 women representing 26 countries participated.  Held at the indoor greens of the Warilla Bowling Club in Australia, the event ran from March 12 to 22.
Hong Kong bowler Grace Chu won the ladies gold and Terrence Lee won the men's silver in the inaugural event back in 2005 when it was held in Hong Kong.  Since then Hong Kong bowlers have never entered the knock-out stage of the event.
This week in Lawn Bowls
The Semi-finals of the HKLBA Men's National Pairs will be held at IRC on Sunday March 26 starting at 3pm.
Claudius Lam is an officer of the Hong Kong Lawn Bowls Association