A woman was arrested after allegedly disturbing and stomping on a sea turtle nest in Miami Beach, Florida.
Officers and others saw Yaqun Lu, 41, take a wooden pole to the nesting area, and "jabbing at the sea turtle nest and stomping all over the nest with her bare feet," police said, according to the Miami Herald.
The nest was located in a closed-off area on the beach with a "Do Not Disturb" sign.
"Thankfully, it appears the eggs were not damaged," Miami Beach police spokesman Ernesto Rodriguez told the paper.
Lu was transported to Turner Guilford Knight Correctional Center, where she's being held on a $5,000 bond. She has an address in Michigan, but she is a Chinese national, Local10 reported.
Woman arrested for jabbing at sea turtle nest on Miami Beach and stomping on the eggs with her bare feet. https://t.co/fMuFIMIcX2

— WPLG Local 10 News (@WPLGLocal10) June 15, 2019
POLICE: MBPD arrested a woman this morning seen "jabbing at a sea turtle nest and stomping all over the nest." Thankfully, it appears the eggs were not damaged.

Sea turtle nesting season runs from May 1 through October 31. #MBShareTheShore

👉: https://t.co/hxSdKy5rZk pic.twitter.com/TmutaApzsJ

— Miami Beach Police (@MiamiBeachPD) June 15, 2019
The Florida Fish and Wildlife Conservation Commission says that sea turtles are protected under the Federal Endangered Species Act of 1973 as well as under Florida's Marine Turtle Protection Act.
It's illegal to disturb, harass, or destroy turtles, nests, or eggs, the website says.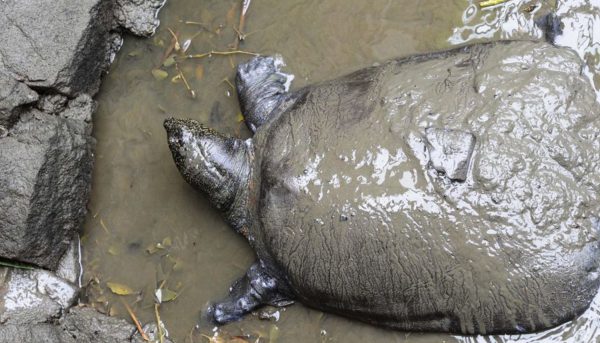 The U.S. National Oceanic and Atmospheric Administration says on its website that it "encourages the public to view sea turtles responsibly from a distance of 10 feet."
It notes, "Civil penalties can exceed $50,000 and Criminal penalties can include fines of up to $100,000 and imprisonment of up to one year."
In 2015, the agency added, a Florida man received 30 days in jail for lifting a sea turtle out of the water.
Local10 reported at the time that Carlos Argenis Hernandez was arrested in July 2015 after photos emerged of him lifting the sea animal out of the water. He then put in on a coral rock.
Another man was fined $1,500 last year for harassing a turtle and a monk seal in Hawaii's Kaua'i, NOAA also said.
"The man, who was vacationing on Kauaʻi in fall 2017, posted videos of his interactions with the animals on Instagram, a popular social media platform for sharing photos and videos. An officer with NOAA's Office of Law Enforcement (OLE) in Hawaiʻi used the man's social media presence to identify his home address, issue the penalty, and educate him about the federal statutes protecting marine wildlife," the agency wrote.
Adam Kurtz, a NOAA Fisheries wildlife management coordinator, noted that the harassment of the seal could be dangerous.
"Even if they are sleeping and seem harmless, Hawaiian monk seals are still wild animals and they can act unpredictably," Kurtz said in a statement. "The seal could have lunged at him."