With Appointment of PRC Vice Chair, a Setback to Jiang Zemin's Faction
March 17, 2013 2:38 pm Last Updated: April 2, 2013 3:39 am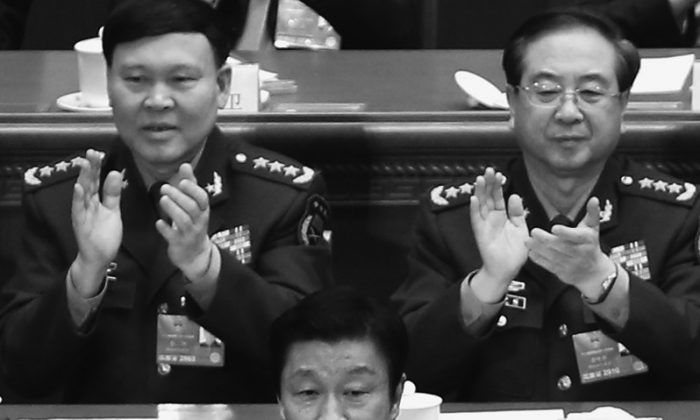 As the Chinese Communist Party concluded its largest leadership change in a decade, Li Yuanchao, an ally to new Party leader Xi Jinping, was on March 14 named Vice Chairman of the People's Republic of China.
Li's appointment is significant for two reasons, both pointing to a weakening of former leader Jiang Zemin's faction. First, propaganda czar Liu Yunshan, a Jiang loyalist, missed out on the post, and second, Li is the first Politburo member to become Vice Chairman since 1998, bucking Jiang's unwritten rule that only a Politburo Standing Committee member could take the position of Vice Chairman.
Li ranks next after the top seven officials in the Standing Committee, and will wield some degree of power in his new role, Hong Kong-based newspaper Takungpao reported. Besides being the first deputy chief of the Central Committee's Hong Kong Macau Coordination Team, Li will also assist Xi Jinping with foreign affairs.  
Li's appointment is a sign of Xi's firm grip on the reins of power: Unlike his predecessor Hu Jintao, Xi Jinping is also in command of the People's Liberation Army, whereas Hu remained in Jiang Zemin's shadow for many years of his leadership.
After Li took his post, some mainland media, like Hangzhou Daily, publicized comments he made during a 2010 conference as head of the Party's Organization Department, saying he would set up a special task force to crack down on corruption involving the buying and selling of government posts. 
Epoch Times commentator Zhou Xiaohui said these reports were aimed at Xi's political opponents, as Jiang Zemin and his henchman Zhou Yongkang, the former security chief, are "notorious for their involvement in graft."
To be promoted, provincial-level cadres must bribe at least half of the standing committee members for no less than 10 million yuan (over $1.6 million) each, according to a January article in Hong Kong's Trend Magazine. The starting price for influential senior Party members like Jiang is 30 million yuan (over $4.8 million).
Zhou Xiaohui believes the recent reports' mention of Li's 2010 comments could be a sign that Xi wants his help to take out Jiang and his allies. 
At a January meeting, Xi signaled his intention to crack down on corruption among the "flies" and "tigers," referring to both lower- and senior-level officials.
The Epoch Times publishes in 35 countries and in 21 languages. Subscribe to our e-newsletter.