A winter storm is forecast to bring locally heavy snow to the Great Lakes region and the northeast United States through Tuesday right before temperatures are predicted to plummet to sub-zero temperatures across much of the country.
The Weather Channel has dubbed the storm "Winter Storm Jayden" but other forecasters and the National Weather Service do not use such naming conventions for winter storms.
For much of the northeastern United States and New England, there are winter storm warnings and watches in effect for the storm.
"In the Northeast, winter storm warnings and winter weather advisories have been posted for parts of northern and western New England, western, central and upstate New York, central and northwestern New Jersey, eastern Pennsylvania, northern Delaware, Maryland, and northern Virginia," said the Weather Channel.
Snow also fell in the southeastern United States, including parts of Alabama, Georgia, and Tennessee.
Snow will persist in New England until early Wednesday, Jan. 30, according to forecasters.
This was the drive into work @NWSAberdeen … though I would recommend you do not attempt #SDWX pic.twitter.com/0aQlqWISMq

— NWS Aberdeen (@NWSAberdeen) January 28, 2019
As much as another foot of snow could be expected in parts of Maine and New Hampshire.
Already, "It is in western Massachusetts and much of Vermont, New Hampshire and Maine that at least 6 to 12 inches of snow is expected to accumulate before the snowstorm departs on Wednesday morning. Similar totals are anticipated in the Adirondack Mountains of New York," AccuWeather reported.
Major delays are likely expected on numerous roadways throughout the region.
"Farther south, snow can fall heavily for a time across eastern Pennsylvania and northwestern New Jersey into Tuesday evening for 3-6 inches of snow to clog roads," according to AccuWeather Senior Meteorologist Kristina Pydynowski.
Brutal in downtown Milwaukee with the wind and snow! Be careful. I took this video as my photojournalist was driving. Turn on #CBS58AM for the latest on our winter storm. pic.twitter.com/fwG2P6jXkS

— Jessica Tighe (@jessicatighe) January 28, 2019
Polar Vortex
The National Weather Service forecast for Wednesday night called for temperatures in Chicago as low as minus 28 (negative 33 degrees Celsius), with wind chills to minus 50 (negative 46 degrees Celsius). Detroit's outlook was for Wednesday overnight lows around minus 15 (negative 26 degrees Celsius), with wind chills dropping to minus 40 (negative 40 degrees Celsius), as reported by The Associated Press.
Temperatures plunged as low as minus 26 (negative 32 degrees Celsius) in North Dakota with wind chills as low as minus 62 (negative 52 degrees Celsius) in Minnesota. It was nearly that cold already in Wisconsin and Illinois. Governors in Wisconsin, Illinois, and Michigan declared emergencies as the worst of the cold threatens to set in on Wednesday.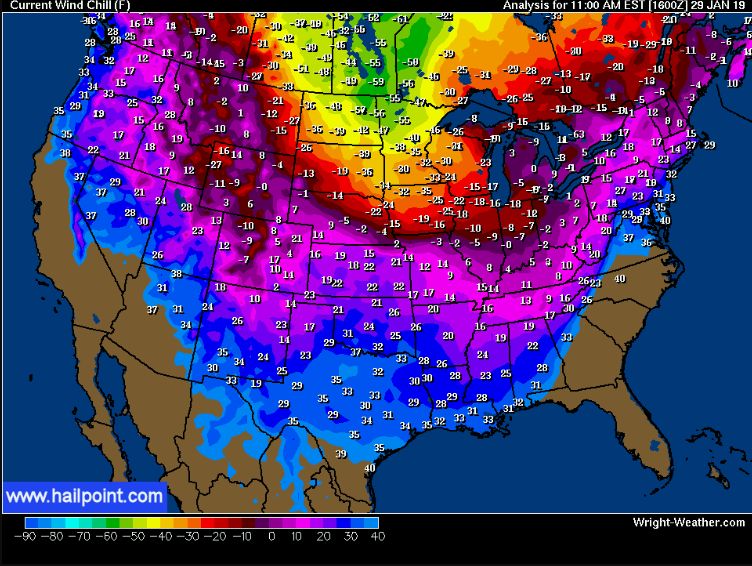 "These are actually a public health risk and you need to treat it appropriately and with that effort," Chicago Mayor Rahm Emanuel said Jan. 29. "They are life-threatening conditions and temperatures."
There have been about 500 crashes on Illinois roads since Jan. 27, state police said, according to Reuters.
The unusually frigid weather is attributed to a sudden warming far above the North Pole. A blast of warm air from misplaced Moroccan heat last month made the normally super chilly air temperatures above the North Pole rapidly increase. That split the polar vortex into pieces, which then started to wander, said Judah Cohen, a winter storm expert for Atmospheric Environmental Research.
The Associated Press contributed to this report.