Will Beijing Send Military to Hong Kong?
Hong Kong LegCo member shows worries
October 2, 2014 Last Updated: October 15, 2014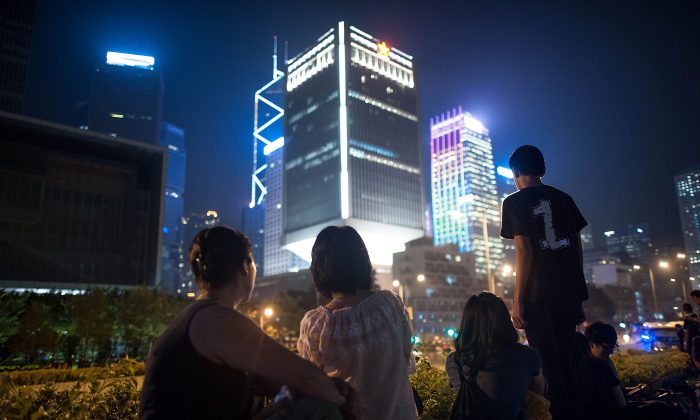 The mass pro-democracy movement in Hong Kong has reminded people in society and around the world of the student movement in Beijing in 1989 that ended with a bloody massacre at Tiananmen Square.
Many, like local politician Gary Fan, are wondering if Beijing will interfere by sending military support to help the Hong Kong government. Fan is a member of the Hong Kong Legislative Council and Sai Kung District Council in Hong Kong.
He told the Taiwan media Liberty Times Net on Wednesday that he worries the Hong Kong government will intentionally let tensions grow to the point that Beijing sends the military in.
Fan, who has actively supported and participated in the Occupy Central movement, indicated that the mass number of protesters has far exceeded people's expectations by many times. The violent crackdown with tear gas and pepper spray launched by the Hong Kong government on September 28 played an important role in stoking public resentment and driving larger numbers of protesters out into the streets.
He said the reason that Occupy Central has grown so large is attributable to opposition to Hong Kong's chief executive Leung Chun-ying (CY Leung). Fan believes that without his resignation, the protests will continue and teeter closer to the brink of danger.
If the protests do take a chaotic turn for the worse, the Hong Kong government would have an excuse to ask for military help from the Beijing central government and enforce the use of stricter laws, according to Fan.
Under Articles 14 and 18 of Hong Kong's Basic Law, the Hong Kong government can ask for assistance from the central government in certain situations. Under the same charters, Hong Kong's special administrative region is sovereign unless they ask for intervention or if Beijing determines that events in Hong Kong "endangers national unity or security" and are beyond the control of the local government.
If the national law is enforced, Hong Kong would become one country one system, Fan said.
Student protesters have blocked the entrance of Leung's office since early Thursday morning, and gave him a deadline to resign before midnight, threatening to occupy the government building if he didn't. Just minutes before the midnight deadline set by protesters, Leung gave a statement at a press conference, saying that he would offer a talk with protesters on electoral reforms that are under preparation. Before midnight Leung simply said, "I will not resign."
Protesters outside of Leung's office have reported witnessing police bringing in supplies of rubber bullets, guns, tear gas, pepper spray, and shields. Police warned the protesters that if they try to surround or occupy government buildings, it will lead to severe consequences.
In mainland China, the authorities have not only blocked Hong Kong protest information from the media and the Internet, but have also used Communist party publications to put out reports that defame Hong Kong protesters, calling Occupy Central "an illegal activity" and describing the protesters as engaging in "riots." The actions of the protesters have been peaceful on the whole.
The word "riots" was also used by a publication known for its ties to the Communist party to describe the 1989 student protesters, when their movement was dubbed a "counterrevolutionary riot." To this day, the People's Daily still keeps the description of the June 4 movement on its website as, "a planned conspiracy and a turmoil whose essence is to fundamentally deny the party's leadership, and to deny the socialist system."
Mike Chinoy, a former senior Asia correspondent for CNN, who reported the June 4 movement in 1989 in Beijing, posted on Twitter on Wednesday
The Peoples Daily editorial condemning #OccupyCentral is eerily similar to the April 26, 1989 PD editorial denouncing Tiananmen protestors

— Mike Chinoy (@mikechinoy) October 1, 2014
In reality, the protesters in Hong Kong have been called "the most polite" among the international community because of their impressively mild and orderly manner, well organized protest activities, and attention to keeping the streets clean. Even when they've encountered tear gas and pepper spray from the police, their tools of self-defense were simply umbrellas and masks. The action earned the movement the name of the "Umbrella Revolution."