Lots of people still think Donald Trump doesn't have a real chance of winning the Republican presidential nomination–much less the entire race–but new data shows just how strong a position he's currently in.
Trump has led the GOP field for most of the past year, both nationally and in many key states.
The fact that he's not only the national frontrunner, but also leading in two key early states–New Hampshire and South Carolina–along with being second in Iowa indicates that he'll likely win the nomination, according to Sam Wang at the Princeton Election Consortium.
Wang's argument is based on recent electoral history, which shows that the last several nominees–including Mitt Romney, Barack Obama, and Al Gore–have had similar poll figures in the key early states and nationally (the #1-#2 lead" column shows the median difference between the #1 and #2 national candidates).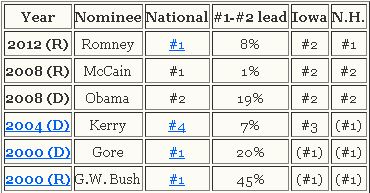 "If 2016 were to follow the pattern of past elections, he would be the most likely nominee," Wang wrote.
The overall trend shows that running first nationally and being at or near the top in Iowa and New Hampshire tends to give insight into who will win the party nominations.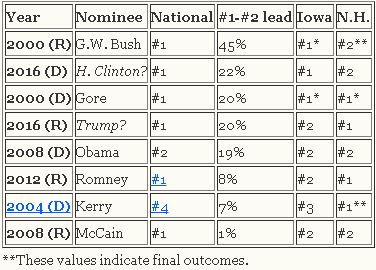 When both Trump and Hillary Clinton are added into the chart, they are very high up.
"For comparison I include Clinton, this year's overwhelming favorite for the Democratic nomination," wrote Wang. "This emphasizes the fact that based on polling data, Donald Trump is in as strong a position to get his party's nomination as Hillary Clinton in 2016, George W. Bush in 2000, or Al Gore in 2000."
The only other Republican candidate who seems to have a shot based on the data is Ted Cruz, who has risen to #2 nationally, #1 in Iowa, and #3 in New Hampshire.