Why Does the Chinese Regime Refuse International Rescue Teams
May 16, 2008 12:00 am Last Updated: May 16, 2008 12:00 am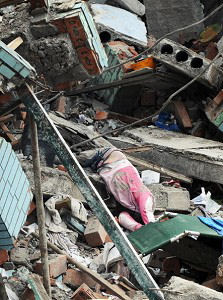 The skyrocketing death toll from the earthquake in China has caused global concern.
Although large numbers of military personnel has been dispatched for rescue work, without earthquake experts and appropriate equipment, the progress is expected to be slow.
However, the regime swiftly denied the entry of international rescue teams when the quake happened and only reluctantly accepted certain countries' help after three days.
People may wonder why?
Many countries such as Japan, the United States, Great Britain, and Germany had offered both rescue teams and relief immediately after the quake; however their good intentions were turned down immediately. The Chinese ambassador to Japan, Cui Tiankai, responded to the repeated requests from his Japanese counterpart, "The rescue has yet to be discussed between the two governments." according to the Japanese Mainichi Shimbun (Daily News) report.
One day after the quake, Luo Pingfei, China's vice Minister of Civil Affairs, said because of bad traffic and terrible weather conditions, it was not appropriate to accept foreign rescue teams."
Former associate Professor of Nanjing Normal University, Guo Quan commented that it is unwise and inhuman for the authorities to refuse foreign rescue teams. It is a common understanding that within the first 72 hours after an earthquake is the prime rescue period. The victims will be hard pressed to survive after 72 hours because of blood loss, pain, hunger and thirst.
Nuclear Radiation
Guo Quan indicates there could be two reasons why the regime refuses foreign rescue teams. One is the old communist mentality of fearing the potential exposure of the corruption. In this quake, the collapse of public facilities such as schools becomes the prime killer because of poor construction quality. Another possibility is a rumor that a nuclear facility in Sichuan has also been damaged because the authorities have repeatedly stressed the nuclear radiation issue. The regime certainly does not want the outside world to know about that.
According to the government's official mouthpiece Xinhua News reports, on the day following the quake, China's Environmental Protection Department launched contingency plans for nuclear, radiation, and water pollution control, and formed a team of 21 environmental experts to rush to the earthquake-stricken area to guide disaster relief.