White House chief of staff Mark Meadows said Wednesday that his office reached out to the office of House Speaker Nancy Pelosi (D-Calif.) for federal stimulus legislation.
"I actually had my staff reach out again yesterday to Speaker Pelosi's chief of staff," Meadows told Politico, adding that he hasn't received a response.
Talks between Pelosi and the White House stalled earlier this month, with both sides accusing one another of refusing to make a deal. Democrats have sought a $3.4 trillion deal and Republicans proposed a $1 trillion deal, although Democrats said they would cut about $1 trillion from their proposal.
"It's really been Speaker Pelosi really driving this train as a conductor more so than really anybody," Meadows said. "And I think privately she says she wants a deal and publicly she says she wants a deal, but when it comes to dealing with Republicans and the administration, we haven't seen a lot of action."
But Pelosi's office told Politico that Meadows' office didn't reach out for talks.
"Democrats have compromised in these negotiations," Pelosi spokesman Drew Hammill said in a statement. "We offered to come down $1 trillion if the White House would come up $1 trillion. We welcome the White House back to the negotiating table but they must meet us halfway."
In their talks earlier this month, the two parties differed on whether to extend the $600-per-week unemployment benefits authorized in March's CARES Act and whether to provide $1 trillion in federal funding to state and local governments. Republicans said they were not willing to pass a measure on the $1 trillion, with President Donald Trump saying it would be tantamount to bailing out "poorly run" jurisdictions.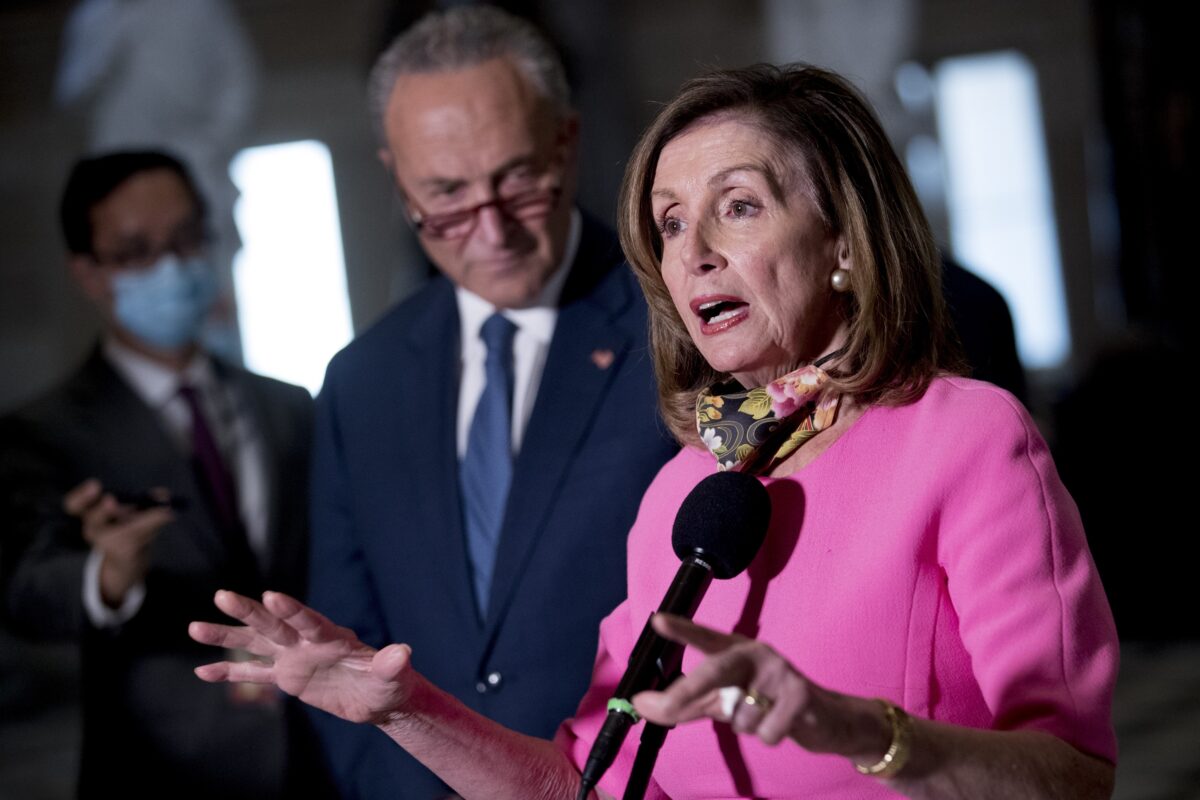 Democrats in the Senate, for their part, said that Republicans are unwilling to make a compromise.
"I actually think there is going to be some motive to really get down to the brass tacks right after the Republican convention," Sen. Tim Kaine (D-Va.) told Politico. "It was clear the White House, for some reason, they wanted to go into their convention blaming Democrats."
It's not clear when the two parties will meet again to negotiate.
Last week, Meadows said there is a desire to pass a "skinny deal" after House Democrats re-convened to vote on a U.S. Postal Service funding bill.
Pelosi seemed open to supporting a smaller bill during an interview.
"We're willing to cut our bill in half to meet the needs right now," she said. "We'll take it up again in January." However, her spokesperson later said that it was in reference to a previous $2 trillion deal.
The Senate is scheduled to return on Sept. 8, and the House will return on Sept. 14.