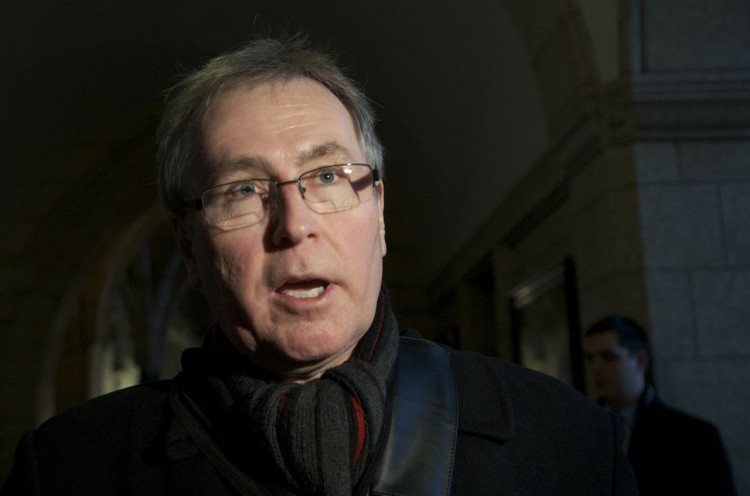 PARLIAMENT HILL—Conservative MP Stephen Woodworth wants to spark a national discussion about what he calls the 400-year-old definition of a human being—raising the spectre of a renewed abortion debate—but said he isn't afraid of the heavy hand of the PMO.
"I am not specifically focused on the question of abortion, I am focused on the question of section 223 [of the Criminal Code], which is a law that says some human beings are not human. And to me, this is not an appropriate law for Canada," he said.
Specifically, section 223 reads that a child becomes a human being after it has "completely proceeded, in a living state, from the body of its mother," and is not alive before that moment.
While he acknowledged the definition is relevant to the abortion issue, he said it is "a wider and much broader and more important thing" that the criminal code says some people are not human beings.
He has no idea how many of the House of Commons 308 MPs will support his opposition to that language, but it's not important, he said. He isn't worried about a backlash from within his caucus either.
"I don't think caucus solidarity means that people can't express their own opinions. There's nothing written anywhere that says that," he said.
"I think there is a wide range of opinion, and I don't mind disagreement, I think that's the whole point of having debate. Some people agree, some people don't agree, we talk about it, we explore each other's reasons. But the important point for me is that we have a 400-year-old law."
Woodworth argues that law is outdated and does not take current scientific evidence into the nature of a child before complete birth into account.
"I don't know if I will succeed in convincing anyone of that, but I would be remiss if I didn't raise the issue," he said.
If he succeeds in revisiting the definition of a human being, Woodworth said it would impact abortion and at that time it would be worth revisiting the abortion question.
"But the foundational principle that is so important to me is that in Canada, we should not accept any law which says that any human being is not human. And if I can't convince people of that, then I suppose I wouldn't convince them of anything else that follows."
Heated Topic
Prime Minister Stephen Harper has categorically stated the abortion debate is not on the table, and Woodworth would not disclose any details of his conversations with the PM.
NDP Status of Women critic Françoise Boivin alleges that Woodworth isn't afraid of a backlash because Harper is loosening the reins on his backbench MPs to appease anti-abortion social conservatives.
"We know that the abortion topic is always a very heated one," she said, adding that Woodworth was taking a "smart but sneaky" route to re-open the abortion debate without using the word abortion.
She said the definition of a human being has been set in law for decades and nothing should cause it to be re-opened, whatever scientific or medical evidence might challenge the current definition of a human being under the criminal code.
The current law is clear and "very respectful of the right of women," she said.
While Woodworth appears to be sticking his neck out in raising the issue, Boivin says if Harper wanted to shut him down, he could.
"But he is not shutting down the people who bring it in the back door," she said of Woodworth and other Conservative MPs who have tried to indirectly address the abortion question.
Former Tory MP Ken Epp proposed a bill in 2008 to make it a criminal offence for someone to attack a woman with the intent of killing her unborn child, while current MP Rod Bruinooge tabled a bill in 2010 to criminalize coercing a woman into having an abortion.
Boivin said Harper is a strategist who doesn't let anything happen by accident. She said it will be interesting to see what kind of private member's bill Woodworth tables, the details of which are expected at a press conference on Monday.