What Is Happening During Hong Kong's Occupy Central?
A daily round of events big and small taking place during the Hong Kong protests
September 29, 2014 8:48 pm Last Updated: September 30, 2014 1:57 pm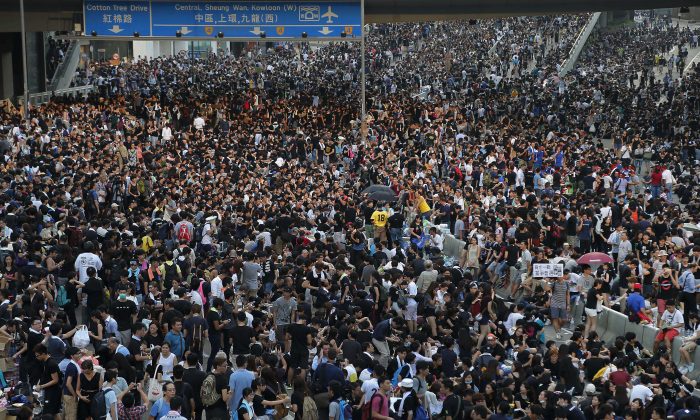 Since the early morning of Sept. 28 when the organizers of Occupy Central With Love and Peace announced the start of the democracy movement, tens of thousands of Hong Kong citizens have joined the peaceful protest, braving the use by police of tear gas and pepper spray. 
The News in Hong Kong as of Sept. 29:
The Hong Kong government announced it was withdrawing the police at around noon on Sept. 29, while tens of thousands citizens continued to protest, and the protests spread from the central business district to northern and western Hong Kong. 
Arrest of Protesters
As of Monday the police arrested 89 protesters, including 70 males and 19 females from the ages of 16 to 66, with charges of illegally entering into government buildings, unlawful assembly, disturbing the peace, assaulting police, and interfering with police work, according to the Hong Kong press.
Schools Close
Due to the blockade of roads and traffic resulting from the protests, the Hong Kong Education Bureau announced the suspension of classes for a day in K-12 schools in Wanchai of northern Hong Kong and in the Central and Western Districts.
Stocks Drop
On Sept. 29, Hong Kong's Hang Seng Index slid 1.9 percent, and the Hong Kong dollar had its steepest drop in 18 months.
The London-based banks HSBC and Standard Chartered have been forced to shut bank branches in Hong Kong as the territory's political unrest spills into the financial markets. 
The Chinese National Flag Raised Upside Down 
On the morning of Sept. 29 a rare mistake occurred in the raising of the Chinese national flag at the Admiralty Centre. The flag was hoisted upside down, which excited Hong Kong protesters. Bystanders applauded and whistled. The raising of a flag upside down is traditionally a distress signal or a means of protest. 
The Admiralty Centre is located across from the Hong Kong government headquarters where more than 60,000 citizens gathered to support the protesting students on Sunday. Protesters standing on the pedestrian bridge near Admiralty Centre were heard shouting "Down with the Chinese Communist Party. Step down [Hong Kong chief executive] Leung Chun-ying." 
Chinese National Day Fireworks Cancelled 
Due to the Occupy Central protests, the Chinese National Day Fireworks Display, which had been scheduled for 8 p.m. on Oct. 1 at Victoria Harbour, has been cancelled, according to an announcement by the Leisure and Cultural Services Department on Monday. 
The announcement says the main roads leading to the hot spots for viewing the firework display may continue to be seriously affected by the protest, and the decision is made in consideration of the arrangements for public transportation and public safety.
White House Petition to Prevent a Second Tiananmen Massacre
Hong Kong democracy supporters in the United States also raised a petition on the White House's We the People website, appealing for President Barack Obama to press China to give democratic elections to the Hong Kong people, and to prevent a second Tiananmen Square massacre. On June 4, 1989 thousands of students protesting for democracy on Beijing's Tiananmen Square were killed by regime troops.
As of 6 p.m. on Sept. 29, over 191,000 people have signed the petition. 
Hong Kong Celebrities Support Occupy Central 
A number of Hong Kong celebrities have spoke up publicly to support the democracy movement and condemn the government's violent suppression of the peaceful protesters. 
For instance, Denise Ho Wan-See, a Hong Kong-based Cantopop singer wrote in an article published on Apple Daily, "Riot police have continued to throw one canister of tear gas after another at the citizens of Hong Kong. I cannot remember how many times I have wiped away my tears. This is not the Hong Kong we were accustomed to while growing up."
"Treating peaceful and rational citizens as mobs and throwing countless canisters of tear gas into unarmed people in a total disregard to the safety of people," she wrote. "I want to fight side by side with everyone. Go, people of Hong Kong!"
Taiwanese film director Giddens Ko updated his Facebook picture with a photo of him with a bald head, to show his concern about what's going on in Hong Kong and his support for "Occupy Central," attracting over 10,000 likes within six hours. The three initiators of Hong Kong's Occupy Central movement and 40 others shaved their heads on Sept. 9 to express their determination to fight for universal suffrage. 
With research and translation by Frank Fang.