Westbrook Snatches Pole for TUSC Chevrolet SportsCar Challenge With Fast Last Lap
May 30, 2014 7:07 pm Last Updated: May 30, 2014 9:45 pm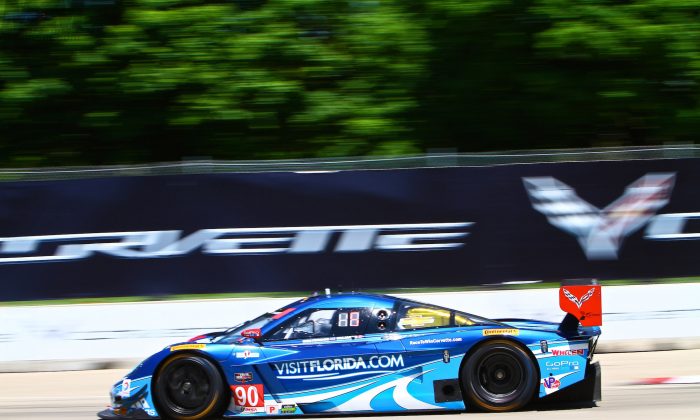 Qualifying for the Tudor United SportsCar Championship Chevrolet SportsCar Challenge was shorter than most Tudor Championship sessions, as only two classes, Prototype and GT-Daytona will be racing Saturday on Detroit's Belle Isle street course. Though qualifying was half as long, the drivers worked hard to make it twice as exciting.
Richard Westbrook in the #90 Spirit of Daytona Racing Coyote-Chevrolet laid down an ultra-quick final lap to take the overall pole, completing a circuit of the 13-turn, 2.35-mile street course in 1:25.011 at 99.517 mph.
"There was just so much chatter on the radio, you're P1, now P2, now P1, now P2," Westbrook told IMSA.com. "I think I did a 21.1 [1:21.10 lap] with three laps to go and I thought that was it, I'm done now. I did a cool- down lap and fortunately they came [back] on the radio and said 'You're going to need to do a 25.0.'
 "I just threw all caution to the wind … sometimes on a street circuit you get rewarded or sometimes, it can bite you."
The session started with Memo Rojas in the #01 Telcel Ganassi Riley-Ford setting the best times.
Ryan Dalziel in the #1 Extreme Speed Motorsport HPD ARX-03b-Honda spun halfway through the session, but was able to keep the car off the walls and carry on.

Ryan Dalziel in the #1 ESM HPD-Honda recovered from a spin to come within 0.018 seconds of capturing the Prototype pole. (Halston Pitman/MotorSportsMedia)
Christian Fittipaldi decided his time had come; the driver of the series-leading #5 Action Express Coyote-Chevrolet moved the top of the timesheet with the first lap in the 1:25s. Jordan Taylor in the #10 Konica-Taylor Racing Dallara-Chevy bumped Fittipaldi with a blazingly quick 1:25.5, but didn't have more than a few seconds to savor his provisional pole before Richard Westbrook in the #90 SDR lapped even quicker.
Rojas then clipped a barrier somewhere and knocked of his right-side dive plane. On his next lap he overshot a corner and ended up stalled down an escape road; he didn't figure in the session after that.
Christian Fittipladi apparently also got too close to a wall because the next time he came by his right wing endplate was loose and flapping. This didn't hurt his pace; the AXR driver retook provisional pole.
Westbrook took the provisional pole back on his next lap; Ryan Dalziel, recovered from his spin, moved into third behind these two, with the session almost over.
Christian Fittipaldi tried on final flying lap and set a personal best of 1:25.139, but couldn't get past Westbrook's time. The checkered flag flew; Ryan Dalziel was halfway through a lap, and it was a scorcher. The ESM driver snatched the pole with a lap of 1:25.029.
Unfortunately for Dalziel, Westbrook had just started a lap when the checker flew. The SDR driver was the last car on track, and he was the fastest.

Spencer Pumpelly captured the GT-Daytona pole in the #45 Flying Lizard Motorsports Audi R8 LMS. (Halston Pitman/MotorSportsMedia)
Pumpelly Spins and Wins
Spencer Pumpelly in the #45 Flying Lizard Motorsports Audi R8 LMS was quickest in the GT-Daytona class with a lap of 1:32.914, beating out Jeroen Bleekemolen in the #33 SRT Viper GT3-R and Kevin Estre in the #73 Park Place Porsche 911 GT America.
"We had high hopes this weekend, coming here: doing well, getting the pole, winning the race," saidPumpelly. "We just have to get that chip off our shoulder tomorrow and finally come through with, not an almost, but a 'did.'"
GTD qualified first, so it was possibly Pumpelly who inspired Ryan Dalziel to spin in the prototype session. Like Dalziel, Pumpelly spun his Audi halfway through the session; but Pumpelly managed to come back to set the quickest lap.
Pumpelly won provisional pole ion his second-to-last lap; perhaps that was the trick Dalziel missed.

Dane Cameron in the #94 Turner Motorsports BMW Z4 was quick early in the session but ended up fourth. (Halston Pitman/MotorSportsMedia)
Dane Cameron in the #94Turner Motorsports BMW Z4 GT3 was quick early on, but the first half of the session proved to be a warm-up—all the drivers waited until the final two minutes to really get serious.
The Tudor United SportsCar Championship Chevrolet SportsCar Challenge takes the green flag at 12:10 p.m. ET on Saturday, May 31. The race will be televised on Fox Sports 1 starting at 1:30 p.m., and Live Timing and Scoring is available at IMSA.com. Pirelli World Challenge and IndyCar are also on the day's schedule, making it an amazing day of racing—visit DetroitGP.com for ticket information.