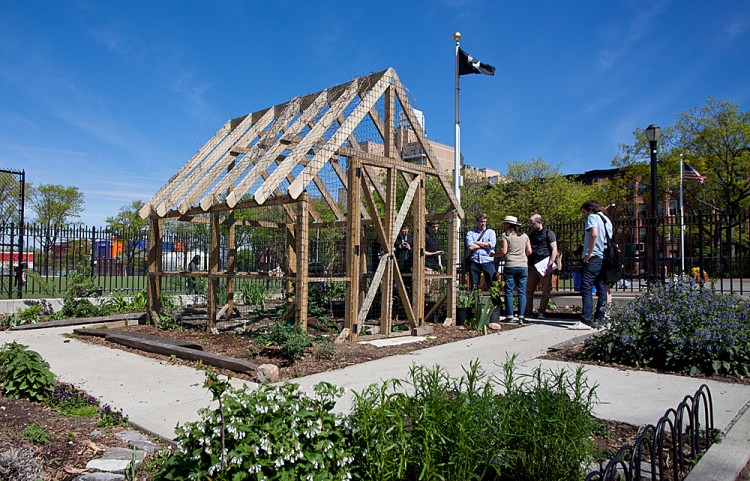 NEW YORK—In Our Backyards (IOBY), the only environment-focused, online crowd-sourcing platform, has been helping local community projects find micro-philanthropists. Most of IOBY's donors live within two miles of their projects, and personally witness the results of their micro-philanthropy.
IOBY finds funding for initiatives to prevent New York City sewage overflow through bathroom light bulb alerts, maintaining a farm on a Brooklyn high school, feeding neighborhoods through community gardens, to advancing compost education programs in Brooklyn.
Community Bonds through Chickens
On a sweaty April afternoon, a group of neighbors attempted to remove heaps of trash and knee-high weeds from an abandoned lot in Cypress Hills, Brooklyn. The lot will provide fresh food for the community in less than two months.
The area is 1 of the 10 vacant lots that Pollos del Pueblo—"The People's Chickens"—are transforming into community gardens. The project hopes to tackle the neighborhood's dearth of fresh food.
The East New York neighborhood is a "food desert," said IOBY. Less than 25 percent of its food retailers offer fresh food. The community is forced to decide between traveling nearly two miles for fresh food or grabbing fast food.
"We don't have access to fresh food in the supermarket," said Mercedes Sandoz, one of the community garden activists. "I have lived here for 26 years."
Around 30 percent of East New York adults are obese, compared to a 20 percent citywide obesity rate.
Yanet Rojas, who has lived in the neighborhood for over 30 years, hopes the garden will help children develop healthy eating habits via easier access to fresh food. "It's for the next generation, for our children," Rojas said.
"The idea [of the community garden] is to enable the community to take health and nutrition into their own hands," IOBY said.
Pollos del Pueblo is led by the local community activists, working with The People's Food Project and Cypress Hills Local Development Corporation.
The soon-to-come chickens are decidedly the most exciting aspect of the project.
"We are counting eggs but we don't have the chickens yet," Rojas said. The chickens will provide natural fertilizer, along with affordable, organic eggs.
The volunteers will conduct chicken care workshops, along with developing a distribution model for eggs produced in their gardens.
"You always have a few chicken haters in every community … but the overall group is excited," said Erin Barnes, co-founder of IOBY.
Compost-O-Rama
A group of elementary children were gazing at pods of peas during their visit to the Old Stone House's gardens in Park Slope, Brooklyn. As a gardener and environmental educator, Claudia Joseph was shocked that out of over a dozen children, none could name the "beanie things."
"It's a sad story," Joseph said. "It's really time for more education to be done."
Working alongside with Kim Maier, the Old Stone House executive director, Joseph has designed and built the gardens around the historical landmark. Each year, 6,000 students come to learn not only about the colonial battle that took place on that street, but also some gardening knowledge.
IOBY has helped Joseph raise $1,080 so far for her new compost program at the neighboring middle school, MS 51. With a compost site on school grounds, Joseph is prepared to begin composting the uneaten food from a nearby coffee shop and leaves from the park.
The Parks Department throws out "hundreds of full garbage bags each fall," according the IOBY website.
"It just makes sense for the economy we are in right now," Joseph said. "The goal is to operate a very clean example of waste reclamation for the Parks Department, for the general public and for the students."
Joseph plans to build more rodent-proof compost bins, continue community education programs, and host a jack-o'-lantern composting event after Halloween season passes.
"The idea is to have the middle school students and volunteers chop up old jack-o'-lanterns and mix them with leaves collected from the park," she said.
There will be afterschool programs teaching seed planting, cooking, composting, as well as advanced permaculture lessons for adults.
This is Part II of a two-part series. To read Part I, please see: http://bit.ly/JodQB9