DAYTONA BEACH, Fla.—Not until the final six minutes of the 24-hour race did Ricky Taylor pass Felipe Albuquerque to take the lead for the final time in the IMSA WeatherTech Rolex 24 at Daytona.
Taylor and his team mates—bother Jordan, longtime co-driver Max Angelelli, and NASCAR star Jeff Gordon—had led the sports car endurance race from its fourth hour, but lost the lead after a pit stop with just over half an hour to go.
Two minutes later a car stalled on track, bringing out a yellow flag. Taylor had to circulate Daytona's 3.56-mile track at a crawling speed behind the safety car, watching seconds tick away.
The caution period lasted ten minutes. When it ended, Taylor only had 20 minutes to chase, catch, and pass Albuquerque.
Taylor caught his quarry with only seven minutes left in the race. He made a bravura overtaking attempt at the end of the front straight, diving inside Albuquerque at the entrance to Turn One. The two cars touched; Albuquerque spun, and Taylor moved into the lead.
Race officials decided that Albuquerque had been deliberately blocking Taylor, and let the maneuver stand. Taylor completed four more laps and crossed the finish line .671 seconds ahead of his rival, earning the overall race win.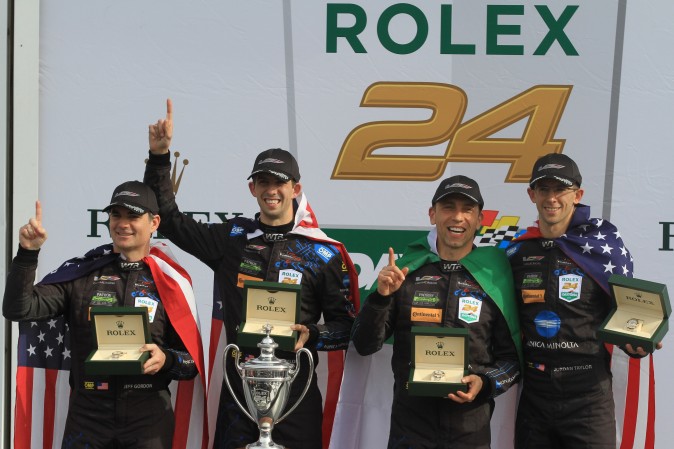 The win was all the sweeter because longtime Wayne Taylor team member Max Angelelli had announced his retirement before the race. Angelelli, 50, started racing with Wayne Taylor, father of Jordan and Ricky, in 2000, winning a Rolex 24 and series championship in 2005.
In the last few years the Italian driver had gravitated to a supporting role, being the third man for endurance races, and eventually joined Cadillac's Sportscar program in a managerial role, helping develop the Cadillac DPi V.R the team drove to victory in this year's Rolex.
There could be no sweeter retirement gift than an overall win in the longest and arguably most prestigious race in North American sportscar racing.
It was the first Rolex 24 win for both Jordan brothers and Jeff Gordon, who has won NASCAR's Daytona 500 three times.
The IMSA WeatherTech Sportscar Championship continues with another American endurance classic, the Mobil 1 Twelve Hours of Sebring Fueled by Fresh From Florida, March 15–18, 2017. Tickets are available through the Sebring Raceway website.