Warren Lee Hill Execution Halted
July 15, 2013 5:22 pm Last Updated: January 25, 2016 5:13 pm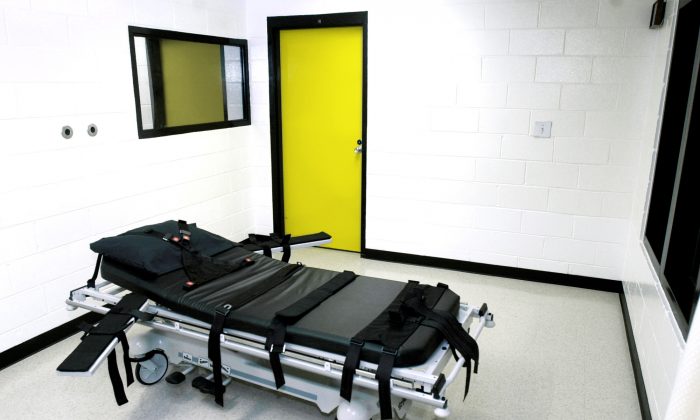 A Fulton County judge gave condemned murderer Warren Lee Hill another reprieve after his attorneys questioned an unusual state law shrouding the lethal injection drug in secrecy. Hill was set to die at 7 pm EDT on July 15.
 Hill came within minutes of execution on Feb. 19.  In July 2012, his execution was stayed after a challenge to the state switching from a three-drug process to pentobarbital. That drug is hard to find, because no manufacturer in the United States makes it, and Europe bars in from export to the U.S. so that it cannot be used for capital punishment.
Hill's lawyer, Brian Kammer, released a statement on July 15:
"We are relieved that the Superior Court of Fulton County has stayed the execution of Warren Hill, a man with mental retardation who has an undisputed IQ of 70. Today, the Court found that more time is needed to explore Mr. Hill's complaint, which raises serious concerns about the extreme secrecy surrounding the execution process in Georgia, and the new Lethal Injection Secrecy Act, which took effect one day before Georgia issued a death warrant for Mr. Hill.
"At this time, there is far too much we do not know about how the state intends to proceed in this, the most extreme act a government can take against a citizen.
"Ultimately, we are hopeful that the United States Supreme Court will hear Mr. Hill's pending Petition for Writ of Habeas Corpus, and will have the opportunity to consider the important new evidence in this case, that there is unanimous consensus among all the doctors who have examined Mr. Hill, including three who previously testified for the state, that he is a person with mental retardation, and thus ineligible for the death penalty."
A new hearing about the lethal injection drug is set for July 18.
Kammer has questioned why the state hurried to set a date.
Hill was sentenced to death for murdering a fellow prisoner. He was in prison for killing his girlfriend. He has an IQ of 70.