Villagers Hold Protest in Dongzhou, Shanwei
October 7, 2007 12:00 am Last Updated: October 7, 2007 12:00 am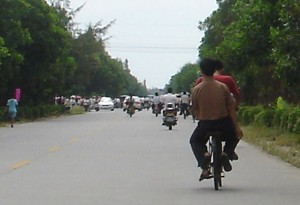 On October 1, nearly 2,000 locals from Dongzhou Village of Shanwei held a peaceful protest entitled, "Return the Land, Return the Resources, and Fight against Corruption". This was a very different scenario from the Shanwei Massacre on December 6, 2005, the first known crackdown on civilians with firearms since the 1989 Tiananmen Square Massacre.
In early 2005, villagers organized a series of protests in opposition to illegal land acquisition for construction of a power plant that was backed by the government. The villagers feared there is potential for harmful pollution of their crops and environment. With no compensation for the land expropriated for the construction of the power plant, local farmers started the protest to safeguard their property rights. Finally, seven months later on December 6, 2005, the local regime mobilized military forces and armed police to suppress the protests. This led to the shocking bloodshed that killed an unknown number of people. The protests resumed in November 2006. Since then, in order to defend their dignity and rights, the locals have continued their fight against illegal land grabbing and governmental corruption.
On October 1, 2007, the villagers gathered in front of the Dongzhou Police Station. At 10 am, the rally officially started and passed by the massacre scene in Dongzhou village where up to several dozen villagers were reportedly shot to death. The anti-corruption rally ended with a religious ceremony and the burning of incense sticks in memory of those who died in front of the power station gates. According to a villager surnamed Wei, everyone in the village participated in the rally. People marched with small flags that read "Anti-corruption," "Return the resources," and so forth. Long banners were held up, followed by people playing percussion instruments. Around 10 policemen in plainclothes were present to monitor the activity.
Lin Jingeng, who led the percussion group, received several threatening phone calls on September 30 regarding the October 1 activity. He was warned about the consequences of striking the drum and using an amplifier.