Video footage shows the moment Hurricane Michael's peak winds slam into the Florida Panhandle.
Reed Timmer of AccuWeather posted the footage, showing catastrophic winds in Panama City. The storm's eye came ashore on Mexico Beach, located 20 miles southeast of Panama City.
Michael was downgraded to a tropical storm overnight, where it started to hammer Georgia and the Carolinas with soaking rain.
The U.S. National Hurricane Center said the storm made landfall as a strong Category 4 storm with 155 mph winds. There were also tornado warnings in effect for parts of northern Florida and Georgia.
"I think everything from Panama City down to Mexico Beach is way worse than anybody ever anticipated," Florida Governor Rick Scott said, according to Reuters.
"This is going to be a long recovery but Florida is resilient, we help each other, and we survive," Scott said. "We worked all night in endangered circumstances."
Officials told Reuters that it isn't clear what happened to 280 people who stayed behind in Mexico Beach.
More than 830,000 homes and businesses were without power in Florida, Alabama, and Georgia, as of Oct. 11.
An 11-year-old Georgia girl was killed in the storm, The Associated Press reported. Officials said that strong winds picked up a portable carport Wednesday and dropped it down on the roof. One of the carport's legs punctured the roof and hit the 11-year-old girl in the head.

The Orlando Sentinel reported that another person was confirmed dead in the storm, saying a man died when a tree fell.
Sally Crown, a Florida Panhandle resident, told the Sentinel: "It's absolutely horrendous. Catastrophic. There's flooding. Boats on the highway. A house on the highway. Houses that have been there forever are just shattered." She said that the area around her home was totally devastated.
A reporter with The Weather Channel said on live television that she and her crew tried to get to Mexico Beach with a police escort, but they were unable to get there due to downed power lines. She also revealed that an entire freight train was knocked over.
"There are so many downed power lines and trees that it's almost impossible to get through the city," said Apalachicola Mayor Van Johnson said.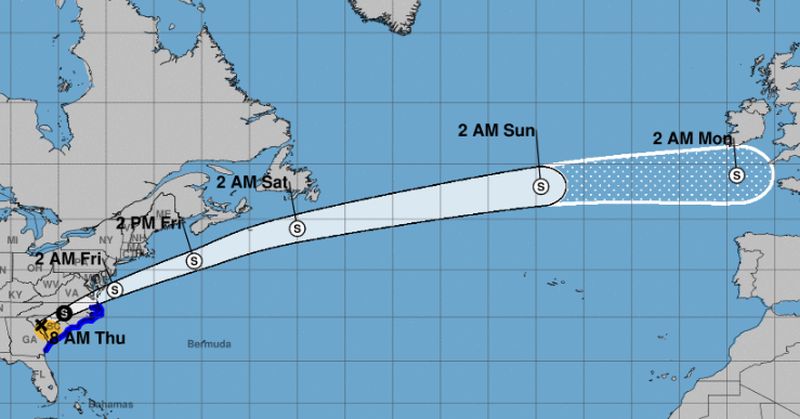 Storm Track
In an 8 a.m. update, the NHC said the storm is moving over South Carolina.
"A turn toward the east-northeast and an even faster forward speed are expected on Friday. On the forecast track, the center of Michael will continue to move across central South Carolina this morning, then move across portions of central and eastern North Carolina and southeastern Virginia this afternoon and this evening, and move into the Atlantic Ocean by late tonight or early Friday," the U.S. National Hurricane Center said.
The Associated Press contributed to this report