Video footage inside the cabin of an Emirates plane after it crash-landed in Dubai shows panicked passengers scrambling to evacuate via emergency exits.
The video was uploaded to YouTube on Aug. 4, and shows passengers of flight EK521 grabbing their personal belongings in the overhead compartments as smoke filled the cabin.
A voice can be heard telling passengers to leave their luggage behind and to evacuate the aircraft.
"Jump and slide! Jump! Jump! Jump!," says an unidentified woman. "Leave your bags behind! Jump and slide! Jump and slide!"
The footage then show the moment passengers hurriedly exit the plane via an emergency chute. A child is heard crying as well as a view shot of the engine engulfed with flames.
The Boeing 777 aircraft departed from Trivandrum International Airport in India on Aug. 3 en route to Dubai International Airport with an expected arrival time of 12:50 p.m. local time. However, an "operational incident" caused the plane to catch fire shortly before landing.  
All 282 passengers and 18 crew members on board were safe. However, a firefighter, Jassim Al-Baloushi, died while responding to the emergency.
Related Coverage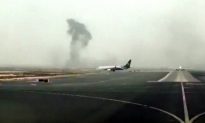 Firefighter Dies Tackling Emirates Plane Runway Blaze
Executive Chairman of the Centre for Asia Pacific Aviation Peter Harbison said, the "Emirates crew deserved credit for evacuating all on board in under 3 minutes."
According to the Federal Aviation Administration, the requirement for airplane manufacturers that have a seating capacity of more than 44 must evacuate passengers within 90 seconds.
Following the incident, Dubai International Airport was closed for several hours. Disruptions are expected to continue as the airport is using only one runway and will be "in recovery mode for the next 48 hours," according to a tweet from the Dubai media office.
DXB continues to operate with one runway with higher priority for arriving flights and wide-bodied aircraft

— Dubai Media Office (@DXBMediaOffice) August 4, 2016
Dubai International Airport is expected to be on recovery mode for the next 48 hours with efforts in full swing to clear backlogged flights

— Dubai Media Office (@DXBMediaOffice) August 4, 2016
The National Transportation Safety Board (NTSB) is investigating the crash.