Vettel Wins Third in a Row at F1 Singapore Grand Prix
September 22, 2013 10:41 am Last Updated: September 22, 2013 11:44 am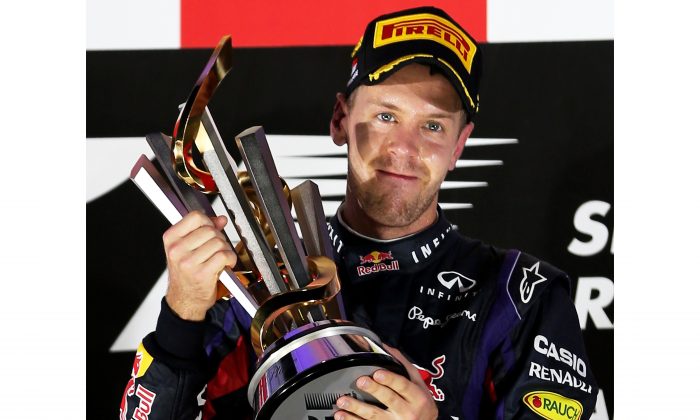 Red Bull's Sebastian Vettel made a joke of the Formula One Singapore Grand Prix. The three-time (soon to be four-time, almost surely) World Champion led every from lights to flag and set the fastest lap, crossing the finish line 32 seconds ahead of his nearest rival.
Mercedes driver Nico Rosberg actually beat Vettel to Turn One, but overshot; Vettel cut underneath him and opened a four-second gap by lap two.
Vettel drove away from the field not once but twice, as a safety car on lap 25 of the 61-lap race gave the field a second shot at him. As he did the first time Vettel simply drove off, gaining three seconds on the first green-flag lap.
Vettel now leads the championship by 60 points with six races left on the schedule. He could skip two races and still be in first place.
Fernando Alonso finished second after starting seventh. The Ferrari driver gained four spots at the start, and dragged his underperforming car around for two hours to probably cement his second-place finish in the drivers' championship.
Kimi Raikönnen turned in the performance of the weekend. The Lotus driver was troubled all weekend with a pinched nerve in his back, but still managed to drive from 13th to third.
Vettel's and Raikonnen's team mates didn't fare so well—Mark Webber and Romain Grosjean were the only mechanical retirements.
Grosjean qualified third and had a chance for a strong finish but hit Lotus-Renault suffered a pneumatic leak. Webber was fighting hard for a podium when his gearbox started to fail; he finally pulled his Red Bull to the side and burst into flames on the final lap.
The race was far from dull. Battles for podium and points positions were contested fiercely; Jenson Button of McLaren, Nico Rosberg and Lewis Hamilton of Mercedes, and Nico Hulkenberg of Sauber all injected excitement, though Button and Hulkenberg had their tires fall off later in the race.
Formula One heads to Korea's Yeongam circuit for its next race on October 6. Tickets and travel packages are available through Formula1.com.