Vast Storm Circles Saturn and Consumes Itself
February 6, 2013 10:00 am Last Updated: October 1, 2015 11:13 am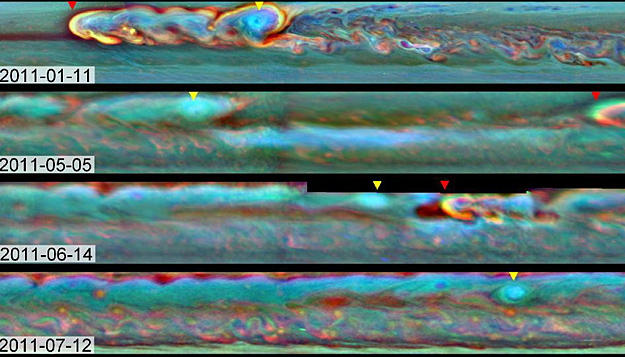 NASA's Cassini spacecraft has revealed a huge storm engulfed Saturn and only ceased when it hit its own wake, the first known occurrence of such a phenomenon in our solar system.
Spotted on Dec. 5, 2010, the storm developed in the northern hemisphere over several months, stretching about 190,000 miles (300,000 kilometers) at that latitude.
"This Saturn storm behaved like a terrestrial hurricane-but with a twist unique to Saturn," said study co-author Andrew Ingersoll at the California Institute of Technology in a press release.
"Even the giant storms at Jupiter don't consume themselves like this, which goes to show that nature can play many awe-inspiring variations on a theme and surprise us again and again."
On Earth, storms cease when they hit land features like mountains, but Saturn has no land and the storm only stopped when its head encountered the vortex. However, it remains a mystery as to why this stopped the storm.
"This thunder-and-lightning storm on Saturn was a beast," said study lead author Kunio Sayanagi at Hampton University in the release. "… The storm head itself thrashed for 201 days, and its updraft erupted with an intensity that would have sucked out the entire volume of Earth's atmosphere in 150 days."
"And it also created the largest vortex ever observed in the troposphere of Saturn, expanding up to 7,500 miles (12,000 kilometers) across."
Giant storms erupt on Saturn every Saturnian year, equivalent to 30 years, but this was the longest one ever recorded.
In 2009, a storm lasted for 334 days in Saturn's "Storm Alley" in the southern hemisphere, but it was about 100-fold smaller in area.
The study was published online in the journal Icarus on Jan. 10.
The Epoch Times publishes in 35 countries and in 21 languages. Subscribe to our e-newsletter.