A bipartisan group of senators met with Ukrainian President Volodymyr Zelensky in Kyiv, just over a week after the Senate acquitted President Donald Trump on charges that he abused his power by asking Ukraine to investigate a political rival.
The three lawmakers, Sens. Chris Murphy (D-Conn.), John Barrasso (R-Wyo.), and Ron Johnson (R-Wis.), met with Zelensky on Feb. 14 in a bid to improve relations with Ukraine following the House-led impeachment inquiry into Trump.
"We just finished a very difficult moment in American politics," Murphy told reporters after the meeting, adding that although the three senators voted differently in the impeachment trial, they are united in their goal of showing support for Ukraine.
"We are here together because there is no difference between us or between Republicans and Democrats in Congress in our support for Ukraine, for our support for continued funding for Ukraine to defend itself, and our continued support for reform," he said.
Trump was acquitted by the U.S. Senate on Feb. 5, nearly along party lines, of the two charges against him: abuse of power and obstruction of Congress. The senators voted 52–48 to defeat the first article of impeachment and 53–47 to reject the second article.
During the Senate trial, Democratic impeachment managers accused Trump of abusing the power of his office by pressuring Zelensky. It was alleged that the president leveraged a hold on $400 million in aid to Ukraine to pressure Zelensky to do his bidding, and that once Congress began investigating the alleged scheme, Trump obstructed the inquiry.
Trump's attorneys, led by White House counsel Pat Cipollone, argued that the Democrats failed to prove their case, highlighting the lack of firsthand witnesses who could back up the claims.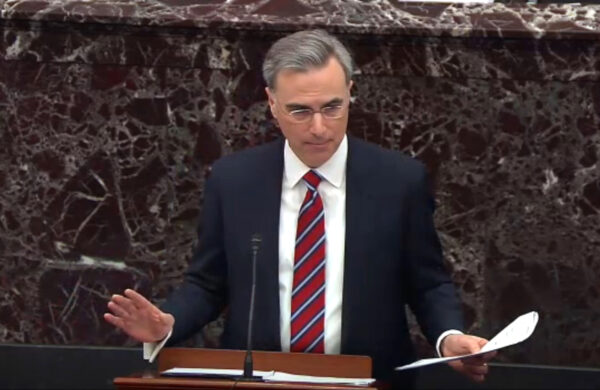 Throughout the impeachment inquiry and Senate trial, Trump denounced the proceedings as a partisan hoax. The president pointed to the transcript of his July 25, 2019, call with Zelensky as evidence of his innocence.
Murphy emphasized after the meeting with Zelensky that the two countries hope to put the "impeachment question" behind them and focus on strengthening U.S.–Ukraine relations.
"We want to be moving together, Republicans and Democrats, in supporting Ukraine," Murphy said. "We all are confident that President Zelensky does not want to be involved in U.S. politics, and we hope that any pressure [that] existed in the past to do so is over."
The Democratic lawmaker told NPR that the impeachment inquiry left Zelensky "nervous" over the commitment the United States would extend to Ukraine.
"He [Zelensky] wants to know that we have his back. His number one priority is ending hostilities with Russia in eastern Ukraine and in Crimea. And he can't do that if Russia perceives there to be weakness," Murphy said.
"The key to convincing Russia that Ukraine is never going to give in is that the United States is going to continue to support them until the Russians give in and give Ukraine back to the Ukrainian people.
"And so he's nervous. I think he's still nervous that that commitment isn't there because the things that were the subject of the impeachment inquiry, like the meeting in the White House, still hasn't happened."

Zelensky thanked the senators for their support and the United States for financial, military, and technical assistance, according to a news release.
"I want to thank you for the bipartisan support. We know that representatives of both U.S. parties support Ukraine—our sovereignty, territorial integrity—and help us not just in words."
He added that he wanted to change the image of Ukraine in the world, from one associated with corruption, to an image of a "wonderful country with good people and an attractive investment climate."
The meeting came a day before Zelensky disputed claims in an interview with CNN that Ukraine is a corrupt country, saying, "From now, it's not true," and that "we want to change this image," while adding that he's ready for another phone call with Trump.