The U.S. Navy says it has evacuated 30 ships based in Virginia and activated more than 950 North and South Carolina National Guard troops before Hurricane Florence is slated to hit the U.S. East Coast.
Spokesman Col. Robert Manning said Sept. 10 that U.S. Fleet Forces Command ordered all Navy ships in Hampton Roads, Virginia, out to sea. "Forecasted destructive winds and tidal surge are too great to keep the ships in port," he said, according to The Hill.
"Ships will be directed to areas of the Atlantic where they will be best postured for storm avoidance," Manning said. "Some units will not get underway due to maintenance status but will be taking extra precautions to avoid potential damage."
Over 750 South Carolina Guard personnel were placed on active duty orders for Hurricane Florence response, the report said.
"The Department of Defense is working very closely with the Department of Homeland Security and is prepared to assist [Federal Emergency Management Agency] and our other Federal partners in supporting the States impacted by the storm," Manning added. "Our operation centers are in constant communication and are ready to respond and assist with military capabilities."
The U.S. National Hurricane Center said that Florence reached Category 4 status in a 5 p.m. update on Sept. 10. The storm is forecast to hit somewhere in the middle of North and South Carolina.
Virginia, North Carolina, and South Carolina all declared a state of emergency for their respective states. Maryland on Sept. 10 also declared a state of emergency.
President Trump also said he canceled a rally in Mississippi due to the hurricane.
Evacuations for Carolinas
The governor of South Carolina on Sept. 10 said that mandatory evacuations will start at 12 p.m. local time on Sept. 11.
South Carolina Gov. Henry McMaster said on Sept. 10 that evacuations for all coastal zones in the state will begin on Sept. 11, before Hurricane Florence hits.
In a tweet, the South Carolina Emergency Management Division (SCEMD) tweeted that "residents in all coastal evacuation zones in all counties must evacuate beginning at noon tomorrow, Tuesday, September 11, 2018." It added that "The SCEMD website is currently in disaster mode. This helps everyone find vital information more easily."
It comes after McMaster said that mandatory evacuations will be carried out in the zones, WMBF News reported at 3 p.m. on Sept. 10.
McMaster said that road lane reversals will start at 12 p.m. on Sept. 11.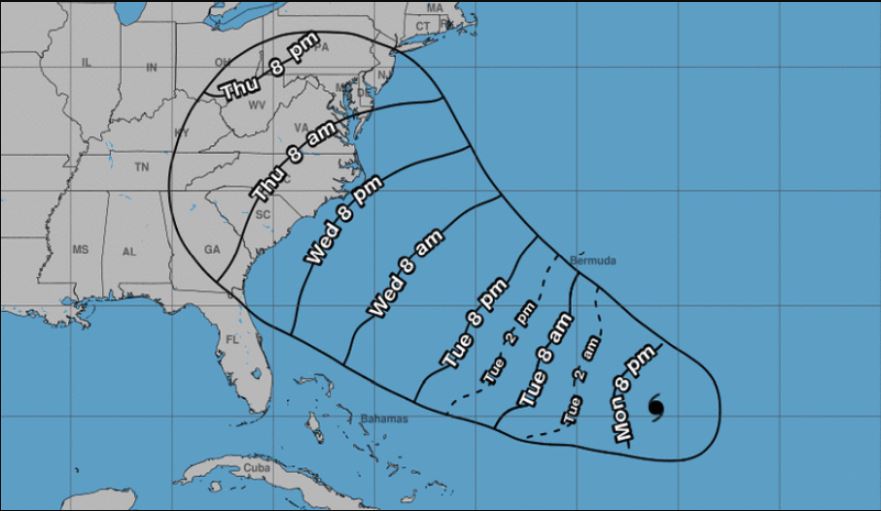 Category 5?
Forecasters say Florence is likely to strengthen, but it isn't clear if the storm will reach Category 5 or stay Category 4 when it hits land.
According to the Saffir-Simpson scale, a Category 5 hurricane has 157 mph or greater winds.
For Category 4 storms, "Catastrophic damage will occur: Well-built framed homes can sustain severe damage with loss of most of the roof structure and/or some exterior walls. Most trees will be snapped or uprooted and power poles downed. Fallen trees and power poles will isolate residential areas. Power outages will last weeks to possibly months. Most of the area will be uninhabitable for weeks or months," the weather agency says.
But for a Category 5, it's worse: "A high percentage of framed homes will be destroyed, with total roof failure and wall collapse. Fallen trees and power poles will isolate residential areas. Power outages will last for weeks to possibly months. Most of the area will be uninhabitable for weeks or months."