News Analysis
The lure of the money that can be earned in the Chinese market has driven major U.S. companies to give in to Beijing's demands at the expense of data security, integrity, and human rights.
Recently, Walmart was censured by Beijing's top disciplinary agency after its warehouse retailer, Sam's Club, removed Xinjiang-sourced products from its apps in China.
The Central Commission for Discipline Inspection (CCDI) said in a Dec. 31, 2021, statement that the move showed "stupidity" and "shortsightedness" and accused Sam's Club of having a "hidden agenda."
Although both the Trump and Biden administrations have called the repression of Uyghurs in Xinjiang a genocide and have effectively banned the importation of products from the region, the Chinese Communist Party (CCP) continues to deny the allegations and criticizes U.S. companies that adhere to the bans.
President Joe Biden signed the Uyghur Forced Labor Prevention Act on Dec. 23, 2021, banning products made with slave labor. It seems the CCDI's objection is that Sam's Club followed the ban.
White House press secretary Jen Psaki said, "We believe the private sector and the international community should oppose the PRC's [People's Republic of China] weaponizing of its markets to stifle support for human rights."
There's no legal precedent requiring U.S. companies that adhere to U.S. laws to apologize to a foreign government. And yet there's a long list of U.S. companies that have caved in to pressure and apologized to Beijing in order to avoid losing access to China's tremendous consumer market.
Kowtowing to Beijing
Intel issued an apology to Beijing despite the fact that it was following U.S. law and international human rights conventions. The company published a note on its website in December 2021 asking suppliers to not use goods, services, or labor from Xinjiang. After the news went viral in China, the company came under harsh public and government criticism. Intel's China ambassador, popstar Karry Wang, cut ties with Intel. And state-run Chinese media outlet Global Times accused Intel of "biting the hand that feeds it." Amid pressure, Intel apologized to the CCP in a Chinese-language statement on WeChat and removed the note to suppliers from its website.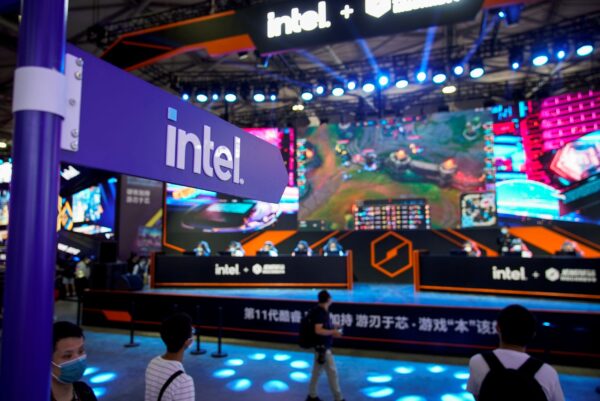 In 2021, foreign brands such as H&M, Nike, Adidas, New Balance, and Uniqlo lost their Chinese celebrity endorsements and suffered from consumer boycotts and a decline in their stock values after they supported statements condemning slave labor in Xinjiang.
Other U.S. companies that have caved in to CCP pressure and issued apologies are Airbnb, Coca-Cola, General Electric, and the Houston Rockets. Apple agreed to store data on servers run by Chinese state-owned firms, while Amazon deleted reviews of Chinese leader Xi Jinping's book that were less than five stars.
The International Olympic Committee (IOC), which supposedly upholds human rights, allowed Beijing to host the 2022 Winter Olympics—the decision implies that the CCP has met or has agreed to uphold the IOC's stance on human rights.
The IOC claims that it's "committed to improving the promotion and respect of human rights within the scope of its responsibility across its three spheres of activity—as an organization, as the owner of the Olympic Games, and as the leader of the Olympic Movement."
Secretary of State Antony Blinken and U.N. Ambassador Linda Thomas-Greenfield have identified the situation in Xinjiang as a genocide. And despite the diplomatic boycott of the Olympics by six countries, including the United States; free democracies and U.N. member states will participate in the Games—including Muslim majority nations such as Saudi Arabia, Iran, and Pakistan. Additionally, U.S. companies such as Coca-Cola are spending hundreds of millions of dollars to sponsor an Olympics that will glorify the CCP.
U.S. corporations have also apologized to China for showing a map of Taiwan, listing Taiwan or Tibet as separate countries, or supporting democracy in Hong Kong.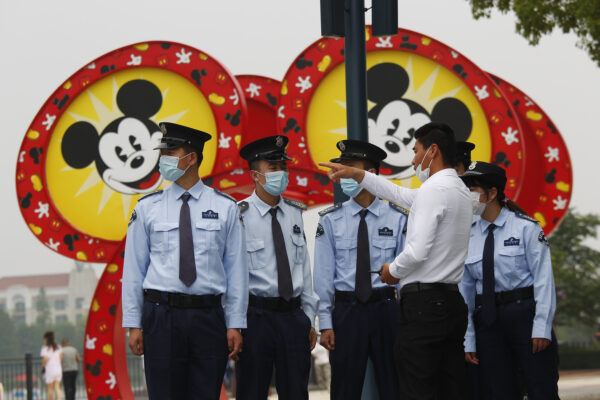 In 1997, Disney apologized to Beijing for making the movie "Kundun," and Sony apologized for "Seven Years in Tibet"—both of which depicted the CCP invasion of Tibet. Disney and Sony kowtowed to the CCP despite the fact that the U.S. State Department, Human Rights Watch, and the International Commission of Jurists (ICJ) had published reports that documented the CCP's abuses in Tibet. In 2011, the U.N. called on Beijing to address human rights violations in the region.
With international organizations and the U.S. government condemning the CCP's actions, it would seem that U.S. companies would have no need to apologize or self-censor. And yet in 2016, Marvel's "Dr. Strange" changed the backstory of the mystic master character, the Ancient One, from Tibetan to Celtic.
In 2017, Congress held a hearing on Tibet that outlined Beijing's abuses in the region. In 2019, the House of Representatives approved the Tibetan Policy and Support Act, which calls for human rights and autonomy in Tibet. In 2020, U.N. rights experts called for increased protection of human rights in Xinjiang and Tibet. In October 2020, 39 U.N. member states signed a joint statement on Xinjiang that also included human rights in Tibet.
Vladimir Lenin allegedly once said, "When it comes time to hang the capitalists, they will sell us the rope."
U.S. corporations that make a lot of money in China are able to ignore the one-party state and its long list of human rights violations: the lack of democracy and freedom of speech; the detention camps and forced labor; unfair trade practices such as forced technology transfer; organ harvesting; the persecution of Falun Gong adherents, Christians, and other religious groups; and cultural genocide in Xinjiang, Inner Mongolia, and Tibet. The same companies issue statements on corporate governance and corporate responsibility, while turning a blind eye to these obvious violations.
U.S. financial firms such as BlackRock, Vanguard, Fidelity, Hancock, the Teachers Insurance and Annuity Association, and the College Retirement Equities Fund issue mutual funds that invest in companies that rate high in "ESG," or environmental, social, and corporate governance. Yet in spite of their implied commitment to human rights, these funds often include top Chinese firms, including Alibaba and Mengniu Dairy, as well as numerous U.S. firms that have apologized to or otherwise support the CCP.
In July 2021, the State Department issued a "Xinjiang Supply Chain Business Advisory," outlining "the heightened risks for businesses with supply chain and investment links to Xinjiang, given the entities complicit in forced labor and other human rights abuses there."
In December 2021, Under Secretary of State Uzra Zeya was appointed as special coordinator for Tibet, prompting Beijing to allege that the United States was interfering with the internal affairs of China. The CCP's condemnation of U.S. laws and resolutions is an example of interference in U.S. internal affairs. Washington's stance on the CCP's human rights violations is clear, and the Biden administration has said there's no need for companies to apologize to Beijing.
"American companies should never feel the need to apologize for standing up for fundamental human rights or opposing repression," Psaki said.
With so much U.S. government and international support, there should be no reason for U.S. companies to self-censor or issue an apology to the CCP—but it's sure to happen again because there's a lot of money at stake.
Views expressed in this article are the opinions of the author and do not necessarily reflect the views of The Epoch Times.