TAIPEI, Taiwan—U.S. Health and Human Services (HHS) Secretary Alex Azar credited Taiwan's open and democratic system for successfully containing the spread of the CCP (Chinese Communist Party) virus, while calling out Beijing for its past and present failures to contribute to global health.
Azar made the remarks at a press conference in Taipei on Aug. 10 while overseeing the signing of a landmark memorandum of understanding (MoU) to expand public health cooperation between Taiwan and the United States.
Azar is the highest-level U.S. cabinet official to visit the island since 1979—the year the United States severed official diplomatic ties with the island in recognition of Beijing.
Joint Project
The MoU was signed by the American Institute in Taiwan (AIT), the U.S. de-facto embassy on the island, and the Taipei Economic and Cultural Representative Office (TECRO) in the United States—the name for Taiwan's de-facto embassy in the United States.
Congratulations to @MOHW_Taiwan & @HHSGov on boosting #Taiwan–#US health cooperation! We're proud to play a part in realizing this potential-laden pact. Taiwan & the U.S. are like-minded partners utilizing shared values of freedom & democracy in building better tomorrows for all. https://t.co/uASJngojD1 pic.twitter.com/ih0OObcRk7

— 外交部 Ministry of Foreign Affairs, ROC (Taiwan) 🇹🇼 (@MOFA_Taiwan) August 10, 2020
The MoU spans global health security, infectious disease prevention and control, and digital health, through cooperative programs, meetings, and personnel exchange, according to a press release by Taiwan's Ministry of Health and Welfare (MOHW).
"This MOU aims to enhance the health and wellbeing of people of Taiwan and the United States as well as promote global health security together," the MOHW stated.
Azar and his Taiwanese counterpart Chen Shih-chung also signed a statement reaffirming the two sides' long-standing cooperation to address health challenges, including COVID-19.
"As we look ahead to health threats in the future, the United States and Taiwan will continue to strengthen our cooperation on health, relying on the common sense goals of transparency and openness that define successful health efforts," Azar said at the press conference.
Currently, the United States maintains a robust, nondiplomatic relationship with Taiwan, and supplies the island with military weapons and equipment for its self-defense against Beijing, which has threatened to annex the self-ruled island by force.
Azar's visit drew an angry response from China. On Aug. 6, two days after Azar announced his upcoming visit to Taiwan, Chinese foreign ministry spokesperson Wang Wenbin condemned the visit and threatened "firm countermeasures in response to the US wrong move" at a daily briefing.
While it remains to be seen what countermeasures China might take, Beijing flew its fighter jets close to Taiwan on Monday morning.
Taiwan's Air Force Command Headquarters stated that J-11 and J-10 fighter jets of China's People's Liberation Army Air Force briefly crossed Taiwan Strait's medium line, the unofficial airspace boundary separating the two neighbors, at around 9 a.m. local time, before being driven away by Taiwanese military jets, according to a Taiwan government press release.
Taiwan's air force headquarters said China's deliberate intrusion "seriously undermined regional security and stability."
Since February, Beijing has flown jets close to Taiwan and held military exercises in an effort to put pressure on the island's current government headed by President Tsai Ing-wen, who has been promoting Taiwan's successful response to the CCP virus, while sending personal protective equipment to governments around the world.
After much discussion about how Taiwan's engagement with the world has angered China, maybe it's about time we start talking about how China's ongoing military coercion anger Taiwan, escalate tensions and fuel instability in the region. https://t.co/r63L1QGB6T

— 王定宇 Wang Ting-yu MP 🇹🇼 (@MPWangTingyu) August 10, 2020
Taiwan had earned international accolades for its success in containing the CCP (Chinese Communist Party) virus, commonly known as the novel coronavirus. As of Aug. 9, Taiwan has 480 confirmed COVID-19 cases and seven deaths, despite its close proximity (81 miles) to mainland China.
Beijing
When answering reporters' questions at the press conference, Azar pointed out that Taiwan, though not a member of the World Health Organization (WHO), offered to donate $1 million to the WHO to help Congo fight its local Ebola outbreak.
However, "at the direction of Beijing, the WHO refused this contribution," Azar said. The Chinese regime has sought to diminish Taiwan's presence at international organizations by pressuring countries and agencies to recognize its claim of sovereignty over the island.
From 2009 to 2016, Taiwan's health ministers took part in the World Health Assembly (WHA), the decision-making body of the WHO, as observers. But since 2017, Taiwan has been barred by China from taking part in the assembly or any WHO meetings.
Azar said he and Secretary of State Mike Pompeo, under President Donald Trump's direction, have "fought each year" trying to restore Taiwan's observer status at the WHA.
"But the Chinese Communist Party (CCP) and the World Health Organization have prevented that," Azar said.
He continued: "This has been one of the major frustrations that the Trump administration has had with the World Health Organization and its inability to reform."
The Trump administration formally withdrew from the WHO, which will go into effect on July 6, 2021.
"So on behalf of President Trump, I am here to highlight the importance of Taiwan in the international public health community—the contribution that it has made and can make, and of course, the close partnership and friendship between the United States and Taiwan," Azar said.
After the United States' withdrawal from the WHO, it will find the "appropriate vehicles" to continue its support for global public health and will "talk to Taiwan and other entities as we go forward," Azar added.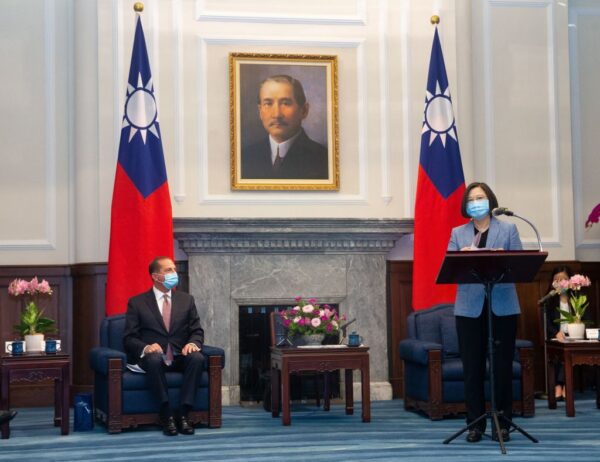 Before his press conference on Monday afternoon, Azar met with Tsai and held a joint press conference.
Tsai said on Twitter that she "had a productive meeting with @SecAzar & the @HHSGov delegation."
She added: "Thank you to @POTUS and @SecPompeo for supporting the #TaiwanModel & our international participation. Working together, we can prove that democracy is the best system to overcome global challenges."