President Donald Trump announced that a deal has been reached between the United States and Mexico late June 7, after officials from the two countries met for the third day of talks at the U.S. State Department.
"I am pleased to inform you that the United States of America has reached a signed agreement with Mexico," Trump wrote on Twitter late June 7.
Trump wrote that the tariffs that had been scheduled to go into effect on June 10 against Mexico have been indefinitely suspended.
"Mexico, in turn, has agreed to take strong measures to stem the tide of Migration through Mexico, and to our Southern Border," he continued. "This is being done to greatly reduce, or eliminate, Illegal Immigration coming from Mexico and into the United States."
….stem the tide of Migration through Mexico, and to our Southern Border. This is being done to greatly reduce, or eliminate, Illegal Immigration coming from Mexico and into the United States. Details of the agreement will be released shortly by the State Department. Thank you!

— Donald J. Trump (@realDonaldTrump) June 8, 2019
Trump had threatened to impose import tariffs starting at 5 percent on June 10 if the Mexican government did not agree to do more to tackle an increase in mostly Central American migrants crossing Mexico to enter the United States.
A "U.S.-Mexico Joint Declaration" released by the State Department late June 7 outlined the details of the deal, saying the United States "will immediately expand the implementation" of a program that returns immigrants who cross the southern border to Mexico while their claims are adjudicated.
Mexico will "offer jobs, healthcare, and education" to those people, "according to its principles," the agreement stated.
Mexico has also agreed, it said, to take "unprecedented steps to increase enforcement to curb irregular migration," including the deployment of the Mexican National Guard throughout the country, starting June 10, especially on its southern border with Guatemala.
And Mexico is taking "decisive action to dismantle human smuggling and trafficking organizations as well as their illicit financial and transportation networks," the State Department said.
Mexican Foreign Minister Marcelo Ebrard said in Washington his team had resisted the United States' requests to send deported Guatemalans to Mexico. He said he was satisfied with the deal, Reuters reported.
"I think it's a fair balance because they had more drastic measures and proposals at the start and we reached some middle point," he said.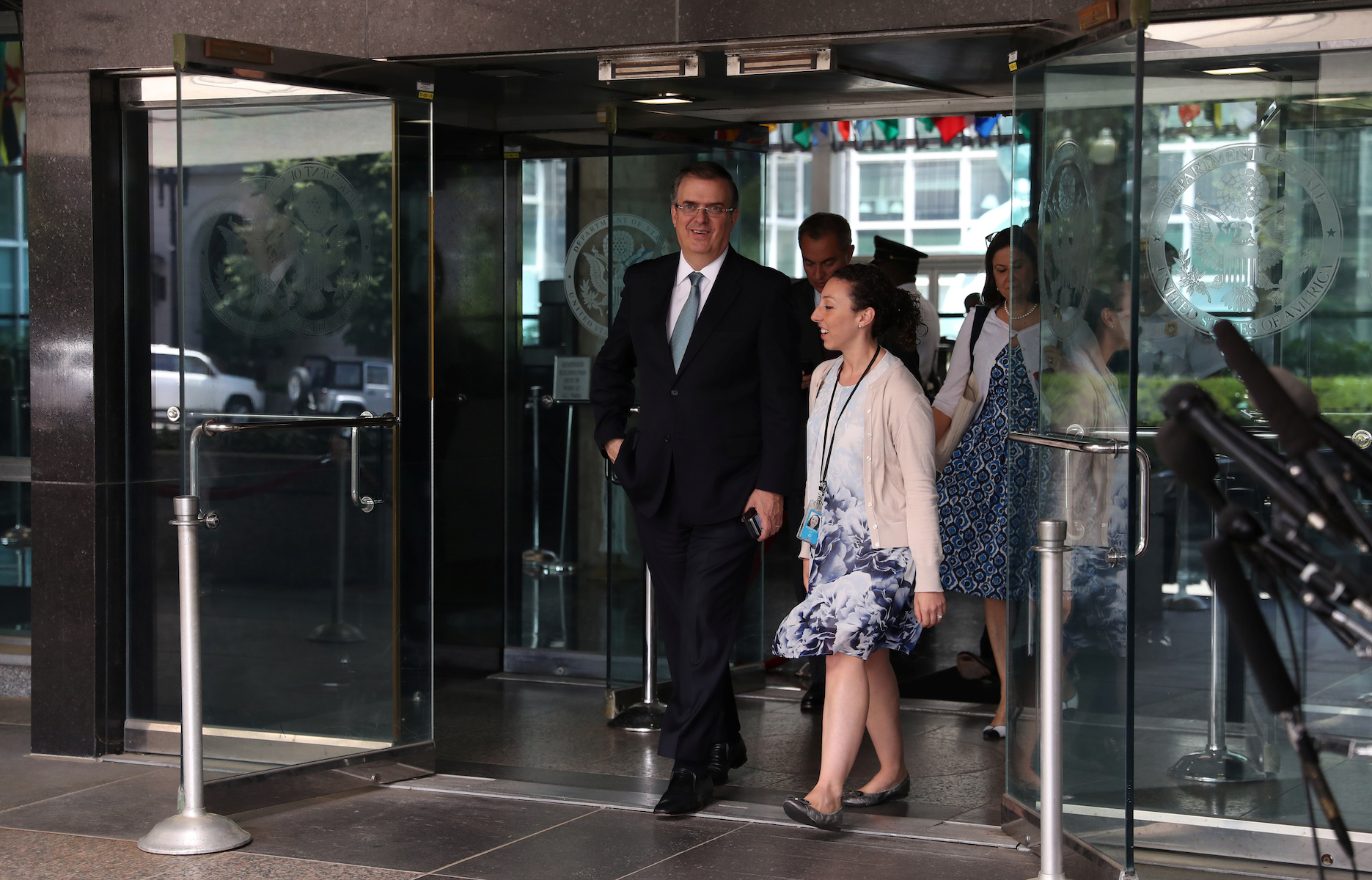 The two countries will continue discussions, to be completed in 90 days, on further steps, according to the declaration.
We thank FM @m_ebrard for his hard efforts to negotiate joint obligations that benefit the US & Mexico. We look forward to working alongside Mexico to fulfill these commitments to reduce the flow of illegal migration out of Mexico so that our southern border is strong & secure.

— Secretary Pompeo (@SecPompeo) June 8, 2019
Recent Events
On June 6, Mexico offered to send up to 6,000 members of its national guard to secure its southern border with Guatemala, in a bid to curb the rising influx of illegal immigrants.
The Mexican Finance Ministry on the same day also said they blocked the bank accounts of 26 people for their alleged involvement in human trafficking. In a statement, the ministry's Financial Intelligence Unit (FIU) said it froze the accounts due to "probable links with human trafficking and illegal aid to migrant caravans."
The two countries began their meeting on June 5 for discussions led by Vice President Mike Pence in Washington. Pence on the morning of June 6 told reporters that Mexico needs to do more to address the illegal immigration situation, though he noted that the previous talks were positive overall.
"We welcomed the efforts of the Mexican officials to offer solutions to the crisis at our southern border, but we need Mexico to do more," he said before departing on an Air Force Two.
Swift Change
Trump had indicated on June 4 at a press conference in London that "it's more likely that the tariffs go on," and that he was expecting to put tariffs on Mexican goods starting June 10 unless more migrants traveling to the United States-Mexico border from Central America were interdicted by Mexico.
But on June 5, Trump sounded more optimistic the tariffs could be avoided, saying Mexico was starting to take his demands seriously.
"I think they want to do something. They're sending their top people," he said during a visit with the Irish prime minister in Ireland.
Those top people were Mexico's foreign minister and ambassador to the United States, who were set to meet with Secretary of State Mike Pompeo and Vice President Mike Pence at the White House.
.@SecPompeo, @DHSMcAleenan, & I will meet shortly with Mexican Secretary of Foreign Affairs @M_ebrard at the @WhiteHouse. We have a crisis on our Southern Border. @POTUS has made clear that Mexico must do more. https://t.co/XiNBgtrg8i

— Vice President Mike Pence (@VP) June 5, 2019
Trump had said earlier that Democrats have forced him to take action against Mexico because they aren't willing to fix the United States' immigration laws that are fueling the immigration crisis.
"Border arrests for May are at 133,000 because of Mexico & the Democrats in Congress refusing to budge on immigration reform," he tweeted.
….talks with Mexico will resume tomorrow with the understanding that, if no agreement is reached, Tariffs at the 5% level will begin on Monday, with monthly increases as per schedule. The higher the Tariffs go, the higher the number of companies that will move back to the USA!

— Donald J. Trump (@realDonaldTrump) June 5, 2019
Customs and Border Protection recently released the number of migrants illegally crossing the border in May, showing a 13-year high of 144,278.
"We need to work with Mexico on this problem," Acting Department of Homeland Security Secretary Kevin McAleenan told The Hill.
He said that at any given time, there are 100,000 migrants moving through Mexico to get to the U.S. border.
"This is a very overt movement. It uses commercial bus lines. These are organized criminal organizations that are smuggling humans," he said. "In Chiapas, there's about a 150-mile stretch where most of these crossings occur between Guatemala and Mexico. We need them to interdict these folks at the point of origin crossing their border."
Holly Kellum, Bowen Xiao, Reuters, and The Associated Press contributed to this report.