News Analysis
China is no longer the world's manufacturer as U.S. and foreign companies are leaving in large numbers for a variety of reasons.
Some of the factors that have caused companies to move their production facilities out of China include the following: the U.S.-China trade war and tariffs, intellectual property (IP) theft, sanctions imposed on Beijing over human rights violations in Xinjiang and for eroding Hong Kong's autonomy, boycotts by Chinese consumers, supply chain disruption, pandemic economy, increased government regulation and scrutiny, and rising production costs.
In a 2020 survey conducted by research firm Gartner, roughly one-third of supply chain leaders responded that they had plans to move at least some of their manufacturing out of China before 2023. A study conducted by UBS Evidence Lab found that 76 percent of U.S. companies with manufacturing in China were either in the process of or planning to shift operations to other countries.
When Nike spoke out against oppression in Xinjiang, sales in China dropped by 59 percent, as Chinese consumers boycotted the American brand. Nike's suppliers had already been relocating their operations to Southeast Asia and Africa. Now, there is even more impetus for Nike to relocate a larger percentage of its production.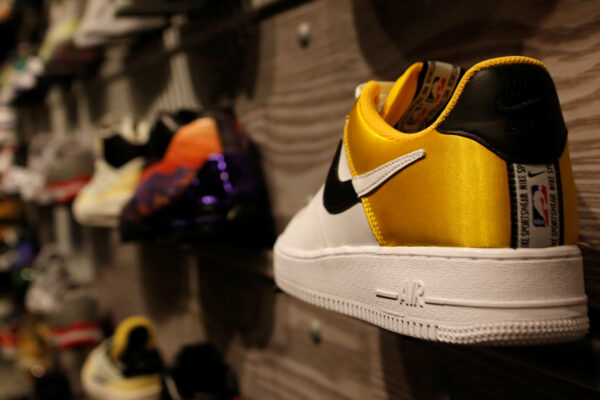 Apple is keeping most of its production in China, but it will shift 30 percent of its classic AirPods and some of its iPad production to Vietnam. The company has also asked its suppliers, including Foxconn, Delta Electronics, and Pegatron, to relocate up to 30 percent of iPhone production. Foxconn has already invested $1 billion to expand a production facility in India. Other contractors are setting up operations in Vietnam, Thailand, and Indonesia.
American toy manufacturer Hasbro moved much of its production out of China and into Vietnam and India. In total, Hasbro has reduced the amount of U.S.-bound goods manufactured in China by about 30 percent. The company is suffering hardships related to those products that are still being produced in China, as there are supply chain breakdowns, shortages of shipping containers, and an inability to get goods out of the country. This may lead to further relocations.
Other big U.S. companies are leaving China. Stanley Black & Decker moved its manufacturing back to Texas. Del is relocating 30 percent of notebook production. Google is shifting Pixel smartphone production to Vietnam and will be producing other smart phones in Thailand. Additionally, Cloud motherboards and Nest products will now be built in Taiwan and Malaysia. Microsoft relocated manufacture of its Surface line of notebooks and desktop PCs to Vietnam. GoPro will now manufacture in Mexico. Intel plans to build two chip manufacturing facilities in Arizona. Under Armour moved its production to Vietnam, Jordan, the Philippines, and Indonesia. Steve Madden is moving to Cambodia, Brazil, Mexico, and Vietnam.
The U.S. tariffs apply to Chinese exports, regardless of which country owns the factory. And of course, all of the China-specific difficulties apply to companies from all foreign countries. Consequently, it is not just U.S. companies that are abandoning the middle kingdom, but also companies from other nations.
Quanta Computer, the Taiwanese data server company, moved production to a new location in the Taiwanese municipality of Taoyuan at the end of 2018 due to the U.S.-China trade war tariffs.
South Korea's Samsung Electronics is one of the largest non-U.S. firms that is also making an exit. The company has already closed its last smartphone factory and stopped producing TVs in China. Additionally, its PC production shifted to Vietnam.

Similarly, South Korean firm LG Electronics has relocated some of its manufacturing out of China to avoid U.S. tariffs. LG's U.S.-bound refrigerators will now be made in South Korea.
Korean automaker Kia Motors closed one of its primary plants in China due to a sharp decline in sales. This was the result of a general boycott of South Korean products in China, sparked by South Korea's purchase of a U.S.-made missile defense system. Hyundai Motor Group and Hyundai Mobis also saw their sales plummet as a result of the boycotts, and have consequently relocated manufacturing to South Korea and India.
The German Chamber of Commerce in China discovered that nearly 25 percent of German companies are planning to leave China. Adidas has already reduced its operations in China by 50 percent over the past 10 years, relocating most of its manufacturing to Vietnam. The company also made a public commitment to cut all ties with firms using forced labor in Xinjiang, which resulted in a 78 percent sales drop in China.
Sport shoe manufacturer Puma had previously done a quarter of its total production in China, but is now diversifying and shifting operations to Bangladesh, Cambodia, Indonesia, and Vietnam. Like other companies that spoke out against forced labor in Xinjiang, Puma's China sales decreased, prompting Puma CEO Bjorn Gulden to suggest that the future of Western brands in China was questionable.
In April 2020, the Japanese government established a $2.2 billion fund to help Japanese companies leave China. So far, 87 firms have taken the government's offer, including electronics company Sharp, which is majority-owned by Taiwan's Foxconn. Sony relocated its smartphone plant from Beijing to Thailand and moved its regional executive offices from Hong Kong to Singapore. Nintendo moved to Vietnam.
In addition to manufacturing firms, other types of firms are also leaving China for a variety of reasons. LinkedIn closed down its China operations, citing increased government restrictions and scrutiny. U.S. teleconferencing platform Zoom has stopped direct sales in China, and has opened data and R&D centers in India and the United States. The New York Times moved part of its Hong Kong office to Seoul, South Korea, as a result of China's national security law, which limits freedom of speech in Hong Kong.