News Analysis
Latin America is the new frontline in the battle for influence between the United States and the Chinese regime.
The current threat includes the Chinese Communist Party's (CCP) law enforcement partnership program in the developing world, particularly, Latin America.
The CCP's international law enforcement cooperation (LEC) consists of providing materials, equipment, inexpensive digital tools, training to foreign police officers, as well as consultation on judicial legislation. Focusing on the developing world, these programs include installing Xinjiang-style surveillance systems.
Through LEC, autocratic regimes are partnering with the CCP to increase their surveillance and social control over their own people. The program may not pose an immediate or direct threat to the United States, but it does pose a threat to the development of democracy and the maintenance of freedoms throughout the developing world.
This trend is particularly worrying in Latin America, as it brings CCP surveillance right to the U.S. southern border and Caribbean coast. For this reason, the commander of the U.S. Southern Command, Admiral Craig Faller, identified China as the greatest threat to U.S. interests.
In its 2008 and 2016 Latin America policy white papers, Beijing stressed the importance of "judicial and police cooperation." At the 2019-2021 forum for China and the Community of Latin American and Caribbean States (CELAC), the CCP prioritized fighting organized crime and corruption. The increasing presence of Chinese companies in the region, as well as international crime such as drug and human trafficking, have become pretexts for the CCP to get more involved with local law enforcement and security forces.
Chinese organized criminal gangs expanding in Latin America have motivated local governments to organize joint operations with Chinese counterparts. In June 2010, Brazil's Secretary of Justice Romeu Tuma Júnior was fired for being an agent of the "Chinese mafia." In 2016, Chinese security forces cooperated with local authorities in Argentina to counter the Chinese triad Pi Xiu. Similar cooperation has taken place in Panama and other nations, as well.
Increased Chinese investment has positioned a growing number of Chinese people and business interests in dangerous places. The CCP public-private partnership structure provides government support for private firms, which makes the country richer.
Apart from financial subsidies and soft loans from state-owned banks, this support extends to physical security. Consequently, China's People's Liberation Army (PLA) and security forces conduct training, preparing to engage on foreign soil to rescue citizens or to protect Chinese businesses. Chinese petroleum and mining firms operate in remote regions of often war-torn or unstable countries, sometimes encroaching on indigenous land, making them vulnerable to violent attacks or kidnaping for ransom. The PLA had to intervene when Chinese workers were attacked in South Sudan. In Yemen and Libya, the PLA had to evacuate Chinese citizens. These types of risks also exist in Venezuela and other parts of Latin America, such as when Chinese oil projects came under attack in northern Ecuador.
As part of the LEC, Chinese companies have donated police vehicles and equipment to countries in Latin America, particularly in the Caribbean. In the Colón Free Trade Zone in Panama, Huawei's "Safe City Technology" has been installed, including facial recognition cameras, similar to those used to oppress the Uyghurs in China's Xinjiang region. ZTE has helped Venezuela control its populace through smart ID cards. A team of ZTE employees is now stationed in CANTV, the Venezuelan state-run telecommunications company. Argentina decided to buy surveillance tech from ZTE.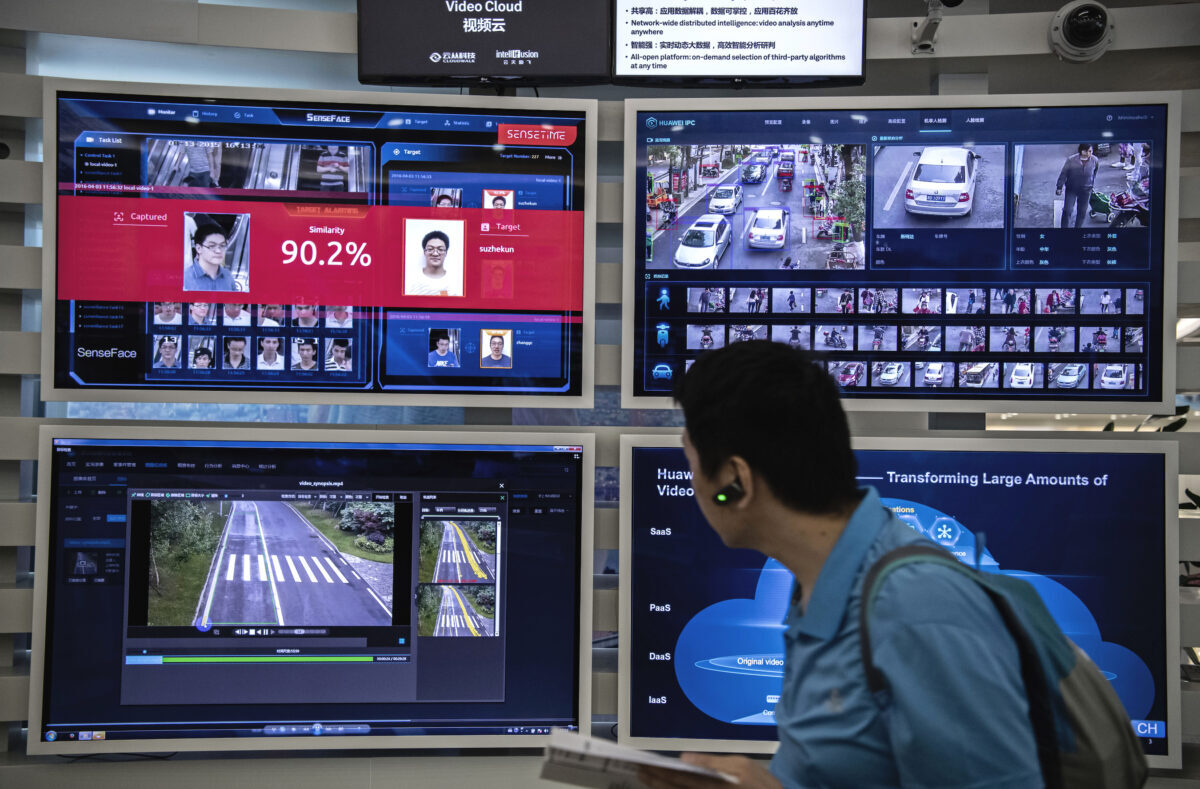 In 2017, China sold 51 Chery Tiggo armored vehicles to the Uruguayan national police, and donated two Marcopolo omnibuses and 10 armored trucks. China also provided the police with 4,000 surveillance system components, 1,000 of which were deployed on the Brazilian border. The rest went to the capital, Montevideo, as part of the national response system. In addition to surveillance technology, Uruguay is also deploying Chinese biometric systems. Chinese security products now make up 53 percent of the Uruguayan market.
Through international police exchanges and training, the CCP strives to "normalize" technology-based social control systems. Addressing the 86th Interpol General Assembly, CCP leader Xi Jinping said that the Chinese model is a more efficient system that should be used for global security and social management.
Non-democratic actors are following China's lead, adopting a cybersecurity law that is modeled after Beijing's. Venezuela's Nicolás Maduro regime also used Chinese training and technology to build a social management system. Since 2008, 80 countries have adopted China's domestic surveillance tools.
The dissemination of the CCP's security model throughout the world is having a negative impact on human rights and rule of law, as well as the security of U.S. citizens at home and abroad. In order to counter the negative influence of the CCP's international law enforcement cooperation, the U.S. State Department has offered the International Law Enforcement Academies (ILEAs). The goal of the State Department academies is to enhance the skills of foreign criminal justice partners of the United States, as well as improve coordination in combating international crime.
The Academy's vision is to enhance democracy by supporting the rule of law, and to use improved legislation and law enforcement to better the functioning of free markets in order to maintain social, political, and economic stability. Over the past 20 years, 60,000 officers from 85 different countries have graduated from ILEAs.
While the U.S. State Department is offering a high-quality law enforcement alternative, partnership with China is often accompanied by loans, grants, and investments—making the battle for influence all the more difficult.
Views expressed in this article are the opinions of the author and do not necessarily reflect the views of The Epoch Times.