A Texas man accused of licking a gallon of Blue Bell ice cream before placing it back in a Walmart freezer was released from jail and stated that he's sorry.
D'Adrien Anderson, 24, has been released from the Jefferson County Correctional Facility after posting bail, CBS19 reported.
He said that inmates in the jail recognized him after news coverage of the viral incident, which he apparently posted to his Facebook.
Police charged him with criminal mischief due to the monetary loss that Walmart suffered after it was forced to restock the ice cream.
Anderson also said that he was fired from his job over the prank.
When he was asked if he regretted his actions, he said, "Yeah, of course I do."
"I still love Blue Bell so hopefully they don't ban me from buying it," he continued.
On Wednesday night after 11 p.m., he posted a video showing him with his hands over his face on a pool table next to an open container of the ice cream.
The post read, "I love your ice cream #bluebell plz don't ban me from buying it #im#sorry."
Walmart told the outlet that surveillance footage showed him retrieving the container before any customer could buy it. He then purchased it himself.
Jefferson County District Attorney Bob Wortham said Walmart lost money because it had to replace the ice cream.
"This guy loves publicity even if it's for the wrong reason," said District Attorney Bob Wortham. "That can lead to bigger and worse things. If we're going to save this guy, we have to do it with this case or he's over the hill."
"The charge of Class A Criminal Mischief is a result of the monetary loss incurred by Walmart due to the suspect's actions," Port Arthur police said in a statement.
Despite the video allegedly being a prank, officials said they are taking it seriously.
"We take it very, very seriously. I know the district attorney takes it very seriously. So hopefully in the next 24 hours, we'll have all our evidence gathered, and we'll walk it over to the district attorney's office," said Det. Mike Hebert with the Port Arthur Police Department, 
ABC13 reported
.
Anderson and his father returned to Walmart to show police the receipt for the Blue Bell ice cream. The father said Anderson was trying to generate Facebook "likes."
His video gained more than 100,000 views on Facebook.
However, users weren't happy with his attempt at a prank.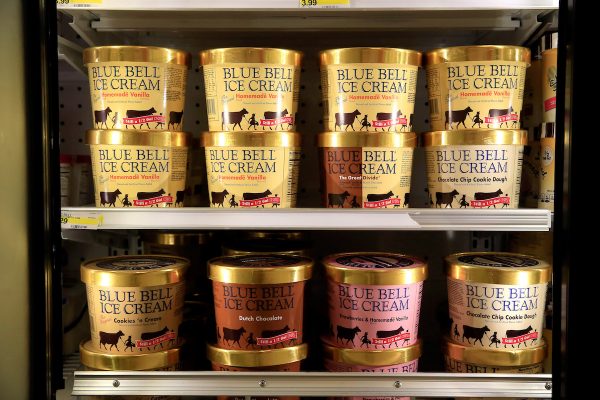 "I been done with blue bell after the second video of randoms licking ice cream popped up online," one person wrote.
Another said, "It dont matter receipt or not he did this inside the store before purchasing it anyone doing this stuff needs to be arrested."
A third replied, "I don't see the funny part of this it looks really ignorant and childish."
Walmart also issued a statement about the matter.
"If food is tampered with, or a customer wants to leave the impression that they left behind adulterated product, we will move quickly with law enforcement to identify, apprehend and prosecute those who think this is a joke-it is not," the chain wrote.
"The safety of our ice cream is our highest priority, and we work hard to maintain the highest level of confidence of our customers. We view the tampering of our products very seriously," Blue Bell spokesperson Jenny Van Dorf also said, reported 12 News Now.
It comes weeks after a Texas teenage girl and a Louisiana man were investigated for similar stunts involving Blue Bell ice cream.