Australia's Treasury Secretary, Steven Kennedy, said early steps have been taken towards the normalisation of economic policies, but it was important to gradually reduce economic support to avoid any negative ramifications.
In his opening statement to the Senate Economics Committee, Kennedy said the sensible tapering of government support was important to achieving the goal of full employment.
The unemployment rate in December fell to a 13-year low of 4.2 percent and the Treasury expects that number to fall further, either settling in the "low fours" or falling further to a figure "with a three in front of it."
"Australia has not been this close to this opportunity since 2008 and before that, prior to the shocks of the 1970s," he told senators on Feb. 16. "While nothing is assured, let us hope that we can seize this opportunity in the period ahead."
Australia's underlying economy proved to be stronger than the Treasury expected and the disruptions from Omicron is anticipated to be less than the department forecasted.
Treasury assessment on the impact of Omicron on spending found it was relatively subdued compared to the economic impacts that occurred during the Delta lockdowns.
"The Omicron wave is having a major impact on health systems and is interrupting the economic activity," Kennedy said. "However, … [it] is expected to be relatively muted and short-lived compared with earlier waves of the virus."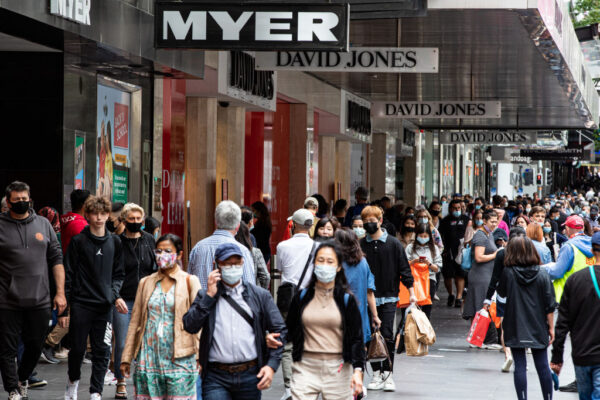 Treasury expects that Omicron had a larger impact on the numbers of hours worked rather than employment.
New labour force figures by the Australian Bureau of Statistics (ABS) reflect Kennedy's comments, with the jobless rate remaining steady at 4.2 percent, while the number of hours worked fell by 8.8 percent.
January typically has a fall in work hours due to people taking annual leave but saw a much larger fall this time around. ABS associates it with Omicron case numbers and its disruption to the labour market.
"January is the middle of summer and usually only around 90,000 to 100,000 people in Australia are away from work sick for an entire week. In January 2022, it was around 450,000 people (3.4 percent) of employed people," ABS head of labour statistics Bjorn Jarvis said.
Kennedy said the chief medical officer had indicated to Treasury that there would likely be another wave of Omicron during the winter months or the emergence of another variant.
"That said the community can be confident that Australia is in a strong position to manage future waves," he said.
Meanwhile, the deputy governor of the Reserve Bank of Australia (RBA), Guy Debelle, said an interest rate rise in the next 12 months was possible, but not inevitable.
Speaking to the same Senate hearing, Debelle echoed the earlier comments made by RBA Governor Philip Lowe.
"At some point, [rates] will be higher. In the end, it is going to depend on how things evolve," he said.