'Unstoppable' Movie: Kirk Cameron's Film Sold Out Across Theaters
September 24, 2013 5:53 pm Last Updated: July 18, 2015 5:18 pm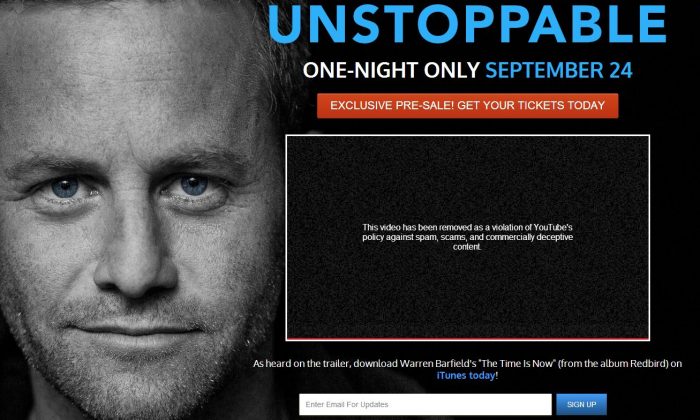 "Unstoppable," a Christian movie from actor Kirk Cameron, released on Tuesday, with theaters sold out across the country.
According to WND, Movietickets.com said that at around 700 theaters carrying the movie, "Unstoppable" became the No. 1 ticket seller for the day, beating out "Insidious: Chapter 2″ and "The Family."
The movie will also be shown Thursday on Oct. 3 at 7:00 p.m.
Cameron said the film will force people to think about their lives.
"My friend Matthew, 15 years old, died of cancer this year," Cameron told WMD. "And on my way to his funeral, I found myself asking this big question, which has shredded people's faith for thousands of years. And I wanted to answer it, not only for myself, but to offer some insights – through what I discovered – to others who are asking the same questions."
Cameron also made an announcement about the film on his Facebook, thanking his supporters. "I'm blown away by all your support. Don't forget to watch tonight or October 3. Thank you friends of faith, lovers of freedom, and atheistic agitators, for making Unstoppable #1 today," he wrote.
Several months ago, there was a glitch in Facebook's system that blocked users from posting about the movie. It was eventually fixed.
Jackie K. Cooper, a critic with the Huffington Post wrote that "Unstoppable" might not be for every one, describing the film as a "one-hour sermon."
"If you are a Christian believer and a Kirk Cameron fan you might want to see this film. Cameron is charismatic; Cameron is passionate; Cameron is intelligent; Cameron is sincere. He puts his heart and soul into what he is preaching. Just know it is sermonizing from beginning to end. There is no entertainment portion of the film per se," he writes.