Unseen City: Unusual Housing Battle in NYC Centers on Airbnb
April 23, 2014 6:01 am Last Updated: April 24, 2016 6:37 am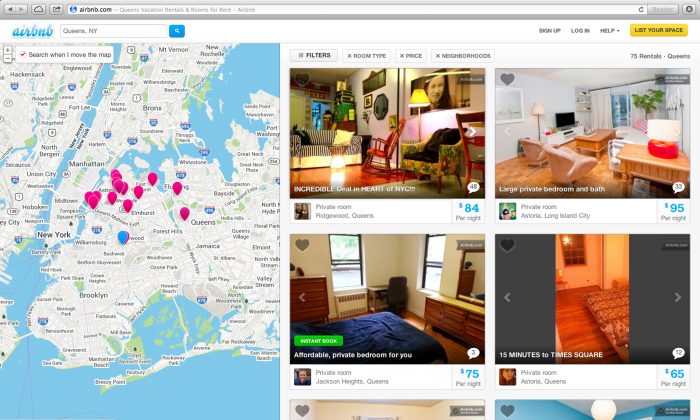 There's an unusual battle raging over housing in New York City, centered on the vacation rental and sublease company, Airbnb.
Airbnb is a short-term option for a sublease and a hotel alternative for travelers who want a more affordable or authentic experience. 
There's a problem, though, according to the NYC-based group, Real Affordability for All (RAA). The group, which is a coalition of about 50 different tenant advocacy groups and labor organizations, said Airbnb is essentially the affordable housing devil. 
Long-standing tussles with the hotel industry (understandably) and fair housing advocates bubbled to the surface when Airbnb recently offered to put up $21 million in annual taxes. As it said, no good deed goes unpunished. Or maybe it was the part of the offer that would put the company on equal footing with hotels that got it in hot water. 
It certainly awakened the sleeping giant of the RAA, which was just launched in March. Whatever the root cause, it's clear that Airbnb is no longer operating in business-friendly New York belonging to Bloomberg. In Bill de Blasio's New York, affordable housing is in vogue and at the forefront. 
In a letter from the RAA to Airbnb that was obtained by The Daily News, the group laid into the founders of Airbnb. 
"After years of operating an illegal enterprise in New York, your company is now apparently interested in paying your fair share of taxes and announcing that development as though you are some kind of charitable organization bestowing your riches on our city," the letter states.
In New York City, it is illegal to rent out an apartment for less than 29 consecutive days. 
Hotel owners would be glad to see the hospitality giant leave the Big Apple, according to New York magazine. In an April 18 article, Ken Rose writes that they actually want to "drive Airbnb out of New York City, because it's cutting into their profits and providing tourists with a cheaper, less-regulated alternative." 
The hotel industry is also behind the argument that renting out private apartments is contributing to the affordable housing crisis by pushing rents up. 
Airbnb said it has helped people save their homes by giving them an extra source of income. In that light, it does seem like a win-win for everyone. People get to rent out their spare rooms or apartments and travelers get a cheaper deal.
But when looked at in terms of longer rentals—say four weeks or more—the prices are shocking. A simple search in New York City for the month of May yields spaces such as an artist loft for $4,079 a month in Williamsburg. Then there's a living room in a luxury condo in Flushing, Queens, for $2,873 a month. A living room. In Flushing. 
It's hard to argue with cold hard numbers. If people are willing to spend $2,873 to rent out someone's living room on a fold-out couch in Flushing, how long will it be before landlords raise the rent for a 1 bedroom in the same area of the city to $4,000? 
It is a slippery slope down which only Airbnb and those renting out their apartments are avoiding sliding down.