UN Approves Arms Trade Treaty, India Abstains
April 3, 2013 11:55 am Last Updated: April 4, 2013 2:46 am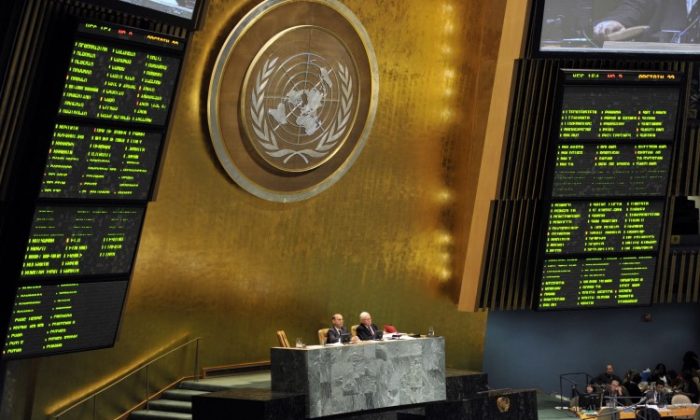 India abstained from the first global arms trade treaty (ATT) at United Nations General Assembly on Tuesday, protesting that the draft is more like a tool in the hands of weapon exporting countries.
"The draft treaty text sought to be adopted through this resolution falls short of our expectations and a number of other key stakeholders in producing a text that is clear, balanced and implementable and able to attract universal adherence," said Ambassador Sujata Mehta, India's permanent representative to the Conference of Disarmament in Geneva, in a statement by the Ministry of External Affairs. 
The treaty regulating the international trade in conventional arms, received 154 votes in favor. Out of 193 member world body, three member states, viz. Democratic People's Republic of Korea (DPRK), Iran and Syria, voted against the decision, while 23 countries abstained.
Mehta said that "from the beginning of the ATT process, India has maintained that such a treaty should make a real impact on illicit trafficking in conventional arms, and their illicit use especially by terrorists and other unauthorized and unlawful non-State actors."
India has consistently stressed that the ATT should ensure a balance of obligations between exporting and importing states. "However, the draft treaty is weak on terrorism and non-state actors and these concerns find no mention in the specific prohibitions of the Treaty," she said.
"The relevant provisions in the final text do not meet our requirements."
The adoption of the treaty was welcomed by several UN officials, including U.N. Secretary-General Ban Ki-moon, who praised it as a powerful new tool in efforts to prevent human rights abuses and violations of international humanitarian law, and provide much-needed momentum for other global disarmament and non-proliferation efforts.
"It is a historic diplomatic achievement – the culmination of long-held dreams and many years of effort," he said in a U.N. press statement. "This is a victory for the world's people."